LLANDDWYN BEACH
& NEWBOROUGH WARREN WALK
Llanddwyn has two gloriously long beaches and, as I write elsewhere, are "Longer than Childhood Summers'.
The wonderful thing about these two beaches, separated by Llanddwyn Island is that they can offer you as much privacy as you wish.
Two of the routes to the beach are very pleasant walks. The third is a lovely drive down through the forest directly from the village of Newborough.
But it's the walks I want to share with you, particularly the amble along the good sandy path where the massive Newborough Forest edges Newborough Warren.

LENGTH OF WALK:
A mile and a bit. About 20 minutes.
GETTING THERE:
EASY! Follow the main road down through the village of Newborough past the chip shop until you get to the roundabout.
Turn right here and follow the road track to its end and you should see the sculpture below and a small car park for the Nature Reserve and Bird Hide
DOGS ON THE BEACH:
There are specific restrictions on allowing dogs on the beach during nesting season. For information Check Here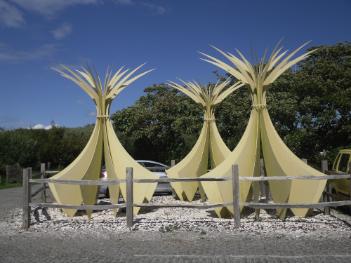 THE MARRAM PATH BEGINS HERE


The path begins here. Just turn your back to the glorious angular and striking sculpture commemorating the industry of Marram Grass Mat Makers.
According to the plates by the sculpture the fabrication of matting, nets and ropes were manufactured here as late as the end of the Victorian era. The images reveal this.
However, fabrication has been traced as far back as the 16th Century.
Newborough itself has an interesting history in that it was established as a village during the 12th and 13th Century when Edward 1st moved the community from Llanfaes in order to build Beaumaris Castle.
Click the link for more about the Beaumaris Castle and the nearby Aberlleiniog Castle.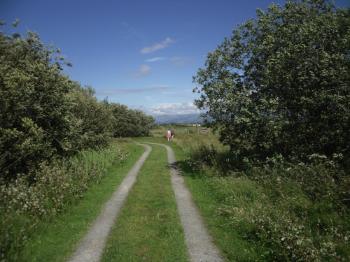 NOW, WHERE WAS I?


This is an extraordinarily easy route to follow because it skirts the Newborough Forest on your right and is bounded by a fence keeping you out of Newborough Warren on your left.
The sandy path through lovely countryside brings you quickly to the track above. It's a reverse view shot by the way.
This is where you join the Anglesey Coastal Path coming from your right along this forest track. Just follow the track at your own pace. Look and Listen. You'll probably hear the Skylarks long before you spot them. Look Upwards.
The path will then bring you into contact with the forest as you nestle close below its nurturing canopy.
---
There's something quite lovely about walking Anglesey's Paths in that everyone seems to be quite relaxed and vary from gentle to robust good humour in their greetings to you.
Stop a moment and engage whenever you can. The usual observations about the weather and 'how far now?' always draws people together with ease.
After all, you've come to Anglesey to remind yourself that you are a Human Being and not a Human Doing.
Beam at each other. Make their day in order to improve your own.
Know when to stop beaming, because overextended beaming in the middle of a forest makes people nervous.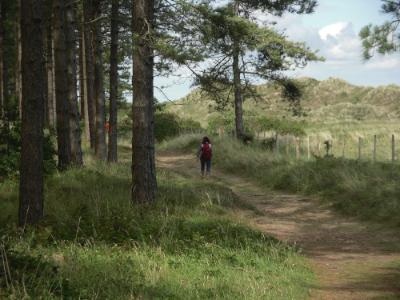 HORSIES IN THE DISTANCE


On your left is Newborough Warren part of the Newborough Nature Reserve and is one of the largest sand dune areas in the United Kingdom and - thankfully - no golf course in sight.
To quote the information board, 

"Living in the bare sand, grassland, and wet hollows are many plants and animals. They are important for species such as the skylark, dune pansies and marsh orchids.
For centuries rabbits have grazed here helping to maintain a species-rich habitat. However, in 1954 the disease Myxomatosis drastically reduced their numbers leaving the dunes in a vulnerable condition, no longer able to support plants and animals.
Today, rabbit numbers are slowly increasing, and now graze side by side with cattle and ponies. These animals ay an important part in keeping the dunes healthy by controlling unwanted vegetation."
The woodland to your right is part of the 2,000 acre forest and is a designated nature reserve set in an Area of Outstanding Natural Beauty
The forest is criss-crossed with pleasant tracks and paths that meander hither and thither. The easiest to follow is the Anglesey Coastal Path, which clearly signposted.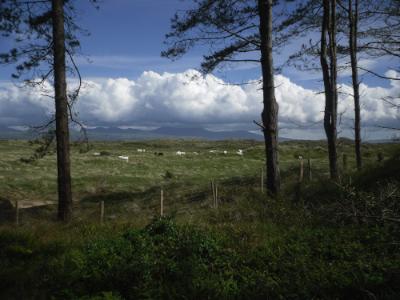 NOT BLEEDIN' RABBIT AGAIN, HILDA?


As mentioned earlier before the mid 1950s, for centuries before, rabbits proliferated with fecund abandon. The only limiting factors on population size were natural predation, old age (if lucky) and local human trapping.
Protein is vital for the human physical constitution, vital for muscle formation for one thing. If a body become physically weaker through lack of specific nutrient there's a tendency for mental deterioration as well. Depression and hopelessness seem to be frequent complements to debility.
Family anecdotes of the Second World War report that in very rural areas there was a very important industry in catching rabbits with traps, lamping and dogs. The rabbits were 'prepared' on location and carried to collection points on bikes. There they were loaded into a lorry, hung in long rows and were sent off to the cities.
Rabbit meat was at a premium and I understand that each rabbit would fetch the trapper about sixpence (tuppence ha'penny). Sixpence was a fair old sum in those days and so many people would be out at night adding to their household income.
Question: Did anybody bother these people with income tax returns? I can't imagine so. The need for the meat was so great that such indiscretions were probably ignored
I like bunnies. Got some along the track down to the house. Mind you, they haven't started nibbling at my veg, yet.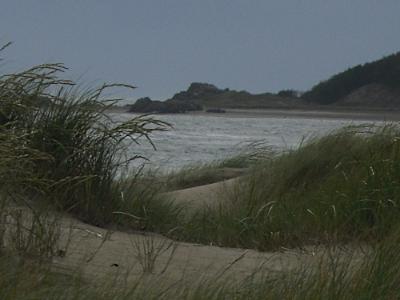 HAPPENNING UPON LLANDDWYN BEACH


If you haven't been to Llanddwyn Beach before, then prepare yourself for a lovely delight.
There is a strict instruction about walking among the sand dunes in this magnificent Natural Reserve and to adhere to that rule would seem to bar your way onto the beach.
Thankfully, you are on the Anglesey Coastal Path right now and so follow the obvious weakness up and over the sand dunes ahead.
Atop the dunes take a moment to gather your perception and send out your vision along the length of the beach. To the left, were you to walk that way would bring you to Abermenai Point, which is where the Menai Straits breaks out into the open sea between here and the Caernarfonshire side, distant.
To send out your vision to the right will bring you to encounter Dwynwen's Island of Love.
Should you be invested with great energy this day of your visit, then I would warmly encourage you to visit this island of St Dwynwen, Patron Saint for Welsh Lovers.
Click on the above link for a taster of the beauty and history gathered there. Also discover a Recipe for a Love Potion.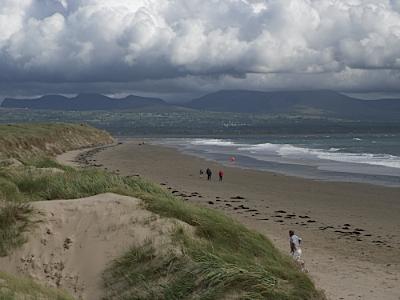 WHERE TO PARK YOUR BIKE AT LLANDDWYN


Now that's entirely up to you. If you're burdened with beach kiddy paraphernalia then you might as well set up camp were you are.
The main beach entrance and car park with toilet facilities is about 300metres to your right. It ever gets crowded on Llanddwyn Beach. Neither, does it become overwhelmed with bodies on Llanddwyn Island a fair distance further to your right.
Careful, though, if the tide's in then it could be a wasted journey because the Island may well be cut off.
ALSO, check the tide times in case you walk onto this astonishingly beautiful island and be stuck there for a tidal cycle (six and a half hours).
If you want social interaction then head for the entrance area, otherwise enjoy the privacy at this lovely end of Llanddwyn Beach.
P.S. REMEMBER THAT LLANDDWYN IS NOT A NATURIST BEACH

---
Do get in touch
Do you have a great story about this to share or a question to ask? Yes? Then please write it in the box below.
---
Return from Llanddwyn-Beach to ANGLESEY AMBLES & WALKS.
Visit WESTERN ANGLESEY BEACHES.
---