PORTH TRWYN

Hidden Beach with its Own Secret Beach
PORTH TRWYN BEACH
How neat is that?
A HIDDEN BEACH with its OWN SECRET BEACH
Beautiful things come in Twos. Or is it Threes?
Anyway ...
Porth Trwyn Beach is a Fabulous Family Beach and a Great Fishing Beach.
It is lovely and is quite literally a little hidden gem because it can't be seen from the road.
It possesses a sense of privacy from the road and if you choose your spot then you can enjoy a beautiful day's sunbathing and topping up your tan.
You will see the blue beach details sign on your left behind the old farm buildings. Leave the car and a little track takes you down to the beach, which is suddenly revealed falling away from you.
It falls away to the clearest water I have ever seen anywhere on Anglesey.
If you don't believe me, LOOK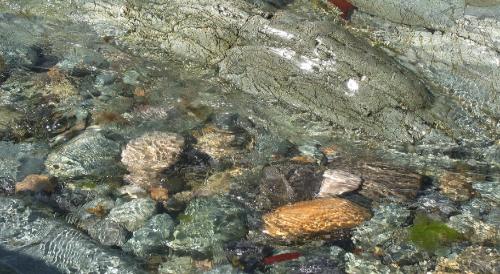 ---
THE BEACH
I have to be perfectly honest with you, as I am on all my pages. I had never been to this beach in my life until last year.
As a child the family always gravitated to Benllech Beach or maybe Cable Bay for Summer holiday family beach fun when my Dad could take the time off.
Generally he'd take us to a beach at lunchtime and collect us all at teatime.
He would always stop to complement us on our sandcastles and the quality of the holes that we had dug in damp sand.
As a kid I was always amazed to find water at the bottom of these holes.
So I'd never been to Porth Trwyn beach before.
My first recent impression was one of surprise at finding the beach but also a bit of a disappointment. But I've been back a few times and Porth Trwyn Beach Really, Really Does Grow On You.
Rocky Cove, Junior Stack, Secret Beach and all.
Cymyran and Crigyll Beaches in Rhosneigr are very similar for me in that respect.
I didn't like them at first but now I ADORE THESE BEACHES.
Please take a moment to have a look at these beautiful white, wide and blue beaches.
When the weather is fine I go for a trot from RAF Valley to Rhosneigr and back as often as I can after work.
---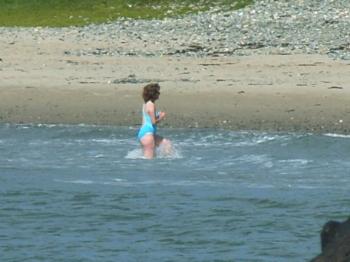 ---
CRYSTAL CLEAR WATER.
Porth Trwyn Beach is an excellent little beach in fine weather and it never gets packed because of the very limited parking – even in High Summer.
If you can remember what that was like.
The top of the beach is pebbly but then it reveals itself to be sandy as the tide goes out.
Again, I can't stress enough the clarity of the water.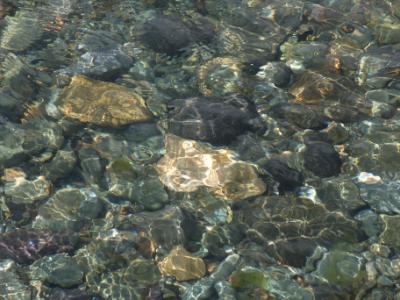 You may well know that Anglesey's west coast is reknowned by divers across the United Kingdom for its crystal clear diving conditions.
Conditions AND the myriad shipwrecks off our coast gathered over the centuries.
Visit the Lifeboat station in Beaumaris, Moelfre, Trearddur Bay and Holyhead to learn about the ferocious seas off Anglesey.
Learn also about the regular astonishing bravery of the ordinary men and women who launch in the lifeboats.
I am truly in awe of them.
If you're going to select personal heroes then nothing should be better than choosing ordinary people who do extraordinary things.
---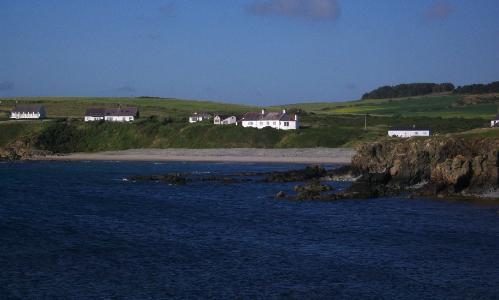 MARITIME MULTIPLE PERSONALITY DISORDER
Most beaches and coastlines have a Multiple Personality. Not only does it depend on the state of the tide, but the weather and sea conditions.
Anglesey beaches can tend to veer from the perfect idyllic settings to the most frightening of storms, which is why we are drawn to the sea in the first place.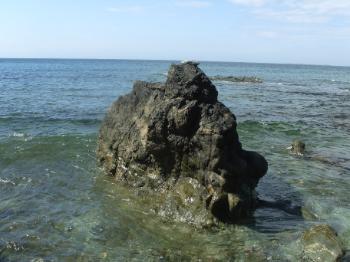 The sea reflects our own internal conflict right back at us.
Thereby curing us .... FOR A WHILE.
Let's enjoy the idyllic Porth Trwyn and just imagine the tempest.
Sit, sunbathe, swim, picnic, barbecue, fish.
Just stop and realise that you too have a multiple personality.
The one that manically deals with stressful daily hassles and the benign body on the beach who smiles at the adversity of wet socks.
---
SEA FISHING
Great fishing off Porth Trwyn beach when the tide is in.
You can stand on top of a steep pebble beach and entice the Sea Bass to you with nothing more than sheer personality.
I spoke with a gentleman from Tregele by Cemaes Bay a short while ago about where to fish around the area.
Generally, the best fishing marks on this coastline are the small rocky coves.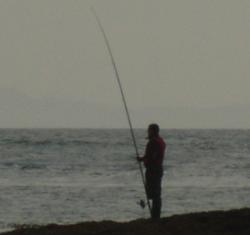 These litter the coast all the way down from Cemlyn back down through all the way to Sandy Beach.
Some of them are a bit of a hike to get to but well worth the effort.
Enjoy the Anglesey Coastal Path on your way.
The Summer months offer you seabass and mackerell in great abundance all along the coast.
Plenty of little signs on the side of the road for FRESH BAIT.
The Tregele Garage sells really fresh bait: lug, rag and mackerell.
You'll be supporting the guy above and his mate who nearly put out their backs in order to supply you.
Click Here for instructions on how to get to Tregele Garage.
RULE 1 For catching mackerell you need to spend the Winter sharpening your elbows so that you can create the space to fish. It gets really busy. It gets DAFT and UNSAFE BUSY.
RULE 2 TAKE YOUR RUBBISH HOME WITH YOU. DON'T LITTER THE MARKS AND BEACHES WITH YOUR #@?$!!
RULE 3 Watch Out for the ferry waves.
RULE 4 Don't shout abuse at Dogfish. They have feelings too.
For more ANGLESEY FISHING INFORMATION CLICK HERE.
---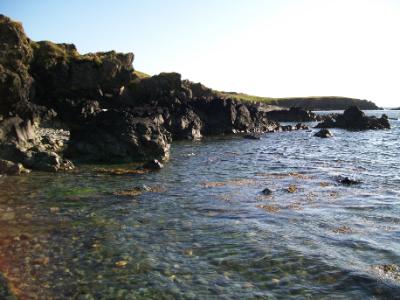 ANGLESEY COASTAL PATH
There are many things that I love about these north western Anglesey beaches.
Top of the list has to be their indisputable beauty and individual personalities in the very best and very worst of weather.
Following close on these two aspects has to be the Anglesey Coastal Path, which seems to join them seamlessly.
This stretch of coast affords you easy access from one lovely necklace gem to the next.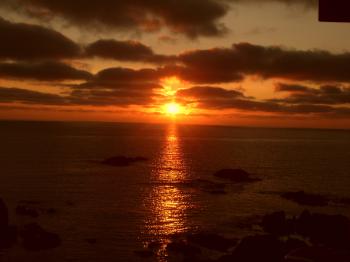 Each gem is exquisitely individually beautiful.
When you join them all together they guarantee you one of the very best holidays of your life.
They are at their very best from late Spring through Summer into early Autumn.
Especially as the old Current Bun (the Sun) is setting.
Is it any wonder that people return to Anglesey year after year and many families generation after generation.
What the vast majority of Anglesey Coastal Path Aficionados do is to set off from Sandy Beach - armed with an ice-cream, naturally - pass through Porth Trwyn and head north to Church Bay for another ice-cream at the Wavecrest Cafe above the cliffs.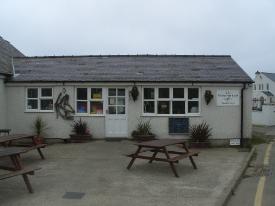 Can you think of anything more fulfilling when the urge to walk befalls you?
THERE AGAIN If one West Coast Anglesey beach is too busy for your liking then mount Shank's Pony and just head north or south until you find one that suits your mood.
At Porth Trwyn, in exchange for peace and quiet you lose out on the ice-cream
Scroll down a bit to have a look at the section for vital information about local eating, shopping etc.
---
WHAT SECRET BEACH?
Oh, THAT Secret Beach
Step down onto the beach - casual-like - and don't give the impression of searching for anything because that really draws attention.
Listen, it's only becomes special when the tide is in. It is cut off from easy access.
Direct your engaging gait to the left of the beach at high tide and glance around to the minute lovely little rocky cove.
A bit further around you'll be able to see a small beach about two hundred yards away in old money.
It's there. Sshh!
Back up the path as aimlessly as you can make it appear.
Inspect a few pebbles and nod sagely to yourself.
Scarper up the path and head off in its general direction.
I wish you a lovely day. Keep you undies on as this is not a naturist beach.
---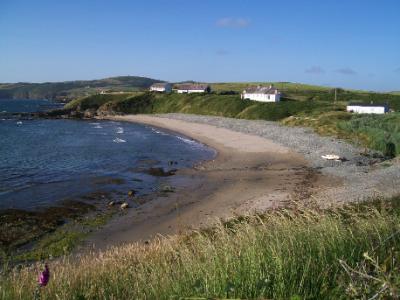 ---
EATING AND SHOPPING AT PORTH TRWYN BEACH
Tricky this one. In a nutshell you will find nothing but a lovely beach for swimming, sunbathing, sandcastles and fishing.
That should be enough, shouldn't it.
Ice-Creams! I hear you shout. A plateful of chips or a snack. I need some pop.
There's a quite easy solution that'll involve you using the car.
You can drive back up the road to Llanfaethlu, just under a mile away uphill.
Here you will find the Coffee House which is a beautifully set up little shop/cafe/post office.
There's more than enough at the Coffee House to keep you going for the day BUT what if it's the end of the day and you fancy that something extra.
Well, Gentle Reader, Please Click Here for information about eating, shopping, petrol, cashpoints and more in this area.
---
PETS ON THE BEACH.
• No major prohibition on dogs at Porth Trwyn, but please keep them on a leash.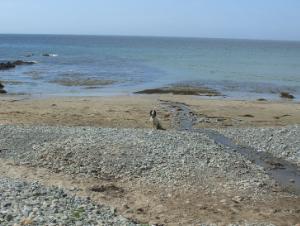 • Though not here at Porth Trwyn, there are Seasonal Prohibition on dogs on certain Anglesey beaches.
• Always bring a doggie poo-bag with you because the little dears can't always help themselves.
Imagine specific matter oozing from between your tanning and sandy toes.
Imagine a worse scenario; it's a child.
• The main concern regarding dogs on Anglesey beaches is a health issue. Doggie poo can blind for life.
FOR MORE INFORMATION ABOUT DOG RESTRICTIONS ON ANGLESEY BEACHES PLEASE CLICK HERE.
---
WAVE ALERT - PLEASE BE AWARE!
On the entrance to the beach off the road you will notice a STENA FERRIES Warning Sign.
When ferries enter Holyhead Harbour they have been known to generate waves that can cause unexpectedly high waves on all the beaches along this coastline. Even as far as Church Bay to the north.
KEEP AN EYE OPEN IF YOUR KIDS ARE SPLASHING ABOUT.
FISHERMAN! YOU ALSO KEEP ON YOUR GUARD. THERE HAVE BEEN LOSSES OF LIFE OFF THE LEDGES.
---
GETTING TO PORTH TRWYN BEACH.
• Travel across the Britannia Bridge on the A55 Expressway and more or less cross the entire Island of Anglesey for over twenty miles. Come off at Junction 3 for Valley and Trearddur Bay.
• Head into Valley and Turn Right at the Traffic Lights.
• After about a mile and half you will pass through the hamlet of Llanynghenedl.
There is a 40mph speed limit and you should adhere to it, as cars can pull out of a blind spot on the road from your left from the houses.
• Next is the village of Llanfachraeth. Pass through.
You'll notice a handy little shop/post office halfway through the village on your right
• Llanfaethlu is about two miles further on.
Pass the now shuttered Black Lion pub on a sharp left hand corner.
• Ahead, and on a sharp right hand bend is Llanfaethlu.
Turn into the village past the post office/shop/café (The Coffee House).
Drive up and straight through this little village.
• About one mile down this road you will travel through the farmyard of Borthwen.
Keep to the right around the outhouses
This farm is gradually being converted into holiday cottages. This is a good time to buy a cottage at a bargain price.
• Porth Trwyn is immediately behind the Borthwen outhouses.
A large sky blue beach sign indicates the beach. You will experience difficulty in finding parking.
• You have arrived! Have a Lovely Day.
---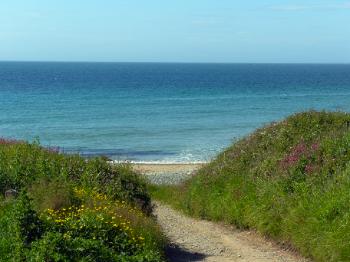 ---
Return from Porth Trwyn Beach to MORE WESTERN BEACHES
Go to ANGLESEY WESTERN BEACHES