BWTHYN SWTAN COTTAGE

Beautiful Church Bay
In case you get confused, Bwthyn is the Welsh for 'Cottage' and Swtan is 'Whiting'.
AND, as cottages go, what is now a pretty little cottage exemplifies that Nirvana which we all hope for.
Especially as it is located in a fabulously beautiful part of Anglesey's West Coast.
The images that I present to you on this page were taken on a September evening.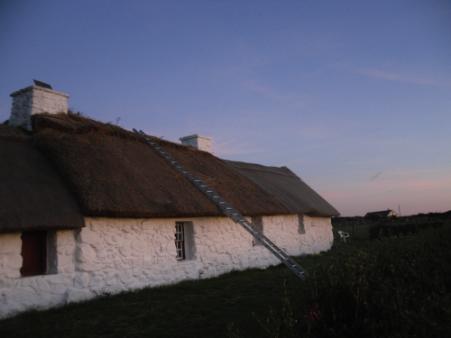 I hope that you can see and feel the soft pastel pink hue that was cast by yet another beautiful Anglesey sunset.
Anglesey really is an Island of Romance, whether it is that special place to bring you and your partner closer together, or draw you back into Celtic and Druidic history. It's all here.
---
SWTAN COTTAGE - OPEN FOR VISITORS
This fabulous, renovated period-style cottage is open to visitors and offers a delightful insight into rural life on Anglesey during the turn of the twentieth century.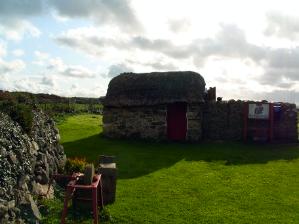 Open
Easter – Good Friday 2nd April until the end of September Every Friday, Saturday and Sunday, 12 noon – 4pm
Admission
Adults £2
O.A.P. £1.50
Children £1
Toddlers – free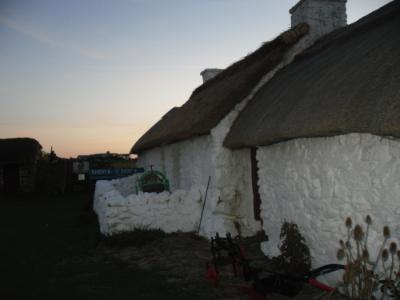 AN IDYLL THROUGH A ROMANTIC LENS
Swtan Cottage was originally built during the 16th Century in what must have been considered at the time one of the most remote parts of Anglesey.
Now owned by the National Trust, Swtan is leased to Cyfeillion Swtan (Friends of Swtan)
Families living in the Church Bay area and the far Northwestern corner of Anglesey led very isolated lives. The nearby village of Rhydwyn was the only nearby habitation and was as self-sufficient as all other villages.
When my mother was a child a bus would stop by Rhydwyn once a week, on a Thursday.
The main market town on Anglesey has always been Llangefni and people would travel there every market day to sell their produce, eggs and butter to the local town shops and buy essentials.
---
THE IDYLL DISPELLED
Life must have been extraordinarily tough for smallholdings like Swtan.
And that's what it was: a small cottage with very little land and very few animals. To add to the toughness of their lives the land was ploughed, sown and harvested.
The sea was also harvested, but there is nothing romantic about this lifestyle. There was very little to fall back on during the hard times.
Farming and fishing implements set about the cottage garden remind you that all that was gained from the land and sea had to be worked for.
It was with blood, sweat, tears that communities wrought benefit from their environment.
The nearby Church of Llanrhuddlad must have been the only source of solace in a very hard life on too many occasions down the centuries.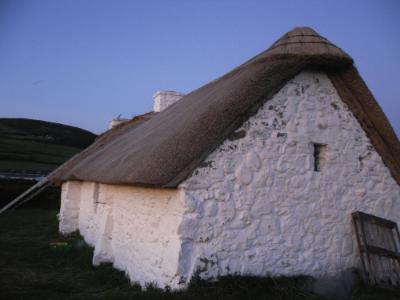 CREATING THIS IMAGINATIVE TIME MACHINE
The renovation of the old cottage was quite a major project.
'Gyda'i ben iddo', as we say in Welsh. The roof had completely collapsed in and the main beam rotted.
Sad that, because the beam was originally the main mast of a small sailing boat. As I said above, times were hard and you used whatever was to hand.
There have been an astonishing number of shipwrecks around the coast of Anglesey. Any evidence has long ago rotted or been bashed to bits by the stormy seas that fall on the Anglesey coastline like a rapacious beast intent on wanton, self-indulgent destruction. Flotsam and jetsam became components of life.
---
But how do you re-build a cottage to its original condition when the skills required are now as rare as hen's teeth?
You gather those traditional craftsmen on Anglesey and import those talents that are lacking. You don't stop there. Indeed not. You train and pass on those skills of dry-stone walling and thatching.
As you can see from the images I present to you, the roof was being re-thatched during the time of my visit.
---
Now, I have led you to the threshold and there I shall leave you to enter. What's the point in describing everything in detail. It would steal away the thrill of stepping back to 1910 Welsh cottage.
If you're bringing children with you then I can guarantee you that they will not be able to believe that families of ten people used to live in cottages such as Swtan on Anglesey.
CLICK HERE TO ENTER SWTAN COTTAGE
---
A few years ago the Welsh Development Agency helped enhance the 'Visitor Experience by purchasing and developing an audio tour to share with you local history, Swtan family history and how it was reconstructed.
---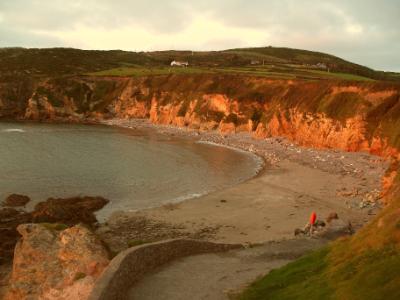 A CUPPA IN AN IDYLL WITH A LOBSTER RUNNING ON IDLE
It may not be good poetry but it is a genuine invitation for you to enjoy a cup of tea, cake, sandwich and an ice-cream at the Wavecrest Cafe and also the famous Lobster Pot.
I have a dedicated page about such obliged holiday gluttony. Please Click Here.
Enjoy and remember, burping aloud and spitting on the floor will not make you friends.
Funny as heck! But it won't make you any friends
---
BEAUTIFUL CHURCH BAY
NOW, while you're here in the area, then make sure that you spend some time in, above and around Church Bay.
If you're a Surfer then you'll have heard of the SIX O'CLOCK WAVES. Maybe you've sat astride your board waiting for the Holyhead HSS ferry to come into harbour.
The wave travels up the entire west coastline. So, They wait. That's what they do.
It is a lovely beach and the walk above the cliffs along the Anglesey Coastal Path is a delight.
No! That's not enough!, on a sunny evening it is staggeringly beautiful walk. See the image below and see if you can argue against what I say.
For more information about Church Bay please Click Here.
CARE ME TO SHARE YOUR IMPRESSIONS
I hope that you enjoy your visit and I invite you to share your memories and your impressions of Swtan Cottage and Church Bay.
If you've stories,thoughts or information you'd care to share with other visitors then please CLICK HERE.
We'd all love to hear from YOU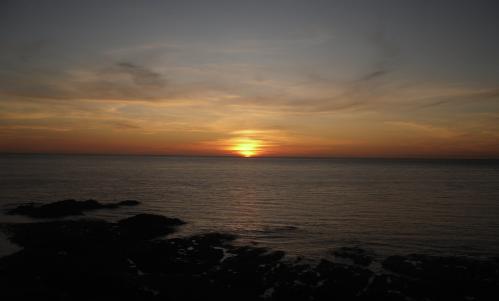 ---
Return from Swtan Cottage to CHURCH BAY.