INSIDE SWTAN COTTAGE
Church Bay
You must, ABSOLUTELY MUST! pay a visit to the thatched Swtan Cottage in Church Bay if you're visiting during the weekend.
Your children, should you be blessed will enjoy their visit. So arm yourselves with reasonably believable answers to their questions.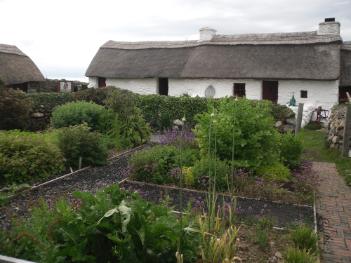 SWTAN COTTAGE HERB GARDEN
The good news for you is that there's always a person in attendance brim full of local anecdotes. Please take the time to enquire because it will add enormously to your visitation.
Please don't worry because I won't show you everything and spoil your visit to this fascinating little thatched cottage. I couldn't anyway.
It's the small details that will have you engrossed. There are so many things to see and appreciate.
One thing that the images or your visit cannot reveal is the hardship of life in such a remote part of Anglesey at the turn of the 20th Century.
---
SWTAN COTTAGE KITCHEN AND HEARTH
I was immediately reminded of my Great Aunty Ann's home in Llynfaes, Anglesey.
The floor was lumpy and bumpy beneath the thin linoleum floor. Aunty Ann cast the odd rug to lend a degree of comfort and insulation on any day.
Before the days of 'Drink Driving' my Aunt would pop to the back and come back with irregular little glasses of milky home-made wine. Rhubarab and gooseberry were favourites. Dad seemed to enjoy it and we always made it home in one piece.
The floor, as here in the cottage, was compacted earth with lime. The expensive furniture was usullay propped up on bricks.
---
I cannot remember what my parents and Aunty Ann spoke about but it seemed interminable. I imagine it would have been about people they knew, alive and past.
I regret being a bored child there when there was so much to learn.
The direct access to those memories is getting older and more friable.
My advice to you is:
Listen And Ask Questions Of Your Parents And Family.
One day they'll be gone and you'll have this massive gap which you can never, ever fill.
When my Mum was much younger the house, called Glan Rhyd was owned by her grandfather and grandmother, William and Mary Jones.
Great Grandma and Grandad had two Welsh Dressers - Heaven knows where they went – Uncle T. probably sold them
---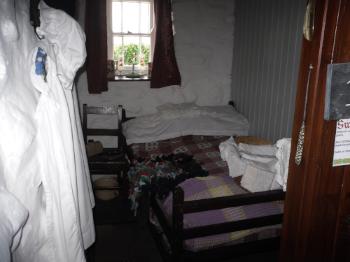 SWTAN COTTAGE GROUND FLOOR BEDROOM
Check out the hanging hooks in the bedroom and ask yourself where the mink and fox stolls came from.
Actually, they were given to the Swtan renovators by a kindly local. Not really appropriate to the place or the time. But curious nonetheless.
As you enter the living, sleeping and kitchen area glance up to your left.
You'll see a crog loft and the old spinning wheel. I have a photograph of this but I want you to discover it yourself - like the potty in the bedroom, for instance.
The lovely lady who was in attendance told me that one of the last people to live in the house remembers that ten - 10! - children would sleep up there.
Even though the loft would have stretched across the entire width of the room we would today regard these as Third World conditions.
Take an imagnative step futher into uncomfortable territory.
---
SWTAN COTTAGE KITCHEN
On my visit I learned that one of the older gentlemen in the small village of Church Bay remembers coming home from school and being sent out to fetch his tea.
Blackbirds - Not Four and Twenty Blackbirds', but Fifty.
The challenge for each of ten children of various ages was to catch 5 birds each. These friendly and trusting birds were easy to trap.
Less than a century ago it was regular for children in these remote rural areas to go to bed hungry. Mothers would weep in their despair and fathers feel emasculated by unrelenting impoverishment.
As I mention on my other Swtan Cottage page, is it any wonder that the Church was central to their lives.
Lack of opportunity to improve the quality of their family's life would have driven anyone to desperate prayer.
Look to the overseas poverty you see on your television. You reach into your pocket or get your credit card out.
These people only had the Parish to fall back on. Before you got a penny, one of your betters would pop around and suggest that you sell your furniture. This is the original Means Tested Benefit.
Fall off this low rung of society and it was the Workhouse. Google this for horror stories.
---
COTTAGE LARDER SHELVES
Peruse the corner larder. Not an inch of shelf space is wasted. All Nature's fruits that were available to every family would be preserved in one form or another.
There is a singular tale of desperate poverty from the time of Witch Burning that lends appalling testimony to the circumstances of the rural poor.
There was an old lady who kept a jar of what looked like cat droppings to casual inspection outside her front door. A cat was designated in law as a Witch's Familiar.
So ... any UNNATURAL behaviour with respect to said legally defined Moggy immediately designated one as a Witch. BURN THE WITCH! BURN THE WITCH!
A party of the self-righteous came visiting one day, ever hopeful of a burning to accrue kudos with the Church.
The poor lady pointed to the barren fields and the emptiness of her shelves and opened up the jar for their inspection. It contained ... DRIED SLUGS.
They were one of the few sources of food that the poor lady could find and vital protein. Embarrassed and probably disappointed, the party of indignant dignitaries left to check out Granny Weatherwax, who always managed to trick them.
---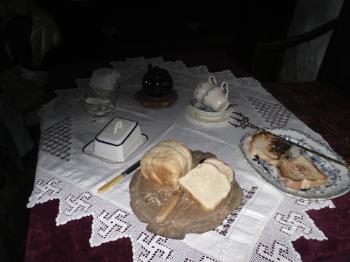 COTTAGE TEA TIME
Apart from a significant indiscretion (can you spot it?) this again reminds me of tea with Naid and Taid and my Great Aunties.
A couple of things missing, though. Aunty Maggie would always start tea at Defaity with a boiled egg and the bread would be cut gossamer thin.
With the loaf held firmly against her left arm Aunty Maggie would wield the Twca - breadknife. She would saw easily back and forwards and a slice would be placed on my plate for me to spread home-made lemon curd.
Having started with a boiled egg it seemed only right to end with an egg custard tart. Absolutely gorgeous.
The tea would be drunk out of china cups so light and translucent. How I loved to hold it up to the light from the large kitchen window and inspect the flower patterns from as many directions as possible.
My aunty would gently burp her way through the meal and was always smiling. That's when I was well.
When I was unwell with asthma the poor lady was terrified that I would drop dead on the farm. I never did, by the way.
---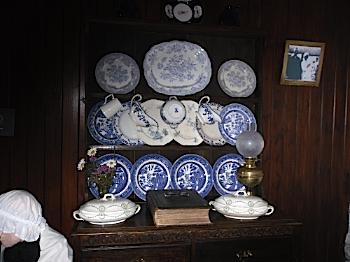 SWTAN COTTAGE WELSH DRESSER
It was always a matter of pride to have a perfectly laid out Welsh Dresser, and Swtan Cottage is no exception with respect to this.
In her teens in the late 1930s, my Mother would be invited by a neighbouring farmer's wife to come and help clean the dresser and wash the fine china dishes.
She reminisces that even though everyone aspired to a dresser and fine dishes not all achieved this social standing. Mis-matched and cracked crockery were all that some families had to share and they all slept on matresi pesgwyn.
As I wrote above, Glanrhyd had two such dressers and they were placed on bricks to spare them from the ravages of ever-present dampness eager to rise from the earth floor.
In her book about a poverty-stricken childhood near Llanerchymedd, the late Mrs Margaret Pritchard (Maggie Bodffordd) told of once using the little sugar that they had in the house to make Taffy.
The poor child never ate that taffy because her father came home and would be angry at the wastefulness. Maggie hid the taffy in a drawer and forgot about it for a week.
Remembering it - and anticipating with relish - she opened the drawer to discover that an equally starving little mouse had found it earlier and died trapped in that once viscous, dark delight.
---
SWTAN COTTAGE
So there you are. If you want to learn more about Swtan Cottage, its history and learn a bit about Church Bay, then I hope that you'll find the links below useful.
Do take the time to ask questions of the cottage's local guide and also use the available Audio Guide?
Have a thoughtful time. I did.
---
Visit WESTERN ANGLESEY BEACHES.
Visit MORE WEST ANGLESEY BEACHES.