PORTH NOBLA

Splash About, Laze or ...
Just Chill Out
Porth Nobla is what it is. Quite simply, it's a lovely family beach.
Whether you want to splash about in the sea, investigate the rocky shoreline on both sides, surf or fish, the choice is all yours.
If you walk north around the headland from Cable Bay along the Isle of Anglesey Coastal Path it will be revealed to you.
A delightfully pleasant beach with plenty of sand and embraced by dark rocky shoulders.
You can decide whether you'll spend some time at this nice sandy beach or traipse contendedly to the village of RHOSNEIGR for an ice-cream or meal.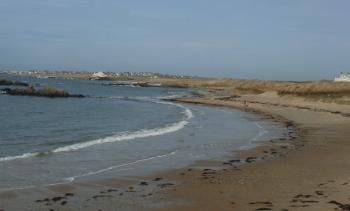 There are, of course, rocks on either side of this beach that make for great exploration for children of all ages.
This reasonably wide beach is great for sunbathing, games and great for splashing about with your kids. AND building sandcastles!
---
SANDCASTLES?
I have this pleasant fantasy of everyone on a beach getting together to build an entire sand town within sandcastle walls.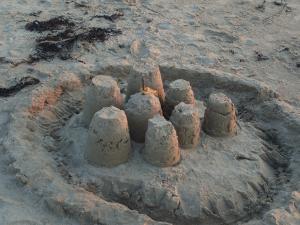 Then we shall all stand back and watch the tide come in relentlessly.
We are reminded of the many signs of how short-lived is our journey and that we leave very little except memories and lessons - hopefully reassuring.
In the meantime, HEAD FOR THE BEACH!! And HAVE FUN!
By our actions we can show that we were here.
The sandcastles were here. And it was all of us who built them - while eating gritty ice-cream.
We shall then sit back to wait for sunset on a white beach.
Our friends and children will accompany us, eyes tearful with acrid smoke and with the rich odour of marinated carbon and, occasionally, a meal fit to eat.
The dull clank of toasting beer bottles will be an appropriate counterpoint to our laughter.
LOVE, LAUGHTER AND FRIENDSHIP MAKES ALL THINGS BEARABLE
For who knows? Porth Nobla ... Summer ... Warmth ... Sunset ... ROMANCE?
What other purpose is there to an Anglesey beach other than to bring people together?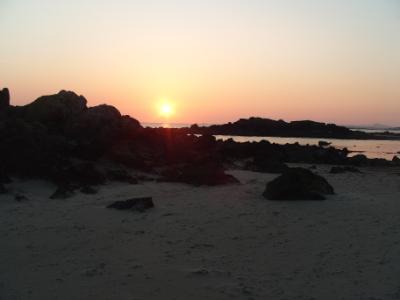 ---
HEADLESS BURROWING SHEEP
An interesting phenomenon of Porth Nobla and CABLE BAY is the headless burrowing sheep.
Earlier in its evolution it is suspected that this breed burrowed so much that it pushed its head back in between its shoulders.
Grazing is difficult for this breed; however, there are new genetic modifications that indicate it will soon be a vertical grazer.
N.B. The toilet department will then be a major challenge to its health and general hygiene.
---
ISLE OF ANGLESEY COASTAL PATH
The Coastal Path is our great gift to ourselves and to you.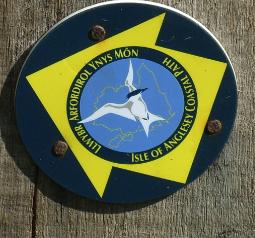 The coast of Anglesey is 200 kilometres long and outside of lambing season it is accessible for over 98% of its length.
Significantly, the Isle of Anglesey Coastal Path skirts all Anglesey beaches.
The first piece of advice to you about the beach from RHOSNEIGR to CABLE BAY is that it's a very satisfying walk in both summer and winter.
It offers an ideal long walk for blowing away those dark winter cobwebs and rejuvenating your soul.
The windier and stormier the better it is for me.
By the end of the walk not even the most desperate of demons are left clinging to me.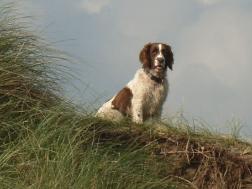 If you choose to park your car in Cable Bay and walk to Rhosneigr round the village and back then it is a satisfying two hour walk or trot.
Depending on the time that you take your walk there could be shops and restaurants open.
Even if there aren't it is still a very invigorating walk to tire both doggies and kiddies.
---
SAND WISHES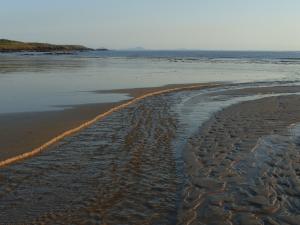 I am a great believer in the truth and stating what it is that you want from life. Sometimes you need a little help - some divine intervention, perhaps.
I've learned that it pays to have more than one MODUS OPERANDI.
If one contingency doesn't work, then you have another to hand.
When I'm on the beach and a profound desire strikes me, then I pick-a-stick and write the thought or desire in the sand to allow the sea to carry it to the world to be brought back fulfilled.
This all works on the same general principle as Tibetan Prayer Flags. It's a theory under development, but it's got great potential.
I'm sure you'll agree that Porth Nobla is an excellent beach for carrying out these profound experiments.
There again, you could always just tell the person.
In the meantime, while you're working yourself up to that CLICK HERE to learn the SAND WISHES theory. It's all very technical, yet simple
---
LOCAL FACILITIES IN THE PORTH NOBLA AREA
Cable Bay carpark is only a short walk away so that you can enjoy an ice-cream at your leisure. Too far to fetch them back, sadly.
The van in the carpark will also present you with teas, coffees, burgers etc. Nice.
There are no shops or restaurants within easy reach. For those you'll either have to hitch a ride on Shank's Pony or get back in the Carbon Footprint and head for Rhosneigr.
To make your stay perfect you'll find that all the best shops and retaurants for the Rhosneigr beaches are located in the village of Rhosneigr.
CLICK HERE for RHOSNEIGR AREA FACILITIES.
CLICK HERE for more information on Anglesey's eating and Shopping.
---
CONTACT ME
I would love to hear from you about your stay in the Porth Nobla area of Rhosneigr or to try and answer any questions you may want to ask in advance of your visit.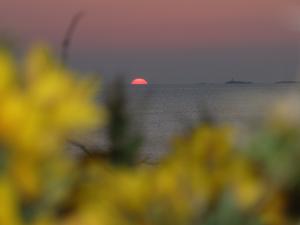 Maybe you are one of those visitors who has been visiting the Rhosneigr area for decades.
You're not the only one.
Please tell me what makes Anglesey a special place for you.
Maybe you have special advice - or even warnings.
Feel free to share by CLICKING HERE.
---
SURFING
Porth Nobla Beach offers reasonable surfing when conditions are good.
The general rule of thumb is that when the surfing's VERY HOT at Cable Bay (next door), then they'll be HOT at Porth Nobla.
The secret of surfing on the West Coast of Anglesey is to patiently allow the South Westerlies to build up for a few days. Then get in your car and head on down.
But you have to be patient. Yet once in a long forever the most excellent waves will arrive.
In general, it's a pretty good beach for novices.
I remember surfing here in the middle of Winter with such excellent conditions that we were still at it in the dark.
The bay was lit by a porch light beam of one of the beach-side cottages.
We were shouting to each other with excitement and couldn't wait to get back out there to the good waves again.
I was as reluctant to leave as a four-year-old who's been digging a hole in the garden all day and can't bring it inside.
---
WINDSURFING AND OTHER SAILING SPORTS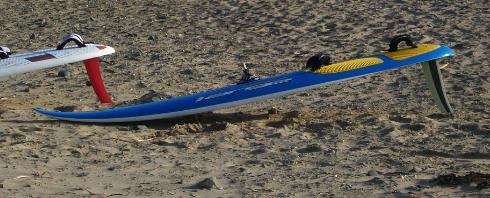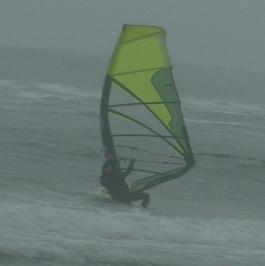 The bay is too small and unless you are very skilled there is nothing here for you.
Porth Nobla is well-sheltered from any useful winds. Anyway, the rocks on either side are far too close.
Any loss of control will have you chewing basalt and miscelaneous geological strata.
Best advice is to get back in your car and head for Rhosneigr's BROAD BEACH or MAIN BEACH.
---
BOAT LAUNCHING AND REGISTRATION
You can launch your kayak or surf board from this beach with impunity; however, let me know when you're going to try and launch your power boat or jet-ski on Porth Nobla Beach.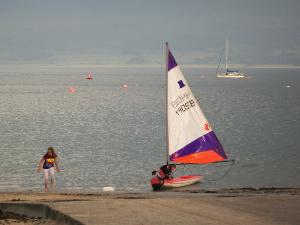 First of all, you'll need a strimmer and an axe to cut a path down from the lay-by.
Sorry. Before that you'll need Planning Permission to cut down the spiny herbiage.
Get the idea? Nonetheless, you will need to check registation and launching fees on Rhosneigr Main Beach. There's usually a warden on hand.
The County Council requires you to register powerboats over a certain horse-power and also lists the required qualifications.
Please CLICK HERE for all the above information and about launching fees on other Anglesey beaches and slipways.
---
GOLF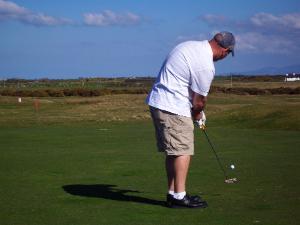 If you've brought your golf clubs with you then you'll enjoy a good day's sport at the Anglesey Golf Club in Rhosneigr.
My brother drives there straight from work because, as he says, it's a challenging golf course that has really pushed his handicap to a creditable Five and a bit.
Don't be put off, though. He plays his golf with friends who have just as much fun as he does, for whom golf is their handicap.
There are plenty of water obstacles and grazing sheep that are golf ball magnets.
The Anglesey Golf Club is a Scratch standard course and there are plans to clear areas to further enhance its reputation.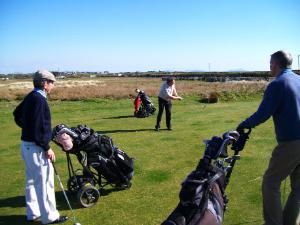 This is an Area of Outstanding Natural Beauty so the planning obstacles are deeper than the streams and meaner than the sheep.
The local politics is mind-boggling.
In very bad weather the sea wind really challenges your handicap. And, when wet you might as well bring your snorkel.
However, the vast majority of time this is an excellent golf course and remains astonishingly popular.
Each of Anglesey's golf courses has its unique character. You can play serious competitions or just knock a few balls.
---
FISHING IN THE CABLE BAY AREA
I've snorkeled the water below the headland and am amazed that anyone ever catches any fish here. The ledges turn into overhangs underwater.
Just like anywhere else fishing here all comes down to research, planning and plain good luck.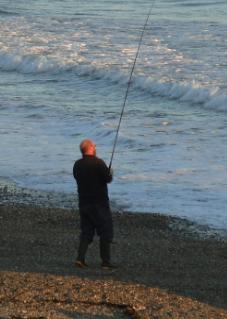 Both sides of the Cabe Bay area are fished and offer good marks.
To the left of the bay and around toward the Anglesey Racing Track is known as the Ty Croes Ledges.
Ty Croes is reached by turning for the Racing Track and parking on the concrete apron behind the houses.
Follow a track behind the houses and onto the old missile testing ranges.
Can be a desperately desolate place when cloudy and cold.
WARNING - Watch yourself on the lower ledges. The swell can catch you unawares.
Remember, fishing is a day well-spent with frequent desperate thrashing about. The general idea is to fish and then go home vertical.
The guy above is from Northern Ireland and was lovely company. He's fishing here on the long stretch below the big holiday homes.
---
Local Marine Residents
The resident beast in the Cable Bay area is the doggie, which varies in popularity from fun, to unpopular to kill and throw back.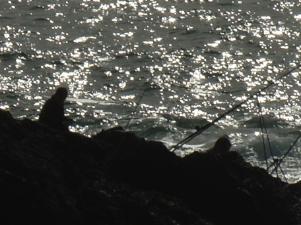 At low water it you may catch the odd nice sized turbot, rays,coalie and gurnard.
As the guy luggng his lobster pot in Aberffraw told me, "There's basses everywhere from Aberffraw to Rhosneigr."
Come the season come the mackerell in their hordes eager to throw themselves at your bait.
The headland between Cable Bay and Porth Nobla is favoured for rays (just below the burial chamber). Mind you, you'll find people all along the ledges from Cable Bay to Porth Nobla and the beaches beyond.
I have noticed that there are regular competitions held on the beaches from Cable Bay all the way to Broad Beach.
I enjoy asking each fisherman what he has caught and lying to the next that he's got a poor mark and the guy back there has caught loads.
---
PETS ON THE BEACH
• No major prohibition on dogs, but please keep them on a leash - Unlike Crazy Fido here.
• Though not here at Porth Nobla Beach, there are Seasonal Prohibitions on dogs on certain Anglesey beaches.
• Always bring a doggie poo-bag with you because the little dears can't always help themselves.
Imagine specific matter oozing from between your tanning and sandy toes.
Imagine a worse scenario; it's your child.
• The main concern regarding dogs on Anglesey beaches is a health issue.
Doggie poo can blind for life.
FOR MORE INFORMATION ABOUT DOG RESTRICTIONS ON ANGLESEY BEACHES PLEASE CLICK HERE.
---
GETTING TO PORTH NOBLA BEACH
• Travel across Anglesey toward Holyhead on the A55 Expressway.
• Halfway across the Island take Junction 3 for Rhosneigr.
• Follow this road through Engedi. Then a few miles later, Llanfaelog.
• Follow the road passing the church on your left.
• Carry on along the coast road until you have open warren on both sides.
• After less than a half mile you will notice a large car park on your right. You can access the beaches from Porth Nobla back to Broad Beach from here. Or ...
• Less than a half mile ahead there is a very small lay-by on your right immediately after a small holiday cottage above the beach.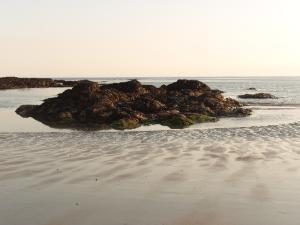 • Park here if there's room. If not, just go over the brow of the hill and park in the next car park for Cable Bay.
The good old Anglesey County Council has just created a footpath along the road from Cable Bay to Porth Nobla Beach.
The headless burrowing sheep are generally in the field on your left.
• If you park in the Cable Bay car park then walk around the headland past the archaeological site of Barclodiad y Gawres with an ice-cream in your hand.
---
Return from Porth Nobla Beach to WESTERN BEACHES