Rhosneigr?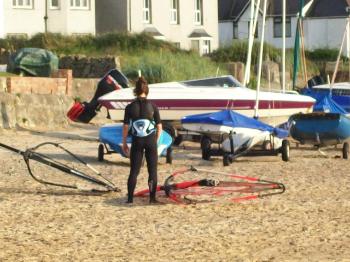 Rhosneigr Surfing Babe
Dear Wil




Why isn't beautiful Rhosneigr on this website? It has so much to offer. Lovely beaches, great places to stay.

Excellent shopping - Gorgeous Gift shop, Eating places and clothes shops. There are all watersports available, walking, fishing, golfing and just plain chilling out.






---






Dear Mysterious Mystery Visitor

In amused shock I utter, "What do you mean no pages about Rhosneigr?"

Go to West Beaches and Beach Awards and you'll find a very detailed description of all the wonderful beaches along what I reckon must be the best collection of beaches in the whole of Wales, if not the UK.

Listen. As an Anglesonian, I am certain that Prince William and Kate Middleton may well have checked out these beautiful beaches and lovely little restaurants.

You'll also find a page with Rhosneigr Facilities for your consideration. Though a recent visit has revealed I need to update it. Time, dear Mysterious Visitor. Time.

Starting to the immediate south of Rhosneigr Village and coming back and through you will find



As I keep saying Time, Time Time. I have it on my little notice board to create a page on Lovely Towns & Places for Rhosneigr.

I've attached the links above and hope that you enjoy the information there.

Best wishes to you, your family and friends from a pretty dark Sunday afternoon on Anglesey

Wil
Join in and write your own page! It's easy to do. How? Simply click here to return to Anglesey Travel Stories.
---