Rhosneigr?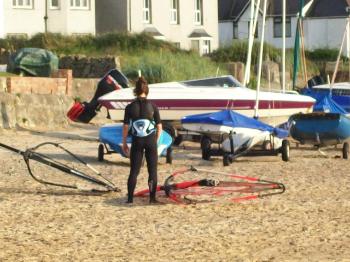 Rhosneigr Surfing Babe
Dear Wil




Why isn't beautiful Rhosneigr on this website? It has so much to offer. Lovely beaches, great places to stay.

Excellent shopping - Gorgeous Gift shop, Eating places and clothes shops. There are all watersports available, walking, fishing, golfing and just plain chilling out.






---






Dear Mysterious Mystery Visitor

In amused shock I utter, "What do you mean no pages about Rhosneigr?"

Go to West Beaches and Beach Awards and you'll find a very detailed description of all the wonderful beaches along what I reckon must be the best collection of beaches in the whole of Wales, if not the UK.

Listen. As an Anglesonian, I am certain that Prince William and Kate Middleton may well have checked out these beautiful beaches and lovely little restaurants.

You'll also find a page with Rhosneigr Facilities for your consideration. Though a recent visit has revealed I need to update it. Time, dear Mysterious Visitor. Time.

Starting to the immediate south of Rhosneigr Village and coming back and through you will find



As I keep saying Time, Time Time. I have it on my little notice board to create a page on Lovely Towns & Places for Rhosneigr.

I've attached the links above and hope that you enjoy the information there.

Best wishes to you, your family and friends from a pretty dark Sunday afternoon on Anglesey

Wil
Join in and write your own page! It's easy to do. How? Simply click here to return to Anglesey Travel Stories.
Make Your Anglesey Holidays Really Special
Anglesey Hidden Gem and Appalling Lies & Inspiring Missives
Create more wonderful memories and experiences for you and your family and friends when you visit Anglesey.
Anglesey Hidden Gem
It is a simple and obvious thing to say, that any view or place is improved significantly when you have stories and knowledge attached to what you are viewing.


May I therefore invite you to have a look at my book 'Anglesey Hidden Gem'.

This book is full of the known and unexpected places off the beaten path you might wish to visit and offers you stories that will bring to life the distant and recent past.

Please click on the image above for more information.
By the way, Anglesey Hidden Gem is currently part of my Easter Book Sale with greatly reduced prices for this week.

'
Appalling Lies & Inspiring Missives from Anglesey'
You may also like to learn of who we are on Anglesey, of our history, character and especially our humour.

In 'Appalling Lies & Inspiring Missives from Anglesey' I offer you the opportunity to learn about us.

It is available in both Kindle and Paperback versions.


Also part of my Easter Book Sale with greatly reduced prices for this week.




---