MYNYDD BODAFON MOUNTAIN

Meetings with Genial Strangers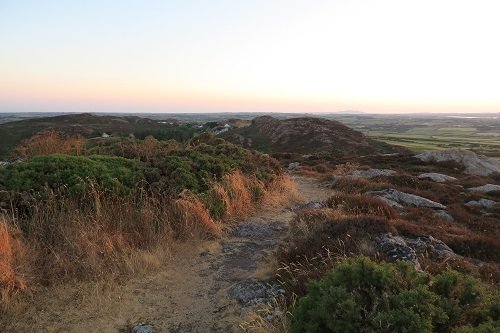 Mynydd Bodafon Mountain 11 July 2018

A MOUNTAIN REVISITED

Mynydd Bodafon stands aloof of Anglesey's east coast and is an accessible 'peak' from which to peruse Anglesey and beyond in all directions, from Penmon Point and Puffin Island to Llandudno beyond.
One may trace the peaks of Snowdonia from the Carneddau Mountains most of the way along to the peaks of Yr Eifl and traipse downhill to the end of the Lleyn Peninsula many miles thence.
As written elsewhere on Anglesey Hidden Gem, Mynydd Bodafon ('Mynydd' = Mountain) is in actuality the small outcrop called 'Yr Arwydd' that stands above the lake (Llyn Bodafon).
Oil Tanker Awaiting Amlwch Pilot off Dulas
By facing eastwards, one can appreciate the scale of Red Wharf Bay, which reaches in a comfortable curve from White Beach, Llanddona, Pentraeth, the hamlet called Red Wharf Bay, Benllech to Traeth Bychan.
You may recognise Traeth Bychan in another context as the beach to which the tragic submarine, HMS The Thetis was beached in 1939 ninety-nine bodies could be recovered and the cause of its sinking investigated.
Ynys Dulas is easily identified from its tower and the very large ships invariably resting at anchor thereabouts waiting to be guided away by the local Pilot or are waiting for instructions regarding their next port of call a world away.
People who have been visiting Anglesey for many years now refer to Ynys Dulas as 'Seal Island' because of the grey seals that reside there and also because on calm heavy nights one can hear the baby seals call. – very eerie'

AT MYNYDD BODAFON,
YOU'RE NEVER LOST FOR A DUCK

Before setting off for the top of Mynydd Bodafon it might be worth stopping to tarry a while at the lakeside near the bench and prove to yourself what a duck magnet you are.
Duck flotillas will cut through the water to come to you from all directions. Many individuals half-sunken with invertebrates and bread, feign dignity in desperation like fatally injured tenders coming in off the Atlantic Convoys. They crawl toward you in anticipation of your generosity.
I do suppose that it can't be healthy feeding processed bread to ducks, no matter how much they might enjoy it. It might be worth stopping at Stermat - the hardware store - in Gaerwen outside Llangefni for some bird seed instead.
Notwithstanding the ease of arrival of the flotilla of ducks to on Llyn Bodafon, you will note that the reed growth is quite substantial and from the distance the lake looks greener that it does blue; however, it retains its unique beauty - best appreciated in the evening. 
More years ago than you can wave at a duck, I remember the lake being drained of water and the reeds reduced to decoration along the lakes periphery. Many ducks have passed under a bridge since then and I can imagine that a report has been sent to someone in the Welsh Assembly requesting money for a new project to manage the reeds.
Llyn Bodafon Lake



NATURE'S TRIGGERS FOR A HEALTHY HEART AND SOUL



Life has taught many of us that the best silence for addressing the injuries to your Heart and Soul is the Silence of Nature.
GI Gurdjeff wrote of 'Meetings with Remarkable Men', but I write of Meetings with Genial Strangers. This evening was an introduction to Andy a new visitor to Anglesey. I could see him making his way up to the 'peak' of Yr Arwydd from the opposite side to the one I'd arrived up. 
I was struck by his staggered stop-start approach up the path and when I introduced myself and spoke to him about it, he advised me of good counsel he had once received from a friend.
When arriving at a natural site, you should always feel the ground beneath your feet, the wind on your face, the scents in the air and embrace the new noises that surround you. By stopping and closing your eyes these other modalities, or senses, are enhanced If you exercise patience.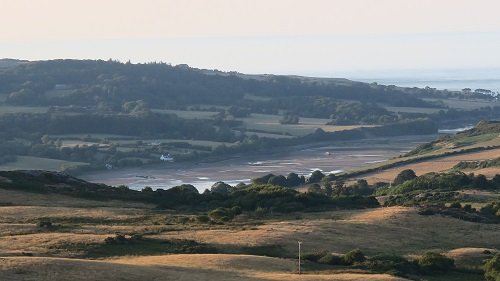 Dulas Lagoon from Mynydd Bodafon
Life is so noisy and scents so strong and tastes too intense that we are in danger of losing the more subtle and gentle multi-modal 'flavours' of the world.
Andy is remarkable because he values Nature's complex subtleties and creates the space and time in his life to appreciate then as fully as he can.
The picture above is what I have always referred to as the Dulas Lagoon - a bit of a bugger to get to some parts of it - and I could see it from Mynydd Bodafon at what I regard its best - tide out and in the evening. It is here I got to listen to Nature as birds settle down for the night after their day's travails.
Arriving down the raggedy path from the Lligwy Beach end, I sit on convenient boulders with my eyes closed and bring my imagination to play.
These sounds are the triggers that a contented soul and heart recognises. For more information on this Click Here.



A JOURNEY FROM A HELL TO A HEAVEN



Above is Rollie. Rollie was beaten senseless regularly by a farmer and it is a miracle that he is alive today.
Recently rescued and very recently placed with a kind young gentleman from Warrington visiting a parent at Lligwy Beach, this very nervous dog must continue to be intrigued by the companionship of people (mostly men) who regard him with affection rather than as the butt of hatred. The trust between carer and animal was manifest and developing.
Andy and I just conversed gently and hopefully revealed that most of the world is a safe place for humans and dogs. We pointed in each direction from the top of Mynydd Bodafon and shared our maritime stores.
All too soon, it was time to go our merry ways as the sun sank to the horizon on the other side of the beautiful Isle of Anglesey and into the sea without a sizzle.

GETTING TO BODAFON MOUNTAIN

Quite simple, really.  Just expand or contract the Google Map below to bring you to Bodafon Mountain.
If you're arriving from past Bodafon Lake (Llyn Bodafon) then you'll see a road at the east end of the lake. Move past this.
Move past an unexpected little chapel on your left. Immediately past this is a rough track to your left.
There's a hand painted sign bearing the legend: Clegir Farm. Turn up here and use the little carpark on your right.
Choose the Google EARTH map for a very good view of Mynydd Bodafon.
View Mynydd Bodafon Evening Reflection in a larger map
Care To Share A Thought?
Dear Reader,

Would you care the share a thought or make an observation.

---
An Evening's Reflection at Mynydd Bodafon
Go to ANGLESEY WALKS & AMBLES.
Return from Bodafon Mountain to HOME PAGE.
---