PENYGRAIGWEN

Expect the Unexpected
ANGLESEY JOURNAL - Sunday July 12 2009
Penygraigwen
I came across a tiny hamlet in the eastern part of Anglesey today that I didn't know even existed.
Some of you have had a good look at some of my pages will know that I have already told you to 'GET LOST!'.
This is nothing personal, you understand, but sound advice about enhancing your visit by inviting you to engage with the enexpected.
Anglesey is an island with a 125 mile coastline so travel far enough and you will always end up on the Coastal Road.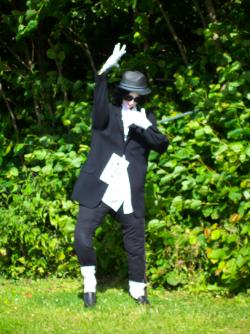 I finished some work by about 4:30pm and went to pick up my Mum to take her for a little ride in the car.
She's not been feeling too well and I know that the countryside and the sea really brings out the 'pick-me-up' stories that help.
I remembered that in August Capel Coch has an Annual Scarecrow Competition (trans 'Bwgan Brain' - 'Ghost for Crows').
So ... We headed in that direction to enjoy the family creations on the side of the road.
Michael Jackson was there, believe it or not. Him and a few other superstars.
---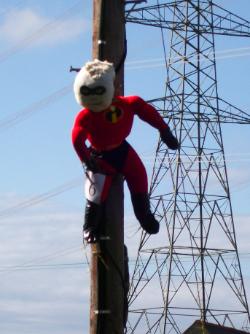 In the way of these things, maybe Elvis was there as well.
This is an annual competion and it seems that other villages, like Llanfechell are catching on.
Please find this little village and have a look at the strangely attired church.
These competitions are for children and families.
Though, like sandcastle building, I imagine that Dad has to be chased into a corner lest he try to relive his unfulfilled childhood.
---

I drove us over Mynydd Bodafon (trans. 'Mynydd = Mountain') down to the Dulas coast road (A5025) and turned left to head in the direction of Llys Dulas.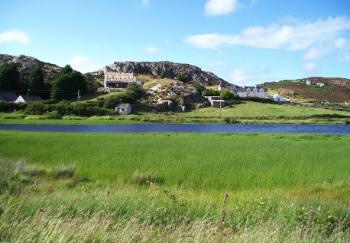 Opposite the Llys Dulas right turning there is a turning for DERIMON SMOKERY. Shame to admit that I have not been here yet - despite their growing reputation for quality.
It's a couple of miles dowm the road and located on a farm on your left on a fork in the road. The farm is called 'Deri Isaf' and it's closed on sundays.
WHAT TO DO?
Right road indicated 'Camping', the left 'Pengraigwen' (trans. 'Upon the White Rock').
I'd never heard of Penygraigwen though until then I'd lived on Anglesey most of my life.
So I followed my own advice and got pleasantly lost.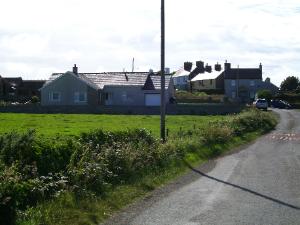 A lovely drive along a narrow widing country road brough us to a small crossoads.
Straight across and another short journey along a delightful single track road.
Round a sharp corner by a yellow house selling 'Eggs for 65p half doz' and there it was a collection of houses perched on a hill.
On my left was a gentle green hill with mums and calves grazing below a beautiful blue sky.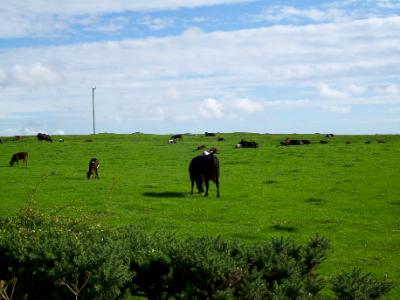 ---
A MEMORY JOGGED
"Pengraigwen," my Mum said. (Locals tend to drop the 'y' in Penygraigwen
She suddenly remembered a tale about this tiny place from over 80 years ago.
You can't drive through Pengraigwen because it's the end of the road. I thought villages like this only existed in Stephen King's imagination.
Anyway, to the tale.
The pretty daughter of the post office in Carmel was a friend of my late Aunty Maggie and both young ladies were very eager to find love and to settle down.
Aunty Maggie married my Uncle Trefor and became a farmwife the other lovely lady married a MMB dairy driver from ... Penygraigwen.
My Mum then told me about how nice young ladies went about seeking a husband in those strict Anglesey chapel days 80 years ago.
It was all so discrete and one dare not be frank. Chapel sensibilities made such a direct approach more or less impossible, scandalous.
None of the standing outside the Foundry on a Sunday night with a cigarette in your hand and swearing into a mobile phone.
A step-by-step-by-step approach involved a glance on a Saturday evening's promenade from one end of Llangefni to another. This was followed by a glance in chapel, Band of Hope, concert.
Edging ever-nervously closer and closer until strict formality completely collapsed and they held each others' hand.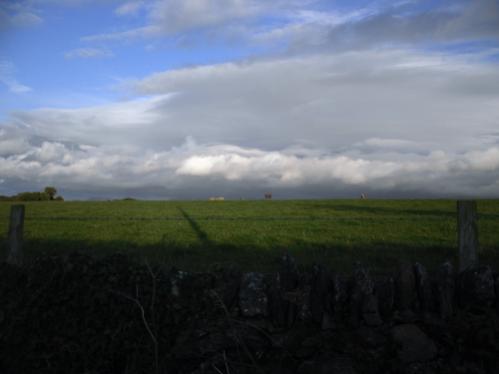 ---
BITTER SWEET REFLECTION
Over 80 years ago there was still a shortage of men in the country because so many young men had been slain in the First World War.
How my aunty's heart and that of her friend from Carmel must have ached and how fearful they must have been of ever achieving any kind of future happiness.
This draws me back the italicised observation above about a Sunday evening's hedonistic activities outside the Foundry Inn and the transient and fragile nature of many modern relationships.
I compare this reflection with fragile wistfulness of a generation now long gone, wherever we live. Hopefully not Penygraigwen.
Bob Dylan, in Earl's Court 25 years ago, said, "If you don't stand for something you'll fall for anything."
When I was writing about Llanddwyn Beach on the West Coast of Anglesey, it was fun sharing my Fish Batting story.

I'm sure you've got some even better Anglesey holiday stories that people really would love to hear about.

Go on, let us hear them.

---
Return from Penygraigwen to ANGLESEY JOURNAL.
Return to ANGLESEY HIDDEN GEM Home Page.
---