ANGLESEY WINTER SNOW

Christmas & New Year Images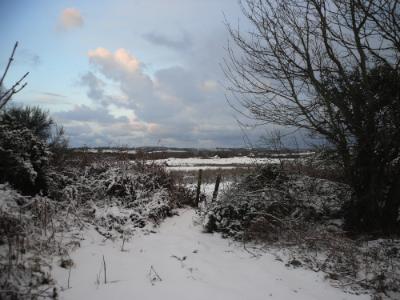 SNOW! WHAT? ON ANGLESEY?
January 5 2010
I believe that if my cousin's cat, Snwc, realised that snow could be such good fun then she would have made a bit more effort to get out there.
However, Snwc is a firm advocate of Global Warming and is gently urging it along from her recumbent position as a gentle burp and warm cuddle spot on the sofa.
No need to offer copious amounts of money to Snwc to prove what research bodies want proved. Snwc's already there.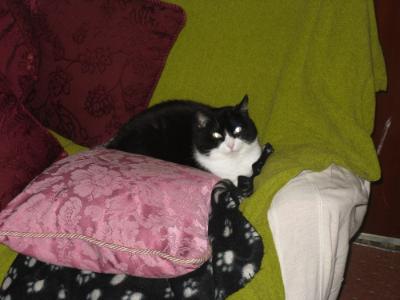 ---
Advocacy is one thing but the coldest Winter in over thirty years is a bit of a puncture in her Sunshine Anticipation Schedule.
What does she do? Like in the Old Spice aftershave advert. She waits. That's what she does.
Snow is SOOOOO Last February and certainly not this year's 'New Black'.
---
WE DON'T DO SNOW ON ANGLESEY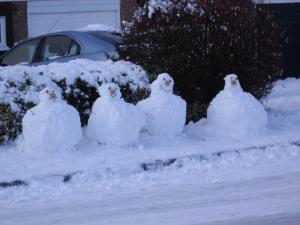 Like the rest of Britain we only have one reaction to snow on the road and that is to panic and blame someone.
It's a very British trait.
If we suffer widespread wintry weather for more a few days then someone has to be held to account.
BBC Weatherman Michael Fish found his faultless record of meteorological prediction marred by a confident statement he made to the entire nation on the evening of 15 October 1987.
"Earlier on today apparently a lady rang the BBC and said she heard that there was a hurricane on the way. Well don't worry if you're watching, there isn't."
To this day, Mr Fish insists that he was making a specific reference to anticipated weather in Florida. Poor man must be so bored of seeing it re-played ad nauseam.
Overnight the beautiful town of Sevenoaks became the beautiful town of ... Oak!
The residents planted six new oak saplings and put on the kettle to wait the required seven hundred years. Sadly, some vandals knocked them down.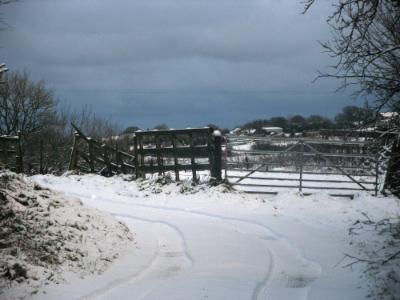 The images were taken today around four o'clock. Yet, while sunset is not that far away, there is still adequate light to capture the dark heaviness of the clouds.
The day has a tail to it, as we say in Welsh: "Mae yna gynffon i'r dydd," and Summer is rapidly approaching by two minutes a day.
Snwc's got it sussed, she reckons. She is waiting as quickly as she can.
---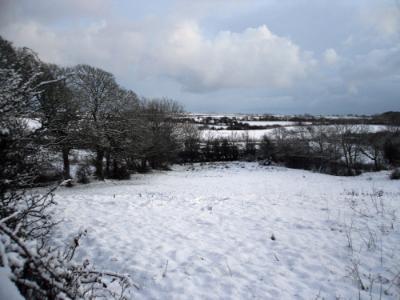 ---
THIS IS PROPER SNOW.
It's been on the ground for a couple of days and, as the Sun sails downward on its shallow aerial transect, underfoot the snow gains a firm crunchy surface.
Reminding us to get more logs for the fire.
Is it old age or just plain common sense? I no longer enjoy the cold, though there was a time I could tolerate every weather condition imaginable.
In fact, as a tough young mountaineer and climber the worst weather conditions were challenges I would regularly seek out.
"Come and join us," shouts my neighbour.
"I've got to go and feed the cat," replies the tough guy.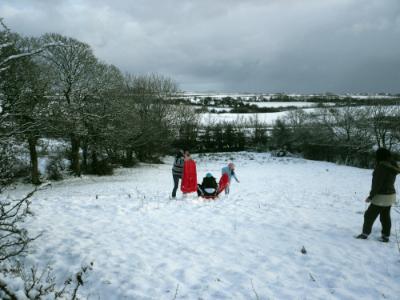 DINGLE - NANT Y PANDY
Isn't it pretty? Okay, so there were monkeys in search of welders.
But after a Christmas lunch that seemed to stay in my tummy for days it was an appropriate bit of exercise. The molly-coddling was over.
The lovely bridge above is the one Charlie H. missed when he ran down the hill during a school cross-country run.
Charlie did that on a muddy day. We had to do cross-country runs on days like this as well, thanks to Ieu Gig (Mr Ieuan Griffiths) the gym teacher. Frost-bitten bottoms, or what?
This walk from the St Cyngar Church carpak through the Dingle and all the way to Llyn Cefni (Cefni Lake) is invigorating in Winter.
In Summer it's an absolute delight. May I respectfully highly recommend you find your way here during Spring and Summer.
Click Here for a lovely the lovely Dingle Walk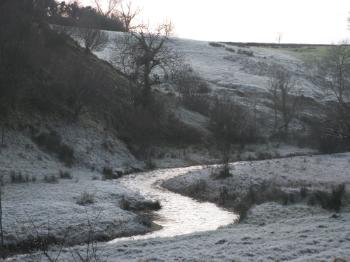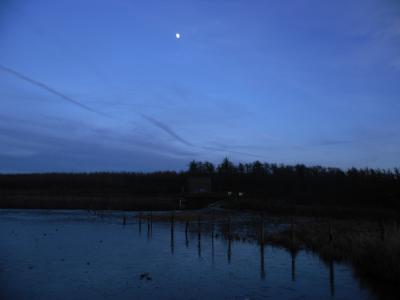 LLYN CEFNI
An Arctic blue sky augurs the inevitable oncoming fearsome cold of a Winter night above an already frozen lake.
I always wonder where the ducks go at night in weather like this.
There is such a deep silence in the conifer forest in such weather that is more unnerving than heavy scrabblings in Summer undergrowth.
So where do the ducks go?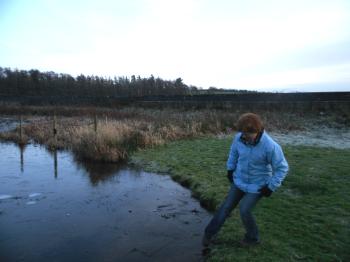 So here's Cousin F. dipping her brave toes prior to some action.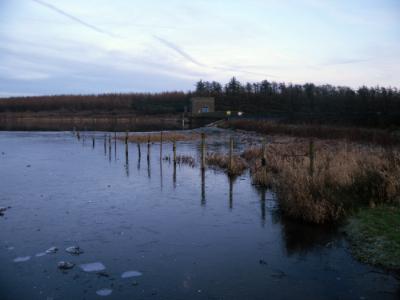 And there she was ... GONE!!
What seemed like a good idea at the time soon begets the question, "Who's got the car keys?"
"I'M WAITING AS QUICKLY AS I CAN, LIKE."
So while we humans scramble in and out of lakes and along paths that make us long for Summer, Snwc waits. That's what she does.
Summer 2010 is only a handful of months away but Snwc is looking further ahead.
Global warming is not yet fully established as a fact, yet if enough people believe something then it can become true.
As Burt Kwowk said in 'The Water Margin',
"Do not despise the snake for having no horns, for who is to say that it may not one day become a dwagon."
As Snwc would have it,
"Do not underestimate a cat in a fouton bunker, for who is to say that reincarnation is not true and that you won't come back as a mouse."
Who needs fortune cookies when you've got a ruminating, free-peeing cat watching you just a bit too intently.
Is that affection, an affliction or a cunning plan being hatched?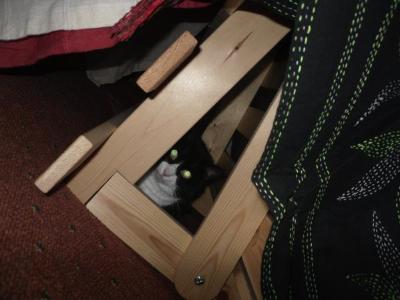 ---
Return from Anglesey Winter Snow to ANGLESEY JOURNAL.
Return to Anglesey Hidden Gem Home Page.
---