ENJOYING A DRIVE IN THE DULAS AREA OF ANGLESEY
LOCATIONS WORTH VISITING ON THE WAY TO DULAS BEACH
Dear Reader,
I am certain that you will quite quickly realise that this page is specifically attached to the Pengorphwysfa Coastal Drive page.
You'll find the route description at the other page link.
The location descriptions are to be found below.
I do hope that you take the time to enjoy this lovely little drive and walking opportunities.
I also hope that you consider writing a description of your jaunt and let us all know what you enjoyed most.
I've created a form link at the bottom of the page so you can write your report, should you feel moved to do so by your experiences.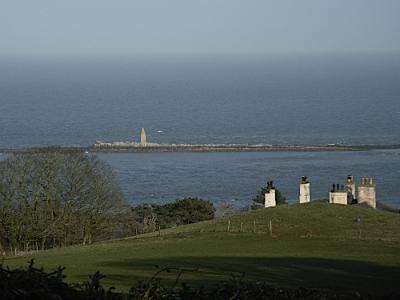 ---
THE CHURCH OF LLANEILIAN is located in its own parish, which includes the smaller, now abandoned church of St Peirio in the Rhosgoch area.
A small carpark, garden and bench were built in 2009 and it's a delightful place to stop and contemplate your map or eternity, if you are so inclined.
Llaneilian Church has been built across four centuries. The nave and chancel was built over St Eilian's cell during the 15th Century. The west tower was built in the 12th Century and the south porch was built in the early 16th Century. The diagonally postured chapel was built apart in the late 14th Century.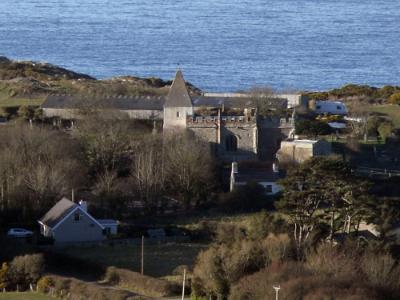 This photograph was taken from the heights near Pengorphwysfa and indicates the elevation.
A walk around the ancient cemetery is an unexpected education. Those blessed with wealth or patronage in 17th Century Anglesey have good grave stones that have stood up to the Second Law of Thermodynamics and Nature's worst ravages.
Most of these testimonials will be in Welsh and testify to the departed having been a 'Athro'r Efengyl' or 'Ymdrechodd Ymdrech Deg" - 'Teacher of the Scriptures' and "Endeavoured with Dedication".
I believe that you'll find the best testimonials in St Pabo's Church in the centre of the Island. The stones in St Peirio's Church in Rhosgoch are destroyed by wind and rain and the testimonials, whether simple or elaborate, have been lost to us forever.
That should send a shiver up your spine and remind you of the words of 'Horatius',
"CARPE DIEM" - 'SEIZE THE DAY'.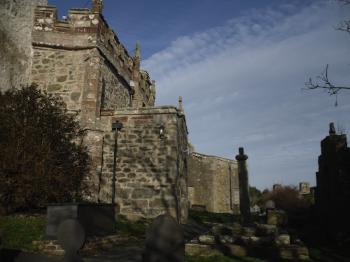 ---
This is not a sandy beach; however, it is an interesting beach to investigate. As I write elsewhere, the Anglesey Coastal Path comes down to the beach from Point Linus and wanders to your left. The path is below the lovely beach cottage and well-signposted.
For a sandy beach, you'll have to make your way to Lligwy south of Dulas Beach.
The coastline from here is gentle and shelved and very popular with fishermen and women. Heaven Forbid! But this could be your only trip to Anglesey so don't miss the opportunity to wander along the fine sheep-grazed piece of Anglesey.
I'm certain that if you're inclined for an early picnic - and it's a beautiful blue sky, silky blue sea – this is a lovely place to Meditate on Blue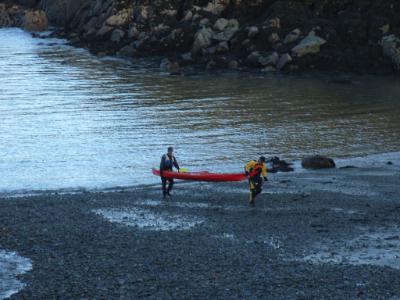 Llaneilian Beach is popular with kayakers who love this coastline. Many arrive here from the old PORTH WEN brickworks a couple of miles this side of Cemaes Bay. It's a bit awkward to get to and I'll give you the instructions to get to Porth Wen in a short while.
---
It's only a fifteen minute walk up a steep hill track to the Point Lynas headland. At its end is the large white structure that is the lighthouse.
There has been a lookout cum lighthouse here since 1779. The white Pilot Houses on your right – now privately owned – are where the Liverpool Pilots used to live while waiting to guide ships from across the World to and from Liverpool for the City dock's Pilotage Service .
It's a sad fact that like Black Spots on highways you need a certain number of appalling fatalities before anything gets done (c.f. Dulas Road Fatalities and Welsh Assembly Government delays).
The same with lighthouses and lifeboat stations. Any obstacle to commerce focuses the mind. Too many ships were lost between here and Liverpool Docks because of ignorance of tidal and weather. So the Mersey Docks and Harbour Board paid for a brand new lighthouse in 1835 to supplement the Pilotage Service.
A similar logic was employed with the construction of the Penmon Lifeboat and Lighthouse and also that at Llanddwyn Island.
The Point Lynas Lighthouse was eventually taken over by Trinity House in 1973. The Pilot Boats are now moored in Porth Amlwch and the lighthouse now fully automated, as is the foghorn.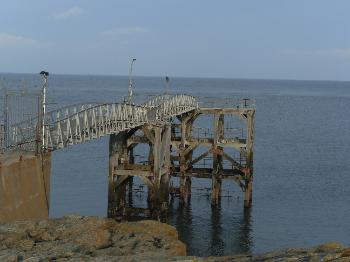 I wonder if the stricken Royal Charter could see the lighthouse lights in 1859 when it was fighting for its life in cataclysmic 112 mile an hour hurricane force winds.
With its sails torn to shreds and anchors lost to the storm this great ship that had traversed half a Globe to bring gold miners and their hard earned fortunes back home was destroyed less than a hundred miles from safety.
An amusing aside is that the lighthouse was the first married home of a family friend, Sulwen and her husband. My parents went visiting one stormy night and my Mother swore, "Never again!"
She need not have worried Sulwen and husband soon departed. The isolation and horrible Winter weather soon put paid to any ill-founded romantic notions.
Like Llanfwrog on the West Coast of Anglesey, Pengorphwysfa is a state of mind that only really comes to life if you imagine it as a small and once self-sustaining little hamlet.
The old shop is gone and the old Chapel rarely gathers many to prayer and thanksgiving these days of false idols.
Yet the view of the sea can be breathtaking and its mood changes with each cloud shadow that happens to pass by.
The number of famous shipwrecks along this eastern coast bears wicked and cruel evidence of this busy sea way and should have generated songs of common folk and lifeboat bravery.
From Pengorphwysfa, the road rises even further and gathers all your nerves together in one tight, quivering little bag on each narrow sharp corner and especially the steep drop toward Dulas.
You won't meet much traffic coming toward you, which has inevitably cast a hex on your journey. Be ready for every farmer, poor driver and impassable trailer just waiting for you.
But you're bigger than your Fear aren't you.
I know you are.
Anyway, you're not in a hurry so pull to one side and look around you.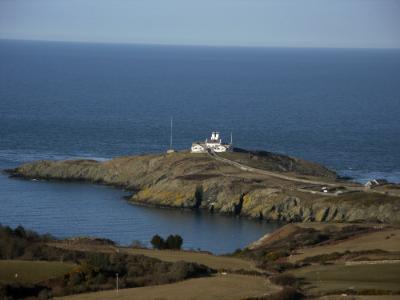 The land rises very quickly from Llaneilian. From the high ground and from where you can enjoy a full picture of Point Linus Lighthouse and the gentle low-lying, green and shelved coastline of good fishing marks stretching all the way to Porth Amlwch and beyond.
Pengorphwysfa or Pengorffwysfa is just high enough to open up the landscape to offer a new – and unexpected – perspective to Anglesey's natural beauty and a sense of atmosphere.
In simplistic conjunction these will add yet another colour to your spectrum of pleasant appreciation.
---
ANGLESEY'S HISTORICAL EAST COAST
From here onwards the entire length of Anglesey's Eastern coast opens out for you. All the way to Penmon and Puffin Island, Llanddona Beach and even Llandudno in the distance.
It's also a good place to view Dulas Island or Seal Island, as visitors tend to name it. Who can blame them because it is the home of the home of the Fisherman's Delight (Not!), the Grey Seal.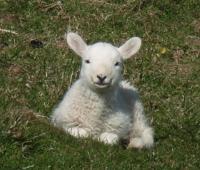 I find the countryside to the right feels very old.
Once, you would have found very large farm houses in this area, but by now they are mere ruins.
The walls and the abrupt, engaging hillocks on your left lend yet another nuance to Anglesey's beauty.
Little tracks lead off to your right among these little hills and I am always compelled by some urge to follow them down. Encouragingly, you'll find two signposted public paths along the way.
Parking spaces are few and far between. But they are there. Use your initiative and respect local access needs.
I'll have to borrow a bike sometime so that I can investigate the farms or cottages that overlook the sea.
While you still retain the heights of Mynydd Llaneilian (Llaneilian Mountain) you will also be able to view Moelfre in the middle distance and its shelved cliffs.
These are ideal angling marks (spots), with the best being below the Memorial to The Royal Charter Disaster.
You can walk along the Anglesey Coastal Path all the way to the Dulas Reef and view Portobello House on the other side of the Afon Goch estaury.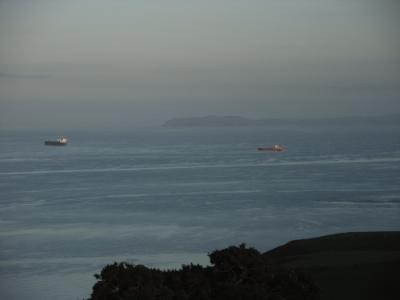 If you are going to make a day of investigating this coast of Anglesey, then I would strongly urge you to visit Moelfre village and enjoy the Coastal Path back up North.
It is an utter delight and the site of some of the most astonishing sea rescues of modern times with the Hindlea. These locations are well reported for your education.
The beaches along this coast are among the most beautiful on Anglesey and I respectfully direct you to my pages on Dulas Beach, Traeth yr Ora, Lligwy Beach, Traeth Bychan, Benllech and Llanddona Beach.
---
In error, after parking my car by Llys Dulas Estate Woods, I wondered past a gate and down onto the estate land. My profound apologies to the Estate and I must congratulate them on their management of the woodland.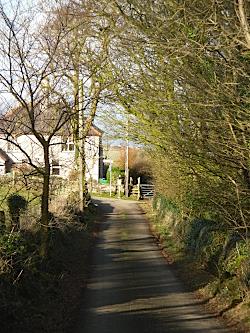 Anyway, what's special about this immediate area?
In general, when we think of pastures we do tend to visualise fields that we consider must depress sheep in their confinement and drive curious cows bonkers in frustration.
However, the fields that allow access to the Anglesey Coastal Path from this woodland are about half a mile long and draw you gently down to the sea.
PLEASE PURCHASE A TIDE TIMETABLE because this stretch of coastline is best visited at High Tide. That is when the Grey Seals are closest to the shore and near enough to count their whiskers.
For details of the Llys Dulas Walk Please CLICK HERE.
---
Although you can't wander around the coastline to Dulas Beach from here do have a look at my Dulas Beach page for details of how to get here. CLICK HERE.
SOMETHING EXTRA
Once you have completed this little route and found your way back to the A5025 Coastal Road, just glance across the road to your left where you'll note a junction.
Follow this road to Derimon Smokery at Deri Isaf Farm. It's about a mile down the road and on your left just before a fork in the road.
I visited Derimon recently and bought some lovely locally caught and pleasantly smoked mackerel. I broke the smoked fish up into chunky pieces and made myself a lovely, solid and satisfying omelette.
ALSO, the left fork at the Deri Fach entrance will take you to Penygraigwen, which, as far as I know, is the only road that leads to a tiny hamlet from which there is no other way out. A bit Hammer Horror, or what?
When I was writing about Llanddwyn Beach on the West Coast of Anglesey, it was fun sharing my Fish Batting story.

I'm sure you've got some even better Anglesey holiday stories that people really would love to hear about.

Go on, let us hear them.

---
Return from Dulas Descriptions to Pengorphwysfa Drive.
Return to Anglesey Rural Drives.