Where is the lagoon?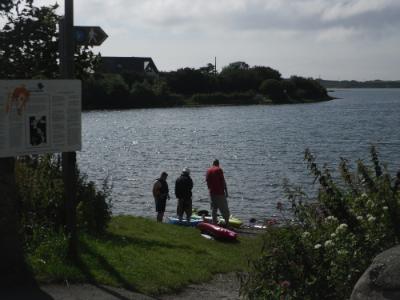 Fourmile Bridge, near Valley on Anglesey
Hi I Loooove your site.


We're coming next week! But
WHERE IS THE LAGOON?
My friend told me she found by accident a beach with a stunning lagoon (like a tropical paradise) but I can't locate it on any site.
Thanx, Goldie Weltscher
---
Dear Goldie
Sorry for the late response. Family health issues taking up a lot of my time at the moment.
I live in the centre of Anglesey and probably don't know a lot of the very local names for particluar spots on the Island.
There is only one clear possibility for
The Lagoon
in my knowledge bank and that is the
Inland Sea
at
Fourmile Bridge
near Valley on Holy Island.
It qualifies as a tidal lagoon and when the tide is in (as in the images I've posted above) it is a lovely spot indeed.
The spot above is also the beginning of my little walk to
Ynys Leurad
.
Rhoscolyn Beach
is around the corner and
Trearddur Bay
a few miles north.
There is also a very, very small cove between Ty'n Towyn Beach and
Broad Beach
(Traeth Lydan) in
Rhosneigr
.
You'll find it below and to the south of the three big beach houses. When the tide's in and the old currant bun's (sun) at it's best, then the water here is tropical warm.
There you go. If you missed them this time then you'll know when you return to Anglesey.
Best wishes
Wil