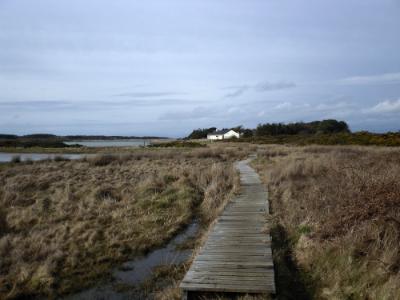 INTERESTING TIDAL FACT
Stand on the bridge at Fourmile Bridge when the tide is turning to rush out and you'll notice a quite interesting human-created tidal feature.
With your back to Valley, you'll see that the water to your left will recede quite quickly. On your right you'll notice very little drop in the water level.
To your left, the water rushes out toward Cymyran Beach unimpeded by any form of human intervention. Go to my Cymyran page to learn more ...
To your right, the outward flow is constrained by the volume that can pass beneath the bridge at Fourmile Bridge. It is also constricted at the railway embankment you can see from Ynys Leurad.
There is a difference of about 20 minutes between Low Water on your right and on your left.
---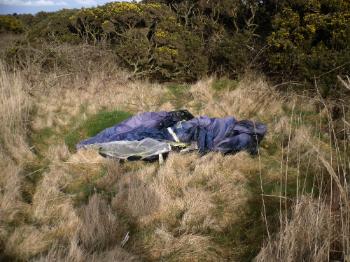 NO DEAD BODY DISCOVERED
Though I searched hither and thither and have scratch marks to prove it, I could find no sign of the Irish huts.
But what I did find sent a shiver down my back. I found this collapsed tent. Nothing sinister about a collapsed tent, I hear you say. The question prominent in my mind was, What's a tent doing here, abandoned?
My next thought was, What is that big lump beneath the said collapsed tent?
Edging forward I gave it a tentative kick. The lump was solid. DEAD BODY!
I created a scenario. Some poor unfortunate had come here to camp and had died unexpectedly. Or rather, had come here and put an end to it all. What to do?
"Oh Bugger!" I reached forward and pulled the tent to one side. There, before me, was no human form emaciated by time and Nature's entropy. No rictal smile drawn across parchment tight skin and dark eye sockets gazing forever into the dark abyss of that perfect mystery.
It was a large tussock of rough weed that had grown beneath the abandoned or forgotten tent.
The grown up in me was relieved, though the child disappointed. Kids thrive on this kind of monstrous discovery.
So, if you've lost your tent, I'VE FOUND IT!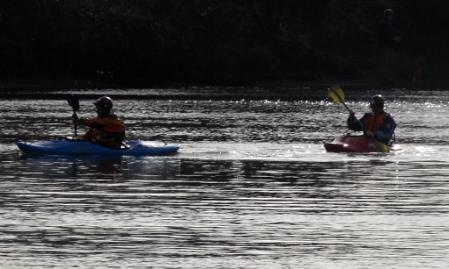 CANOEING AND WINDSURFING
The basin of this tidal strait between the mainland of Anglesey and Holy Island is flat, although there are outcrops of rocks to watch out for.
If you're a regular visitor to the Trearddur Bay area of Anglesey, then you'll already be aware of that this wide stretch of water is frequently used by windsurfers and canoeists when the tide's in.
Never been there and done it here; however, it's bleedin' obvious that many people do.
It also popular with canoeists like the two colleagues above. They found a safe place to park very near the bridge.
---
A BIT OF SHOPPING & GOOD RESTAURANTS
If you're planning to go to Ynys Leurad after a good lunch to aid digestion and to spare family members inappropriate bodily functions best left outside the car, then that's excellent. So long as you go.
However, if you're planning a pre-meal walk, then you've got some lovely eating choices close at hand.
I've attached a link below that covers the West of Anglesey, from Trearddur Bay all the way up past Church Bay to Cemaes Bay.
So ... Click Here for Good Eating.
---
Return from Ynys Leurad to ANGLESEY WALKS.