ANGLESEY SCARECROWS
at Capel Coch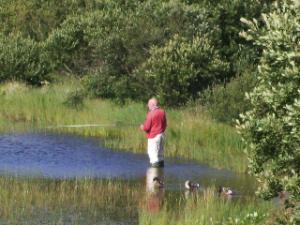 THIS IS NOT A SCARECROW.
IT'S A PATIENT ANGLER IN BODAFON LAKE
SCARECROWS!! I've been driving through Capel Coch for a while and realised that I had been keeping an eye out for something. It wasn't until later that evening that I worked out exactly what.
Well, it's nearly that time of year when the Capel Coch Competition takes place. Last year and the year before, it was unadulterated joy to drive through this very small extended village.
What caught my eye the first time was an old man on a bike. He looked odd, so I reversed and found a perfect scarecrow.
Next time through Capel Coch I found more; each with a number. A competition and I don't know who won.
---
Anybody out there let me know and if you've got a picture of said Old Man on a Bike and the artists let me know. I've posted a link below. Click Here
Let us all know when it starts, as well. Sorry I don't know. It's always a bit of a serendipitous accident coming across them.
---
Outside of many homes were scarecrows in many guises.
Michael Jackson was there, along with Batman, Ringo Starr in Drag, complete with drum kit, and I-Man about to leap from a telephone pole.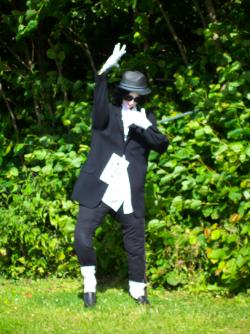 MICHAEL JACKSON STRIKES A POSE IN CAPEL COCH
It seems to be the 'In Thing' for Anglesey carnivals to have a competition.
Llanfechell was an odd place to drive through last year. There again, some might say it's an odd place anyway. Remember, it's where the locals in nearby Mynydd Mechell saw fleets of UFOs on 2010 New Year's Eve.
Llanfechell had a bit of a feel of the Village of the Damned (if you remember that movie), with strange effigies in front of many homes gazing out with menacing patience.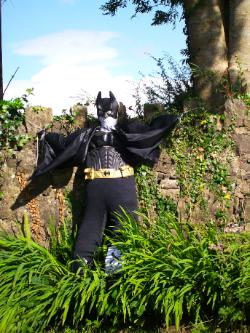 BATMAN, THE CAPED CRUSADER SEEKS OUT THE BADHATS
It'll be the Amlwch Carnival on July 17th and so make sure if your on Anglesey that weekend that you head over there and have a brilliant time.
Your Maitre D' will be Councillor Richard Dylan Jones and I hope that you have an absolutely lovely time.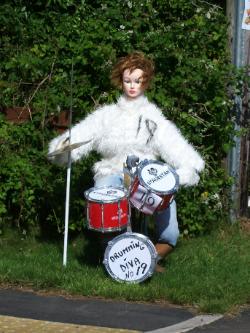 RINGO STARR IN DRAG SUPPLIES A BACKBEAT
I just remembered!
On Saturday August 7th - it'll be the Benllech Carnival.
I apologise for putting the earlier date of July 10th on a previous version of this page. The date was recently changed.
Benllech is an absolutely lovely little beach village with a population mostly made up of peope who fell in love with it in the past. Either, they have made it their home, or have a static caravan they return to very frequently.
Benllech has a very strong sense of community and there is always plenty going on.
Again, I believe your Maitre D' will be Councillor Richard Dylan Jones.
Who is this man? Who is this enigma? Why not go along and find out?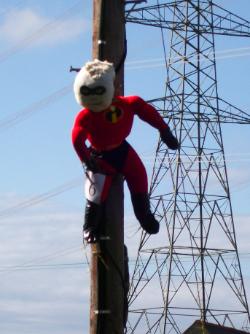 I-MAN KEEPS A WARY AND EVIL EYE OUT FOR BATMAN
The breadth of manufacture and characterisation is truly wonderful and I do hope that you take the time to wonder through this little village during your stay on Anglesey.
If you do spot the odd curious and stationary character then do let us all know. Send us a photograph while you're about it.
Capel Coch really appears to have taken this competition to its heart. I get the impression that the scarecrow effigies are fabricated by families. I also get the impression that a fair bit of time and planning goes into these individual projects.
No Homer Simpson projects these after a six-pack of Duff Beer.
---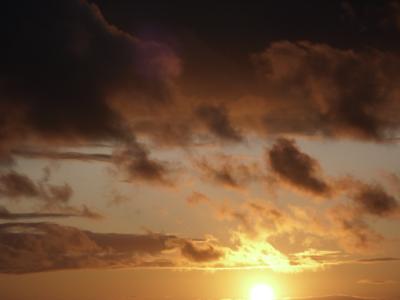 BEYOND CAPEL COCH TO BODAFON MOUNTAIN
Once you've perused Capel Coch may I ever so gently urge you onwards to Bodafon Mountain or Mynydd Bodafon in Welsh.
Bring a picnic with you and sit by the mountain(ish) lake. You'll find that your charisma goes ahead of you, as flotillas of ducks aim for you.
If you're feeling fit then drive a bit more to find a parking place to climb up to the triangulation point. It's a moderate little climb.
On a fine day the view all around and across Anglesey is beautiful. To add to your appreciation there is a four-sided panel around the triangulation point, with etched images and names.
---
You can drive down the other side to the A5025 main coastal road.
Take Care, the road is very narrow with sharp bends.
Once your down at the main road opposite and just up to your left is the turning for Lligwy Beach.
Remember the Dulas Evening Amble, while you're in the area.
Again, the road down to the beach gets very narrow in some places and you may have to reverse. Drivers seem to be very courteous down here, I've noticed. It's a good habit to adopt.
---
GETTING TO CAPEL COCH
Capel Coch is not that difficult to find and to make it easier for you I direct you from Llangefni.
The Google Map below shows a pretty straightforward route.
Let me start you off by directing you initially toward the Benllech road. Before you even leave the town follow the signs for ORIEL MON.
Drive up past the gallery and into the country. The map will guide you from here. Click the Blue Thingy for details.

View Capel Coch Scarecrow Route in a larger map
---
HAVE YOU SEEN THE ANGLESEY SCARECROWS AT CAPEL COCH?
Let us know whether you've BEEN & SEEN.
---
Return from Anglesey Scarecrows to WHY ANGLESEY? Page.