Newborough Forest Toll Road
by Ewan
(Devon)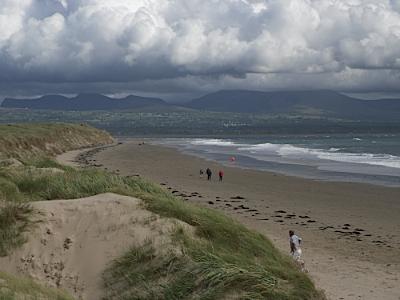 Newborough Forest to Llanddwyn Beach, Abermenai End
Hi Wil,


I have a few questions for you about
Newborough Forest
and
Llanddwyn Beach
.
Could you shed any light on the toll road itself? Is the toll applicable to pedestrians or cars?


Are cars even able to drive around the Newborough Forest?


Do you have any maps detailing the pedestrian/car areas?

Best wishes

Ewan


---


Hi Ewan

First of all, thank you for getting in touch with Anglesey Hidden Gem.

Three of your questions I can answer immediately.

The toll road to Llanddwyn Beach through Newborough Forest will cost you £3 if you are going to drive down. Walking is free. It's about a mile or so and a very, very enjoyable little trot.

Remember to bring everything with you. Sadly, no ice-cream, but there is a water tap.

The reason for the toll is to limit the number of cars that drive down to the beach. If you are planning to visit frequently, then you can buy a season token in the local shop or post office in Newborough. It's about £15, I think.

Cars are not allowed to drive in the forest at all because it is private land made available by the Forestry Commission for the public to wander about and thoroughly enjoy.

I've been trying to source a map for you but there's nothing obvious online. However, it's very difficult to get lost if you follow the routes signed Anglesey Coastal Path. These sign posts will lead you through the forest both North and South routes.

You should find walking route maps through the forest in the Llanfair PG Tourist Office in the Edinburgh Woolen Mill (You can't miss it).

There are fixed maps in the car park at the Malltraeth end by the Cob, in the Llanddwyn Beach car park and at the Abermenai/Newborough warren car park.

Check out my Newborough Main Page page and you'll find all the details there.

My favourite routes are under one of the largest rookeries in Britain on the forest road alongside Malltraeth Estuary and the other to the Abermenai end of Llanddwyn Beach. Don't forget to visit Llanddwyn Island.

With all the signs getting lost would be so embarassing.

Have an absolutely fabulous time and do get in touch if you have any other questions. That's why Anglesey Hidden Gem exists: to make it as easy as possible for people visiting Anglesey to plan their stay.

Warmest regards

Wil
Make Your Anglesey Holidays Really Special
Anglesey Hidden Gem and Appalling Lies & Inspiring Missives
Create more wonderful memories and experiences for you and your family and friends when you visit Anglesey.
Anglesey Hidden Gem
It is a simple and obvious thing to say, that any view or place is improved significantly when you have stories and knowledge attached to what you are viewing.


May I therefore invite you to have a look at my book 'Anglesey Hidden Gem'.

This book is full of the known and unexpected places off the beaten path you might wish to visit and offers you stories that will bring to life the distant and recent past.

Please click on the image above for more information.
By the way, Anglesey Hidden Gem is currently part of my Easter Book Sale with greatly reduced prices for this week.

'
Appalling Lies & Inspiring Missives from Anglesey'
You may also like to learn of who we are on Anglesey, of our history, character and especially our humour.

In 'Appalling Lies & Inspiring Missives from Anglesey' I offer you the opportunity to learn about us.

It is available in both Kindle and Paperback versions.


Also part of my Easter Book Sale with greatly reduced prices for this week.