Camping In Anglesey with 6 Kids
by Katie
Hi Wil,


I wondered if you had any tips for places to visit on Anglesey. We are camping in Anglesey at the end of July.
We are 4 adults with 6 children aged 1, 3, 4, 7, 9 and 12 years.
Obviously, with so many children we need to keep costs to a minimum. Yet we would still like to see as much of Anglesey as we can.
Yours hopefully!
Katie
---
Dear Katie,
Thank you very much for writing in to
Anglesey Hidden Gem
.
Mam Bach! As we say on Anglesey. That's a right royal troop to bring with you. And why not?
Right, where can you go that little legs can manage and have fun and large experiences to remember?
I've decided on a list of ten places (and I hope you discover more by happy accident) that are mostly free. So, here we go then:
1.
Llanddwyn Island
. This is on the south west coast of Anglesey reached either by a traipse
Llanddwyn Beach
, which might be tiring along the beach for the smaller children; however, I offer an easier way. The Llanddwyn Island Page will tell you how to get to the forest car park from the village of Newborough.
In the carpark, face toward the sea and on your right you'll see the toilets (water tap outside) and just by it is a forest road that runs parallel to the beach toward Llanddwyn island. It's a single bar metal gate you can walk around. It's about a fifteen minute walk and the Island will become obvious on your left. Step down onto the beach and cross to the Island.
NB
Check Out Anglesey Tide Timetables
to make sure that you won't get cut off by the tide. Rarely does it happen for visitors. Just be aware. Loads of lovely beaches and the old lighthouse. Picnic time!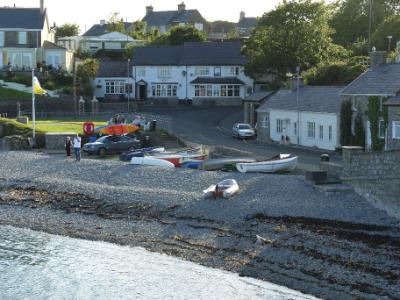 2.
Moelfre
Lifeboat Station and Seawatch Centre
. These are on the east coast of Anglesey. Each is free and the lifeboat station has a massive lifeboat that I'm sure both children and adults will thoroughly enjoy. The coxswain of Moelfre Lifeboat was on duty when I visited last year. He is a lovely man, a very brave man, as are they all and amenable to share stories.
The Seawatch Centre is also free. Probably a bit more interesting for adults but the kids can step on board an old lifeboat inside.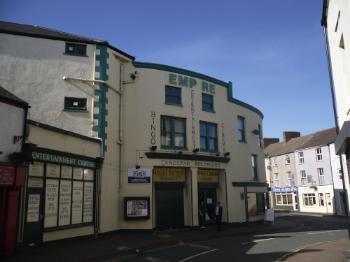 3.
Holyhead
Empire Cinema
. It's along the high street onto Newry Street beyond. Just ask around. Beverley or Theresa in the Co-op will be able to guide you there.
Check out my
Entertainment page
for the films on. It is very, very reasonably priced and always has children's films in the afternoons during holidays.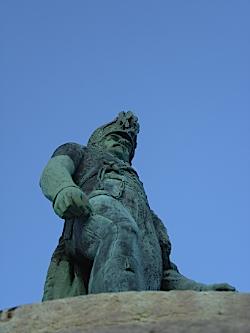 4.
The Marquess of Anglesey Column in Llanfair PG
. You have to pay to climb to the top and I'd be surprised if it more than a couple of pounds for all of you.
For little children this can be a bit of an adventure. It's cold and with only small windows on the way up. It'll be a bit of surprise to step out the little grey door onto the platform 90 feet up. The view is fantastic.
The railings are about four and a half foot and solid. There should be enough of you to hold hands all around the column.
You can see up the old Marquess' nostrils
. The kids will find the stories about the
leg being blow off wonderfully gory. They may ask what happened to the horse like I did.
I don't have children so you use your judgement on this one. Always go ahead and behind the kids. It can be tiring
.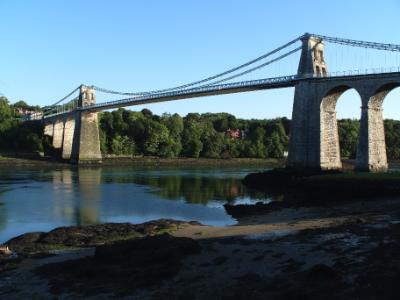 5.
The Menai Suspension Bridge
. Just walk across it. There's a lovely view down to
Beaumaris
and Llandudno in the far distance. On the other side path you have a view down the
Menai Straits
as it broadens out.
N.B.
You must, repeat absolutely
MUST!
hold tiny and small hands when crossing the road on the other side. The traffic varies from very light to quite heavy. Just avoid the commuter times and you'll be alright.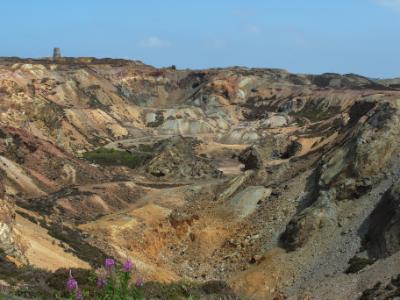 6. Mynydd Parys(
Amlwch Copper Kingdom)
in Amlwch on the top east coast of Anglesey. This really is an alien landscape and there's a sign-posted path all the way around the big mines.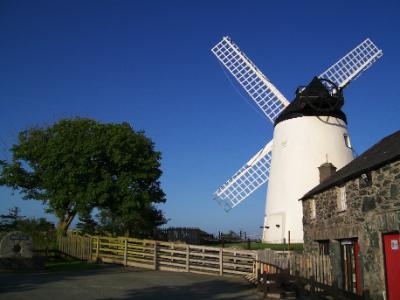 7.
Llynnon Mill
. (Melin Llynnon in Welsh) in Llanddeusant. I understand that this is the only working wind mill in the whole of Wales. You'll find the
Llynnon Iron Age Settlement
reconstruction just below it.
You can visit inside the huts as you can the windmill. The people who work there are lovely and the miller (should he be milling flour that day) and his capable assistant can share their stories with you.
This is slightly expensive but I think it's a good treat for all. I bought some milled flour from Llynnon Mill a few weeks ago. Add white flour otherwise your regular ablutions will be frequent events. There's a nice café there as well.
Meringues to kill for
.
---
8.
Oriel Môn
. This gallery and exhibition centre is in the market Town of Llangefni so visit on market days of Thursday or Saturday.
Interestingly, a
new exhibition
was opened last Friday celebrating the return of the treasures found in
Llyn Cerrig Bach
near RAF Valley.
There's also a more or less permanent exhibition of paintings by
Sir Kyffin Williams
and
Tunnicliffe
for the grown-ups.
There's a nice little café with good food well priced for a family (or tribal groups, as in your case).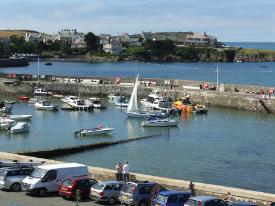 9.
Cemaes Bay
on the western top of Anglesey. Great beach and
St Patrick's Church
on the headland.
Also, a
great chip shop/café
on the High Street called 'Y Wygyr'. Named after the river that runs into the sea.
Interestingly, 'Wygyr' means 'Port of Vikings'. This also used to be the old name for Beaumaris.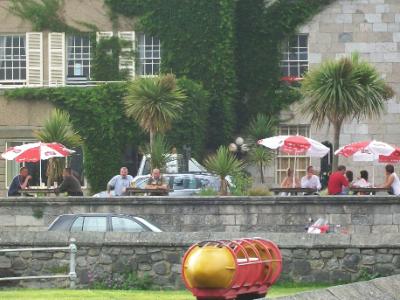 10.
Aaahhh…
Beaumaris
.
The Anglesey Riviera
, as I always insist on calling it.
It may be rather expensive for everyone but I do recommend the
Edwardian Castle
-
Count the 'poo chutes' for me, please>
.
You've also got
Beaumaris Gaol
and the old
Courthouse
, but I think very young children would find this rather boring.
Soooo… Next to the castle is a little
park
where you can play some children's golf and there's a little shop there, if I remember. I haven't been there in quite a while.
It's popular with parents and grandparents with little children. And, thankfully, seats for the weary to enjoy a nice ice-cream.
---
There you are. That's a nice little list to move you right about the beautiful Island of Anglesey.
You've always got the beaches. Never, ever forget exploring rock pools is glorious fun .
Click this link for the best and safest spots for hunting out tiny marine monsters
Have great fun and do let me know how it goes. Let's hope for long drawn out periods of sunshine for us all.
Wil