Bus Services to Anglesey Beaches
by Wendy Hayler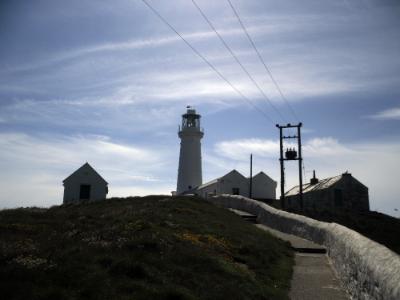 South Stack Lighthouse, Holyhead Anglesey
Dear Wil


We will be visiting Anglesey in early June and wonder if you could advise us about the buses.
Could you please tell us if there is a bus service from
Holyhead
to
South Stack lighthouse
and return, the times and where to catch it from.
Also is there a bus service from
Newborough
to
Newborough Beach
. If not how much would a taxi cost or how far would it be to walk.
Finally, is the
Wavecrest Restuarant
still there?
Thankyou
Wendy Hayler
---
Hi Wendy
Thanks for getting in touch.
1. South Stack Bus Times
: The bus stop is at Summer Hill in Holyhead (or
Holy Island
) and is at the end of the High Street and easy to find.
If you're arriving by bus then just ask the bus driver where Summer Hill is. Holyhead people are generous, just ask someone.
The bus you require is
Bus 22
and it stops at the RSPB Information Centre at South Stack.
Outgoing bus from Holyhead Town at 10:45, 14:30 and 17:00.

Return times from South Stack are 11:00, 14:45 and 17:15.
Hope that's useful.
South Stack
is a lovely place to visit for scenery, the lighthouse and the birds.
2. Newborough Beach
: Good News / Bad News on this, I'm afraid.
I assume that when you say Newborough Beach, you mean
Llanddwyn Beach
. Newborough Beach is even more awkward to get to if you are travelling on foot.
The No 42 bus stops on the main street in the village of Newborough. One might as well assume that there are no taxis in the village. If you come across one then it is pure chance one is passing through.
It is a big walk to the beach from here if you are bringing your
gear with you. There are no facilities at Llanddwyn Beach apart from the toilets and a freshwater tap.
If you are bringing children with you then it's going to be a tiring walk to the beach. Add a pleasant weariness at a wonderful beach and an even wearier walk back to catch a bus.
You'll find the road to the beach opposite the village shop in the square. It's a mile to the forest and about a mile and a half down the forest road to the beach.
Follow this link for the Newborough us times:
Number 42 Bus Services to Newborough
.
3. Alternative Beaches at Rhosneigr:
If you have children or don't fancy such a long walk then I would highly recommend you take the bus to
Rhosneigr
.
The village is a great place for cafes and ice creams and there are plenty of beaches you can choose to make an enjoyable day.
Follow this link for the Rhosneigr Bus Times:
Bus Services to Rhosneigr
4. The Wavecrest Cafe in Church Bay:
Good news for you on this question. The Wavecrest Cafe is still there and has a staggeringly good reputation.
Church Bay
is a great place and this gem of a cafe adds immeasurably to the general delight.
Find the search option on my Home page and type in 'Wavecrest Cafe' and you'll see what I mean. I think it is the most complimented eating place on Anglesey. Excellent food and well priced.
Dear Wendy,
You may not make it to Llanddwyn Beach but there are plenty of wonderful alternatives. Check out my beaches links.
My very best wishes to you and your family,
I hope you rally enjoy your stay here on Anglesey and if you have any more questions just get in touch.
Wil