Wavecrest cafe, Church Bay
by Wendy Steele
(Bull Bay)
If you want 'to die for' homemade grub then you can't beat The Wavecrest. Penny cooks and bakes all day every day (except Tues and Wed) and you haven't lived if you've not had her 'All in One' scones.
They are about a mile high and filled with fab jab and loads of cream. The only other person that can make scones like Penny is my Mum!
Also brilliant if you are spending the day on the beach as you can go and pick the food to take out.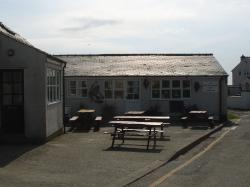 ---
Dear Wendy,
Nice to hear from you again and I hope that the Froglettes situation is sorted out soon -
Newts and all
.
I am in total agreement with you and believe the Waverest to be one of the very best placed little cafes on Anglesey.
I'll add a bit to your description and invite lovers and couples to stand at the nearby lookout at sunset. Even a fading romance will surely be rekindled.
For more about the Church Bay beach and area
Please Click Here
.