SILVER BAY FACILITIES

Bring Everything With You!!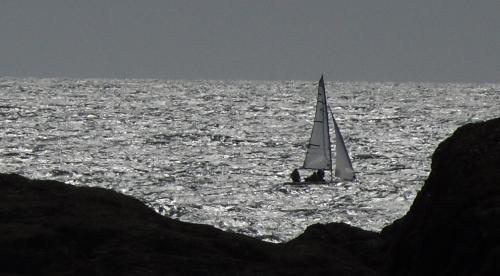 SILVER BAY is an absolutely wonderful example of Anglesey's Hidden Gems.
It is a fabulous place to visit and I do urge you to make the journey there. As an early aside please CLICK HERE to have a look at my Beach report.
This beach is certainly awkward to get to and - this is the cruncher - it has absolutely no facilities, unless you are able to make use of those in the SILVER BAY HOLIDAY VILLAGE.
I've never tried this, so let me know how it goes. Business is Business is Business, after all.
---
LOCAL FACILITIES
As you will have gathered above:
THERE ARE NO SHOPPING OR EATING FACILITIES ON OR NEAR THE BEACH.
You will find excellent shopping and eating places in the Trearddur Bay area. Please CLICK HERE to visit my Trearddur Bay facilities page.
However, please don't allow this to put you off. Just plan your day with the above information in mind.
Bring everything you need with you. That means plenty of water to drink and to rinse sand out of the young ones' eyes.
---
NEAREST FOOD
Rhoscolyn:
• The White Eagle Pub at the top of the road down to Rhoscolyn Beach car park. Click here for a look.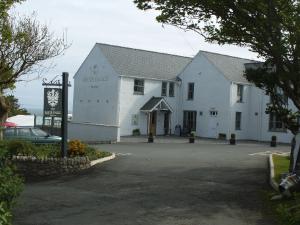 Not only does it have an excellent menu it delivers what it promises and also serves good beer.
It's a busy place and well worth a visit if only to sit on the new large decked extension to enjoy a view of the sea and mountains.
My friends visit here regularly and invariably rave about the food.
Four Mile Bridge:
• The Anchorage Hotel – Cocktail Bar and Restaurant.
• Cegin Fach Café (Little Kitchen Café)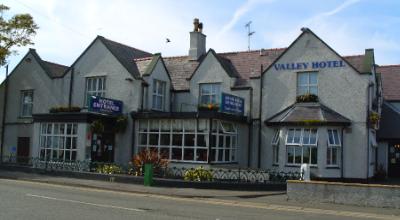 Valley:
This is such a well-designed little village with cafes and a two ethnic restaurants. One behind the Spar and the other behind the A5 Barber on the traffic lights.
Below are the obvious family-oriented venues in Valley.
• The Valley Hotel. Good hearty food and excellent beer. Very warm welcome. Right by the traffic lights.
• The Bull Hotel. Further along the Holyhead Road.
• Chinese take-away by the traffic lights
• Chip shop further along the road to Holyhead on your right.

---
LET US ALL KNOW YOUR FAVOURITE ANGLESEY RESTAURANT
OR EATING PLACE
Share Your Favourite Anglesey Restaurant
Where was your tastiest meal?

Share YOUR favourite with everyone by Clicking Here!
---
EATING AND SHOPPING IN THE WIDER AREA
As I write above, the facilities available to you in the immediate area are quite limited; however, all you need to do is get in your car and pop up the coast.
The facilities on Holy Island and Valley are very good. To inspect some of these CLICK HERE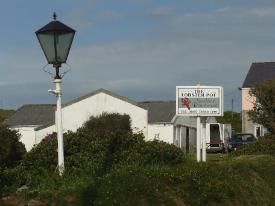 Fancy stepping out just a little bit further?
Well, you could either stop in Valley or you could head up the coast to Church Bay.
Both the links below share some common information but offer a broad illustration of the facilities available.
It is in Church Bay that you'll find the excellent Lobster Pot Restaurant. CLICK HERE
Up the coast a few miles again and you'll find yourself in Cemaes Bay. Please CLICK HERE
Cemaes Bay is an area that has an astonishingly beautiful coastal path to the east. You'll also discover that the village is as pretty as a picture.
You'd swear you were in Cornwall.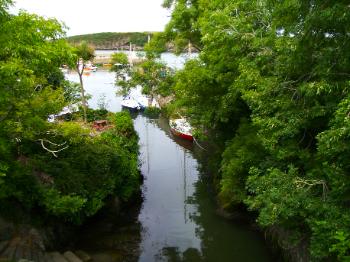 BUT YOU'RE NOT!
We've got the oldest rock on the Planet Earth here on Anglesey.
So WE thought of it first. CLICK HERE for my view on Cemaes Bay.
---
NEAREST TOILETS
THERE ARE NO FACILITIES ON SILVER BAY BEACH. DO AS BEARS DO IN THE FOREST - But do employ discretion.
Rhoscolyn car park
• I could have sworn that there was a drinking water tap outside at the back of the public loo.
I went for a walk to confirm this (among other items) and it's gone. In fact, it is apparent that there never was one.
First the hair, then the knees and now the marbles.
These toilets may not be open all year.
---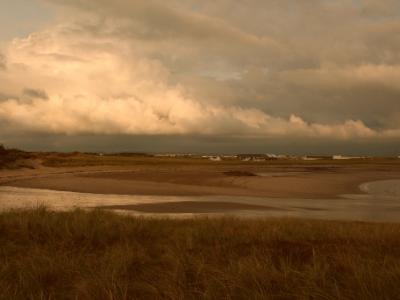 ---
Do you have any questions you'd like to ask or important information you want to share? We'd love to hear from you.
Maybe you have questions you want to ask in advance of your visit?
Maybe you have special advice - or even warnings?
Please feel free. ASK YOUR QUESTION BY CLICKING HERE.
---
NEAREST PARKING
Rhoscolyn:
• The road to the Silver Bay Holiday Village is private therefore no parking possible. The road to this private road is too narrow with absolutely no legitimate parking.
• Rhoscolyn Beach car park. Turn down the road signposted for The White Eagle Hotel.
Follow a very, very narrow road down to the car park. This leaves you a mile or so from Silver Bay.
This is a very small carpark and you'll usually find it full of 'Chelsea Tractors' creating massive parking problems for cars.
• Some people park their cars around the wide junction by the church and walk down. It all depends on how fit you feel and what your reversing skills are like.
---
From Silver Bay Facilities to ANGLESEY FACILITIES
Go to TREARDDUR BAY FACILITIES
---