Your Advice On Best Coastal Walk With Baby And Toddler!
by Deborah
(Lancashire)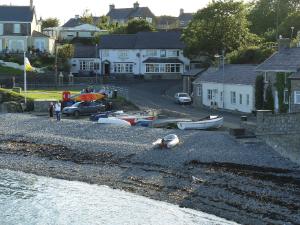 Moelfre Bay on Anglesey Coastal Path
Thanks so much for sharing your knowledge on this website! I am visiting Anglesey in 2 weeks, I have been lots as a child but now I am returning with my husband, toddler and new baby.


We're wanting to walk along some sections of the coastal path but don't know where is the best place - need a car park and a path not too dangerously close to a sheer drop cliff! Toddler can walk a couple of miles or have a piggy back, and baby will be in carrier.
Any advice would be gratefully received! We're thinking of visiting South Stack already, I remember that is a lovely place. Hope you don't mind me asking your advice.
Many thanks
Deborah
---
Hi Deborah
I'm sorry not to have been in touch sooner, but I've been thinking about what you require with two little children in tow.
Safety is paramount. Also, fun, beaches and beautiful views.
As parents you'll know how your children act and how inquisitive they can be. I don't need to tell you that.
Sooo... After a great deal of reflection I've decided to recommend the stretch of the Anglesey Coastal Path from
Moelfre
to
Lligwy Beach
and onwards along eventual gently rolling green paths to
Traeth yr Ora Beach
at
Dulas Bay
.
Let me offer important advice that although the path is not all that high above the sea, do hold on to the children at the beginning of the path past the
Moelfre Lifeboat Station
and the beach beyond. It gets gentler after the
Royal Charter Memorial
a mile or so along the headland.
The path starts from Moelfre
Bay itself and you will hopefully find a place to park in the small car park there. Follow the pavement and head right at the corner above (well signposted). The path will then take all the way to Lligwy Beach ( 25 minutes) and rolling cliff path toward Dulas Bay.
Hold on to litle hands as you get close to Lligwy Beach (it'll be obvious). By the way, you'll find a little shop at both ends of the beach so stop for an ice cream.
Then pootle on across the beach and follow the path along the cliff. Hold hands (not high but you know little children better than me) and after about 15 minutes you'll arrive above Traeth yr Ora.
Here's a great place for a picnic. And, if you go toward the reef rocks on the beach you'll find plenty of rock pools and usually a battlefield of lost crab souls. Fascinating.
At a very slow pace it'll take you an hour or so, which leaves time for beach fun at either Lligwy Beach or Traeth yr Ora.
It's probably easier to reverse your path than walk up to the main road (quite a way for a little one). Also, always remember that the way back is a different view.
Check out the pages highlighted above for stories to tell the children.
Quite obviously I have to declare a warning to you. I see other children and parents along this path regularly and holding hands is a common and best practice.
Check out my
Tide Timetable page
and the
Weather Page
.
Look after each other and I wish you brilliant sunshine and blue skies.
Wil
Make Your Anglesey Holidays Really Special
Anglesey Hidden Gem and Appalling Lies & Inspiring Missives
Create more wonderful memories and experiences for you and your family and friends when you visit Anglesey.
Anglesey Hidden Gem
It is a simple and obvious thing to say, that any view or place is improved significantly when you have stories and knowledge attached to what you are viewing.


May I therefore invite you to have a look at my book 'Anglesey Hidden Gem'.

This book is full of the known and unexpected places off the beaten path you might wish to visit and offers you stories that will bring to life the distant and recent past.

Please click on the image above for more information.
By the way, Anglesey Hidden Gem is currently part of my Easter Book Sale with greatly reduced prices for this week.

'
Appalling Lies & Inspiring Missives from Anglesey'
You may also like to learn of who we are on Anglesey, of our history, character and especially our humour.

In 'Appalling Lies & Inspiring Missives from Anglesey' I offer you the opportunity to learn about us.

It is available in both Kindle and Paperback versions.


Also part of my Easter Book Sale with greatly reduced prices for this week.