Why Anglesey Is So Special To Me
by John Rush
(Stoke-on-Trent)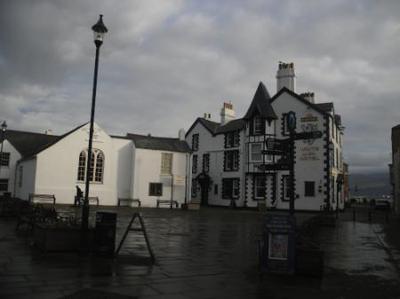 Beaumaris
Hi Wil


Out of the times on Anglesey, by far the most special was in May 2005 when myself and my now wife were in Anglesey for the Bank Holiday Weekend Festival but were struggling to find accommodation with everywhere being fully booked.
I decided to knock on the door of what looked like a normal house in the town of
Beaumaris
in a street chosen completely at random, just to enquire if they knew of any B+B or guest houses nearby. I didn't have any inkling I was in Margaret Street and the lady who answered said she used to do accommodation but had now retired. Anyway she offered us a room which we accepted.
After leaving our luggage we went into Beaumaris for a meal and spotted the sign at the end of the road which read Margaret Street which made my spine tingle.
My own dear now deceased mother was named Margaret and I genuinely felt she had guided us to this street and guest house. The house itself had no signs or boards outside and it was the first and only house I knocked on. It was very surreal but more was to follow in this very special weekend. My girlfriend and I found ourselves the next morning on the beautiful beach at
Rhoscolyn
, and as it was very early it was deserted as we walked hand in hand in the warm sunshine.
It was true paradise and would have been extra special if we had known my girlfriend was pregnant with our first child. Spotting an odd looking pebble, I picked it up and still have it today which reminds us of that very special weekend in May 2005.
Now with a wife and two children, we have not long returned from this beautiful island after a fabulous caravan holiday just outside of Benllech. We toured the whole island and following visits to its wonderful beaches of
Llanddona Beach
,
Benllech
,
Rhoscolyn
,
Trearddur Bay
,
Rhosneigr
and many others.
We will certainly be returning to this very unspoilt TRUE GEM.
Best Wishes
John
Make Your Anglesey Holidays Really Special
Anglesey Hidden Gem and Appalling Lies & Inspiring Missives
Create more wonderful memories and experiences for you and your family and friends when you visit Anglesey.
Anglesey Hidden Gem
It is a simple and obvious thing to say, that any view or place is improved significantly when you have stories and knowledge attached to what you are viewing.


May I therefore invite you to have a look at my book 'Anglesey Hidden Gem'.

This book is full of the known and unexpected places off the beaten path you might wish to visit and offers you stories that will bring to life the distant and recent past.

Please click on the image above for more information.
By the way, Anglesey Hidden Gem is currently part of my Easter Book Sale with greatly reduced prices for this week.

'
Appalling Lies & Inspiring Missives from Anglesey'
You may also like to learn of who we are on Anglesey, of our history, character and especially our humour.

In 'Appalling Lies & Inspiring Missives from Anglesey' I offer you the opportunity to learn about us.

It is available in both Kindle and Paperback versions.


Also part of my Easter Book Sale with greatly reduced prices for this week.