Where To Stay on Anglesey?
by Lynda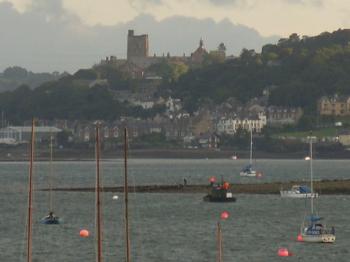 Menai Straits at Beaumaris
Hi Will


I have spent more than two hours on your website and must admit Anglesey looks lovely ...but I'm a little spoilt for choice.
I'm planning to bring my elderly parents to Anglesey in a couple of weeks and it will be a first time for all of us.
I wonder whether you could suggest a town where we can capture the scenery, history and beauty of the Anglesey.
My parents enjoy strolling around shops and watching boats. For many years we have visited Tenby which seems to tick all the boxes but is now too far for us to travel.
Amazingly, my parents live in Warrington and have never visited Anglesey.
Any advice you can offer would be much appreciated.
Regards
Lynda
---
Dear Lynda
I thank you for your astonishingly kind words and so glad that
Anglesey Hidden Gem
has piqued your interest.
I immediately thought about two towns on Anglesey's Menai Straits,
Beaumaris
and
Menai Bridge
.
I'm sure that some village or town might be angry at my making a selection; however, you have stated your needs: nice shops, history, and outstanding natural beauty.
To suit these lovely requirements I believe that Beaumaris that would suit young and old. I also thought about Menai Bridge.
Each is only a few miles apart and each has a fabulous front to the
Menai Straits
.
Beaumaris has a fabulous Tardis-like
Beaumaris Castle
that is massive and well worth spending an afternoon cruising around. Let me know how many toilet chutes you find. Vital research this!
Menai Bridge
has the astonishingly beautiful Thomas Telford's Menai Suspension Bridge and the Britannia Bridge to the west.
Penmon Point
is just to the east of Beaumaris, with its lighthouse, Penmon Priory and Puffin Island.
There is a lovely flat walk at
Aberlleiniog Castle
nearby. Just a couple of miles in ancient woodland.
As for shopping, both towns are full of character with lovely little shops and cafés, bistros and high quality restaurants.
I love both Menai Bridge and Beaumaris. There's plenty to do and see and also they are both good starting points for visiting the rest of Anglesey.
Please let me know which you choose and also how it goes for you and your parents.
My very best regards to you,
Wil