Where Can I Launch My Boat
For Llanddwyn island?
by Mike Lamb
(Warrington)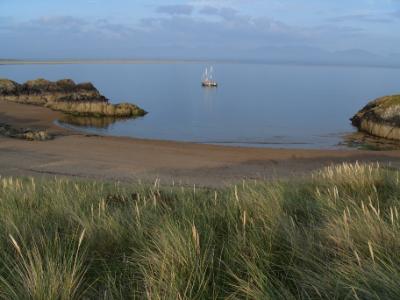 Llanddwyn Island, Anglesey
Hi Wil


I really would love to just cruise around that beautiful
Llanddwyn Island
on Anglesey's south west coast.
So, can you tell me where I can launch my inflatable boat close to Llanddwyn Island?
I have a 4 meter boat with a 25HP outboard engine.
Hope you can help me.
Thanking you,
Michael Lamb.
---
Hi there, Michael,
First of all, thanks for getting in touch.
Right, I used to be part of the marine Survey Team that cruised as far as Abermenai Point at the end of
Llanddwyn Beach
regularly and we were fortunate enough to be able to set out from Plas Menai Sailing Centre near Caernarfon.
That was a private arrangement, so I don't think it's possible for you.
I am uncertain about launching from the obvious close-by west Anglesey beaches and would immediately guide you to contact
John Wyn Owen
, who is the
Maritime Officer
for Anglesey County Council, who is based near the Prince Madoc university dock at Menai Bridge.
I'm not sure of his direct number, but would suggest you contact the front desk of Anglesey County Council in Llangefni, telephone number 01248 750057.
Let me know how that goes. John is a lovely man so I'm sure he'll be able to advise you.
Warmest regards,
Wil