The Oyster Catcher Restaurant at Rhosneigr
by Wil
(Anglesey Hidden Gem)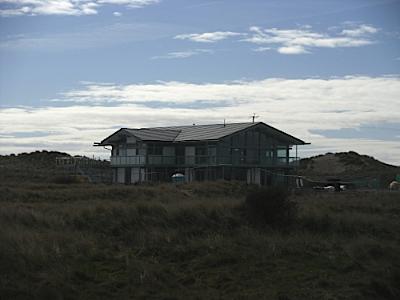 Constructing The New Rhosneigr Oyster Catcher
Dear Gentle Reader


It was always sad for locals and regular visitors to
Rhosneigr
to see the old
Maelog Lake Hotel
get old and ... well, be a redundant feature of this wonderful beach village.
It has already been mentioned among my many pages that I hold the
White Eagle Pub
in
Rhoscolyn
as a wonderful example of a fine Anglesey eating place.
Yet, this was itself in danger not too many years ago. It nearly ended up as a block of flats. However, it was saved for the Nation ... Saved for Anglesey, anyway
The
Timpson Family
, the shoe people - who clearly love Anglesey - chose to invest in a major refurbishment. We now have a wonderfully welcoming restaurant pub with excellent food.
Clearly a discriminating family, they have now chosen to re-build the old Maelog Lake Hotel.
How they ever managed to get such an innovatve design for these environs past our councillors is quite amazing. But here we are. A few months away from the opening of the newly designed and fabulous looking building.
For those of you who are fans of Grand Designs you will recognise it immediately as a Huf Haus.
The Oyster Catcher
- a renaming - looks fabulously distinctive with its glass and wood frame.
It is the abundance of outside balconies overlooking
Rhosneigr's Broad Beach
that will make it a magical place for those gloriously beautiful Anglesey Summer evening meals.
I really can't wait.
Wil
Make Your Anglesey Holidays Really Special
Anglesey Hidden Gem and Appalling Lies & Inspiring Missives
Create more wonderful memories and experiences for you and your family and friends when you visit Anglesey.
Anglesey Hidden Gem
It is a simple and obvious thing to say, that any view or place is improved significantly when you have stories and knowledge attached to what you are viewing.


May I therefore invite you to have a look at my book 'Anglesey Hidden Gem'.

This book is full of the known and unexpected places off the beaten path you might wish to visit and offers you stories that will bring to life the distant and recent past.

Please click on the image above for more information.
By the way, Anglesey Hidden Gem is currently part of my Easter Book Sale with greatly reduced prices for this week.

'
Appalling Lies & Inspiring Missives from Anglesey'
You may also like to learn of who we are on Anglesey, of our history, character and especially our humour.

In 'Appalling Lies & Inspiring Missives from Anglesey' I offer you the opportunity to learn about us.

It is available in both Kindle and Paperback versions.


Also part of my Easter Book Sale with greatly reduced prices for this week.