Places to stay near Dulas - TRAETH YR ORA BEACH
by Adele
(Knutsford)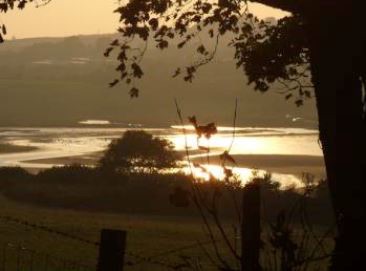 Dulas Lagoon near Traeth yr Ora Anglesey
Hi Wil


I love your site. As children, our family used to camp in a farmer's field just before you go down the narrow path to
Traeth yr Ora
beach. It was very basic, and in fact had just a stand pipe and a pit to empty the loo, but we went there for years and loved it and were often the only people on the beach.
The farm in front of this field had a little shop and kept the most fearsome geese - you had to the gauntlet of these feisty creatures to get to the beach most days.
I and my three brothers and sisters could wander for hours, pretending we were in the 2nd World War, as we played in the lookout towers in what is now the coastal path before coming home to eat mussels we'd harvested from Red Wharf Bay. I even remember swimming in our jumpers when it was extra cold.
Very happy days! We always come back to Anglesey every year, often for the day - to celebrate someone's birthday or just because.
I was reading the piece you've written about the path down to the beach at
Dulas
and you mention a little field on the right with about 8 caravans hidden from the world. Do you happen to know if these can be rented out as I am planning a big family reunion, ideally as close to our old field as possible.
This is a really long shot, but I don't suppose you know who owns the farmer's field - looking on google maps, there appears to be a single static caravan on there now so they may even let us camp?
I look forward to hearing from you and thanks for the lovely insights to the island.
Adele
Make Your Anglesey Holidays Really Special
Anglesey Hidden Gem and Appalling Lies & Inspiring Missives
Create more wonderful memories and experiences for you and your family and friends when you visit Anglesey.
Anglesey Hidden Gem
It is a simple and obvious thing to say, that any view or place is improved significantly when you have stories and knowledge attached to what you are viewing.


May I therefore invite you to have a look at my book 'Anglesey Hidden Gem'.

This book is full of the known and unexpected places off the beaten path you might wish to visit and offers you stories that will bring to life the distant and recent past.

Please click on the image above for more information.
By the way, Anglesey Hidden Gem is currently part of my Easter Book Sale with greatly reduced prices for this week.

'
Appalling Lies & Inspiring Missives from Anglesey'
You may also like to learn of who we are on Anglesey, of our history, character and especially our humour.

In 'Appalling Lies & Inspiring Missives from Anglesey' I offer you the opportunity to learn about us.

It is available in both Kindle and Paperback versions.


Also part of my Easter Book Sale with greatly reduced prices for this week.