MYNYDD LLWYDIARTH

Spot The Red Squirrel - Or Not?
Still, It's A Brilliant Walk
You'll find Mynydd Llwydiarth in the inverted armpit of the Llanddona Peninsula on Anglesey's East Coast.
In addition to being one of Britain's rare Red Squirrel Habitats, it offers the opportunity to completely escape from the general busy-ness of life.
Newborough Forest is Anglesey's largest forest and home to largest population of Red Squirrels. It is quite massive and you could wander about for ages - LOST.
However, Mynydd Llwydiarth is far smaller and wandering about aimlessly is quite safe. Unless there are Bears ... and Wolves they're not telling us about.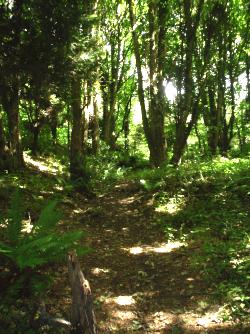 You can wander safely in and out.
That is, unless you have a well-defined bias in one leg and keep on returning to the same tree in the middle of the forest.
All of that to one side, and squirrels to one side, I really enjoyed walking in this little forest that surrounds the 'Mountain' (Mynydd).
Yes, it's yet another Anglesey Mountain-in-Aspiration. They have faith in geology do our Anglesey hills.
I didn't see a red squirrel. I have received a report on my Red Squirrels Comment Page indicating that they're shy of visitors here.
---
MYNYDD LLWYDIARTH
First of all, this forest is located within a half mile of the village of Pentraeth on Anglesey's east cost. It lies along the B5109 road to Beaumaris and stands out obvious for the forest it is.
I refer you to the attached Google Map, which reveals a well-managed mixed forestry of deciduous and conifer plantations. Both are wood types in which the Red Squirrel can thrive - if isolated from Grey Squirrels.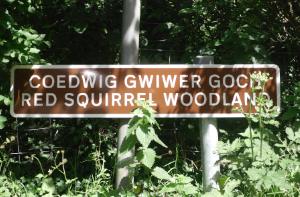 As I write, the forestry is managed and so there is a gravel track that circles the inner reaches. Therefore, if you so choose, you can walk through the forest along these tracks with ease.
However, I would most enthusiastically urge you to take the road least travelled right through the trees along obvious tracks.
Although I did not come across this is also the site of a Prehistoric Hillfort, which I imagine sought to dominate the surrounding area and defend the residents from marauding raiders.
The hillfort is now obscured by afforestation and, unless one is inclined to research the limited archaeological data that is to hand, one would most likely pass through and over it without realising. So, if you're keen enough, Good Luck.
---

View Mynydd Llwydiarth, Pentraeth in a larger map
---
RED SQUIRRELS AT MYNYDD LLWYDIARTH
For general and local news about the Anglesey Red Squirrel Project I have a Red Squirrel News page where you can learn about on-going developments and a bit of history. Click here...
It is estimated that there now more than 100 adult red squirrels living quite happily in the Mynydd Llwydiarth Forest; however, they were close to extinction when people chose to intervene in 1994.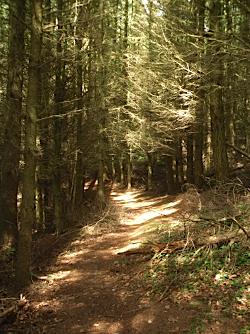 Before I get going, let me be perfectly honest with you and advise you that for a better chance of seeing a red squirrel you'd do better go down to Wern y Wylan near Llanddona Beach.
That's where the delightful little critters are generally seen.
It's during Autumn that they are more frequently seen in Wern y Wylan gathering and burying their nuts, as it were.
More tragic recent evidence of the increasing local population is the handful that has been found flattened along on the B5109.
It is in larger forests like Newborough that one will see a greater expansion of the Red species. Why?
As the Greys are systematically trapped and killed the Reds spread out more. They have a very large area in which they can wander.
Mynydd Llwydiarth is much smaller and areas with substantial number of trees are rare. That is why some of the more adventurous little red squirrels end up with a terminal Pirelli-tread tattoo.
N.B. In researching for this page I've learned that the Grey Squirrel has supporters who share quite extreme views on the culling.
---
A SATISFYING WALK THROUGH THE FOREST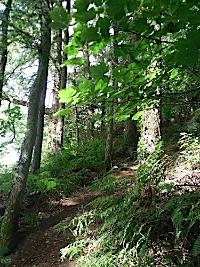 NOW TO THE WALK.
You can choose the easier route along the forestry gravel road or head straight into the woods.
Quite sensibly, and I know you've already thought about this,
Take Care and Watch The Time.
There could be wolves about, hungry bad bears and emerging roots that could twist an ankle.
Look After Yourself And Your Own.
Route 1
I haven't walked this but from looking at the map and familiar with the type of terrain, this route should probably take you an hour or so.
Drive from Pentraeth along the B5109 toward Beaumaris until you hit the Mynydd Llwydiarth Forest. It's about a half mile out of the village.
It's not the one with the RED SQUIRREL WOODLAND sign. It's about 200m further on you'll encounter a wide gravel opening on your left.
A locked single bar gate indicates you're at the right spot. There's usually a space to park here. Please keep the entrance clear for Forestry Commission clear.
Follow the road and enjoy yourself in the gentle peace. Immerse yourself in the noises of the woodland.
Listen to the birdies. Listen to the hissing of the wind across the tops of the tall pines. Forget where you've come from. JUST BE.









Route 2
This is my total escape route and I hope that you enjoy it. I took about 2 Hours to walk this route. There again, I allowed myself the weird allowance of ignoring all my other responsibilities.
The important thing to remember is that you'll be walking along the left side of the Mynydd Llwydiarth forest. You'll not be in the heart of the forest for much of the time.
However, you will still find yourself in rural peace and quiet, away from what ails you and closer to what can bring you joy.
I Re-iterate Look After Yourself And Your Own
Now if you're lucky you may find a little parking space by the RED SQUIRREL WOODLAND. I hope you do and can park here.
If you can't park here then drive along for a few hundred yards and you should find a place at the Forestry entrance.
This can be a bit of a busy road so Take Care if you should find yourself walking back to the sign.
At the sign walk into the forest with impunity, confidence and a decent little picnic. Two paths immediately attract your attention. My advice is to GO LEFT!
This woodland track will skirt just inside the forest and offer absolutely lovely views for your contemplation of "What's it all about, eh?
The route is obvious. Just keep choosing to go left. Up and Down. After about 25mins walking you'll find yourself above a stile or Pig Gate ( Giat Mochyn in Welsh). From here you will be pushed against a wall that runs beside an old cottage.
Along the path for a few 100 yards and you'll find yourself out in the open outside the woodland.
You'll know you're here because a cottage will be obvious to you further up on your right. Below you'll see two polythene tunnel greenhouses.
Walk along and down this track for a few hundred yards past a shed on your left. Keep an eagle eye open for the footpath sign above you on your right. TAKE IT.
Now you'll be climbing up through the ferns. Remember that ferns can be dangerous because the spores can cause illness.
N.B. Ferns can also be dangerous if they're driving toward you at breakneck speed in a five ton lorry. You should be safe from the latter.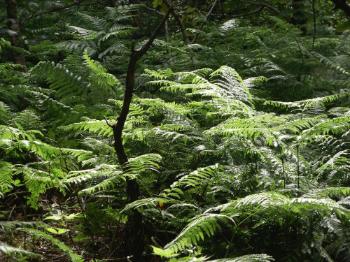 The path is upwards, twisty and turny from here onwards until you come across the Forest Road.
After leaving the Fierce Ferns behind and walking through another Giat Mochyn you'll enter a small recovering de-forested area and should see the tree below.
From now on, it get's much easier and open – and boring for adventurous little me.
Hit the road and GO LEFT. Follow the road which will take you through the forest.
Do not take any left turnings, unless you want to investigate further up the 'Mountain', or walk down toward the small lake you can see about half a mile ahead and below.
Go right and right again and 20 minutes later you're back at the main road. If your car's here, good for you. If your car is at the other smaller parking space, then take the greatest of care walking along the few hundred yards of road.
If there are two adults and you've got children and a doggie in-tow, then one adult can always fetch the car while the rest wait for a few minutes for you to get back.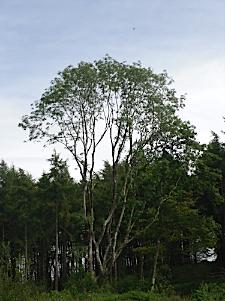 I do hope that you take the time to enjoy this little walk at Mynydd Llwydiarth if you've got a few hours to spare.
Do take a picnic along with you and keep an eye out for Red Squirrels.
Good luck to you with the squirrel spotting. Let me now if you see one. (There's a Contact Me link on my Red Squirrel page).
As I have written above, your chances of seeing a Red Squirrel at Mynydd Llwydiarth are not excellent. Go down to Wern y Wylan on the Llanddona Beach side of the Mynydd Llwydiarth.
When I was writing about Llanddwyn Beach on the West Coast of Anglesey, it was fun sharing my Fish Batting story.

I'm sure you've got some even better Anglesey holiday stories that people really would love to hear about.

Go on, let us hear them.

YOUR Anglesey Story
Click on the links below to read some great stories. They were all written by other visitors to this page.

Great Thread on Mynydd Llwydiarth

Hi Wil On reading your great thread on your walk in Mynydd Llwydiarth I had to add my own little thread. I was in mynydd Llwydiarth on September …
---
Return from Mynydd Llwydiarth to ANGLESEY AMBLES & WALKS.