Great Thread on Mynydd Llwydiarth
by James Foy
(Stockport)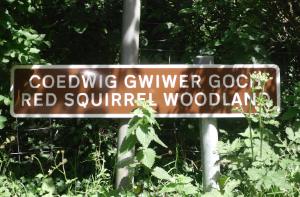 Red Squirrels Mynydd Llwydiarth
Hi Wil


On reading your great thread on your walk in
Mynydd Llwydiarth
I had to add my own little thread.
I was in mynydd Llwydiarth on September 25th 2013 and found it so peaceful. It has a special feel to it; especially at this time of year. If you like a spot of foraging then there are lots of mushrooms around at the moment. So, as long as you know what your doing you can get yourself a few tasty mushrooms to sample once your red squirrel spotting is done.
I started my walk today from the
Wern y Wylan
side and took the opportunity to gather some cobnuts for nice roasted hazel nuts later on in the Winter months. There's nothing better than a little mulled wine and roast hazel nuts - very festive.
I was keeping an eye out for any sweet chestnut trees for nuts as these are also great roasted. Alas. To no avail, although no red squirrel spotted I got an amazing view of a buzzard silently gliding through the woodland canopy.
Such majestic birds carry you off to places in your spirit. Seeing beautiful creatures going about there business and paying no heed to me or my two border terriers.
We had a great day! I am so jealous of the lucky people who have there home in and around the forest. What a wonderful place to be?
Mynydd Llwydiarth
really is a
Must-do-Walk
for anyone to enjoy I certainly will be out there again soon.
All the very best
James
Make Your Anglesey Holidays Really Special
Anglesey Hidden Gem and Appalling Lies & Inspiring Missives
Create more wonderful memories and experiences for you and your family and friends when you visit Anglesey.
Anglesey Hidden Gem
It is a simple and obvious thing to say, that any view or place is improved significantly when you have stories and knowledge attached to what you are viewing.


May I therefore invite you to have a look at my book 'Anglesey Hidden Gem'.

This book is full of the known and unexpected places off the beaten path you might wish to visit and offers you stories that will bring to life the distant and recent past.

Please click on the image above for more information.
By the way, Anglesey Hidden Gem is currently part of my Easter Book Sale with greatly reduced prices for this week.

'
Appalling Lies & Inspiring Missives from Anglesey'
You may also like to learn of who we are on Anglesey, of our history, character and especially our humour.

In 'Appalling Lies & Inspiring Missives from Anglesey' I offer you the opportunity to learn about us.

It is available in both Kindle and Paperback versions.


Also part of my Easter Book Sale with greatly reduced prices for this week.