ANGLESEY SPRING. ARE WE THERE YET?
by Wil
(Anglesey Hidden Gem )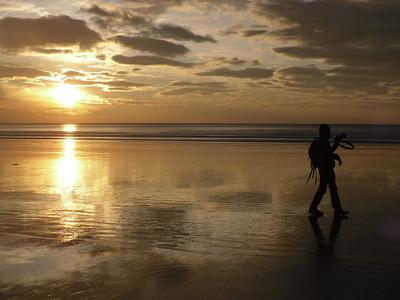 Anglesey Hidden Gem Magic Moment
Dear Reader,
It looks like it's going to be a weekend on Anglesey for walking rather than sitting on the promenade in Benllech drinking a cup of tea from the Wendon Café or enjoying a glorious tall ice cream from Dan Dare's earthly satellite base.

There's no such thing as bad weather apparently just inappropriate clothing. I beg to differ. Anyway, 'THEY' are promising thunder and lightning for Sunday and that's no bad thing really.

Against a dark slate grey sky the landscape of Anglesey is enhanced and brighter. It's a fact. Flash a bit of sunshine in streaks across the green farmlands of inner Anglesey and you will find yourself drawn onto those Anglesey Rural Drives that criss-cross the Island. So it really is an opportunity to find those Anglesey Hidden Gems.

If you are about this weekend, either just desperate for a walk or gagging for fresh air then the Island's beaches then just get on with it. Wrap up warm, put on your wellies and a warm cap and, as I say, get on with it.

After being locked inside by the horrid wet weather over the Christmas period, I have embraced every single opportunity that came along. In the Dingle in Llangefni we heard the clapping shut of the Red Squirrel feeding box and stood there for five minutes watching two squirrels fight for the privilege. There's not much more amusing than seeing a squirrel pop its head out of the feeding box wary of a competitor and then chasing him through the undergrowth. Plenty of Red Squirrels to be seen along the Dingle Board walk to Nant y Pandy.

Last Saturday was a walk along the Moelfre coastline past the Royal Charter memorial and the Hindlea wreck from 1953. As it began to rain we headed for Din Lligwy ancient encampment at Lligwy after having a look at the old Chapel of Ease. Finally, we made a quick visit to the Lligwy Burial Chamber site just above. Moody? Nay, Eerie in the fading light of the day.

Dress sensibly and take a step off the beaten tracks and you will find Anglesey's Hidden Gems.

Spring will come. I don't think it's a rumour but let's hope it'll be around soon.

HAPPY NEW YEAR

Wil
Join in and write your own page! It's easy to do. How? Simply click here to return to Anglesey Travel Stories.
---