Anglesey Red Squirrels
by Paul Cotton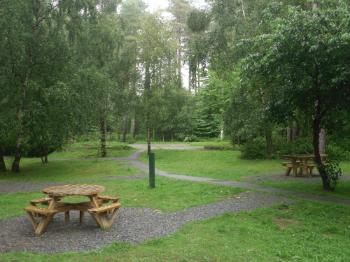 Llyn Parc Mawr, Newborough Forest
Hello Wil,


I would very much like the opportunity to photograph red squirrels on Anglesey whilst visiting the island in the next few weeks.
I am a keen photographer of natural history and wonder if you might be able to advise me where would be best for a sighting of an Anglesey Red Squirrel.
Clearly, with only a very limited amount of time available it would really need to be somewhere near to a feeding station where the animals could be observed but without interfering with their activities.
Any help would be much appreciated.
Regards,
Paul Cotton
---
Hi Paul
Thanks for getting touch.
I realise that I could send you deep into
Newborough Forest
with a vague promise of catching sight of an Anglesey Red Squirrel.
I won't though because you might as well be guided to somewhere I know the red squirrels visit regualorly. Namely, the feeding point in the car park at
Llyn Parc Mawr
just across the road.
I've been here and seen one of these cute critters. I wasn't ready and so missed the chance to take a photo.
Best take a flask and sandwiches with you and sit on a nearby bench to wait.
Another, but definitely secondary, spot is at
Mynydd Llwydiarth, Pentraeth
. But make sure you make your way all the way down to
Wern y Wylan
in Llanddona, as this is where the loocal ornithologists say you can see the Anglesey red squirrels occasionally.
Because you don't really have an awful amount of time to spare I would encourage you to go to
Llyn Parc Mawr
first and then go to
Mynydd Llwydiarth
on the off-chance.
Bon Courage and Happy Hunting
Wil