WENDY'S WHITE WORLD

Snowy Christmas 2010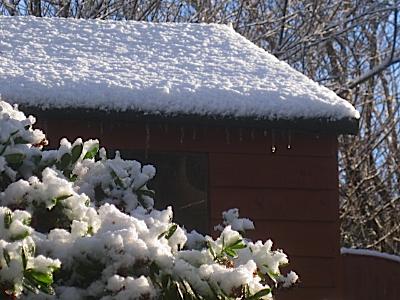 A WORKING CHRISTMAS FOR WENDY
I thought that you would like some more photo's of the garden in December. Ye Gads! it knows how to snow on Anglesey (even if it is only once every 40 years)

Even so I have to admit that the fool that I am continues to garden in this seasonally abnormal weather. I've even scraped the snow away to dig and faff about. Well, one must mustn't one?

If a hole needs digging, it needs digging - even if my fingers were almost too cold to feel the spade and trowel.
NOT TOO FRISKY FOR WINTER
The poor birds have been costing me a fortune and we've even seen some new ones in the garden this year. I can only presume that it is because of the abnormal conditions.

We now have 2 Lapwings and a Moorhen who have taken up residency in the Steele household (well, Gardenhold).

The Thrushes (Bless them) are really nervous and appear to be very low in the pecking order. But gradually they are becoming quite devious and learning how to duck (forgive the pun) and dive round the blackbirds who are becoming really nasty and bolshy little devils.

We also have a - or at least we think we have - a fledgling blackbird. However, I am waiting a response from CJ Wildbird food to see if it is possible at such a stupid time of the year to breed.

You would think that THAT would be the last thing on their minds when it is minus 10 degrees!
PREPARATION FOR SUMMER EVENING G&Ts
The decking and steps that are being built at the end of the garden are coming on a treat.

They would have been finished by now if only John the builder could feel his fingers a little more often.

Our wonderful neighbour, Ken wants to know why we haven't had it built on wheels so that it can be pushed up to the pond (or lake as he calls it), so that it can be used as a diving board.

Now why didn't we think of that!
Dear Wendy

I'm sorry to report that it looks like the cabbage, cauliflower and leeks have been transformed into green manure by the snow and ice.

I'm too depressed to even go and talk to them.

Wil
---
Wil

My winter onions have shrunk, never mind not grown. They are still there but you now need a microscope to see them.

Bit of a begger isn't it when you talk to them and nuture them and all they do is shrink or turn to mush.
I'm sure that's enough talk for this month; however, I'll be in contact with you soon.

I'd love to hear from you as well.

Let me know what are your biggest, best or worst jobs in your garden this time of year?

Even better, what are your best memories of your Summer garden or the beauty and horrors of your Winter?

Get in touch and send me some photographs as well. You can do it below.

Wendy
Do you have any questions for Wendy
or want to share some thoughts?

It's good to share, especially if you can spare someone's feeble back with your magical advice.

I am so delighted that Wendy has decided to write her articles and to share the challenges and delights of her gardening adventures.

So if you have any questions about how to engage with Nature to transform your garden into the best room in the house, then do get in touch.

If you have any photographs then we'd love to see them.

What Other Visitors Have Said

Click below to see contributions from other visitors to this page...


Collecting Snow
From Wild Crab Apple Not rated yet
Dear Wendy I loved your photos. They speak a million words, don't they? Here are two photos from here in Swansea of the December snows. Now here's …
---
Read WENDY'S NOVEMBER ARTICLE.
Have a look at the JANUARY/FEBRUARY 2011 ARTICLE
Have a look at the MARCH 2011 ARTICLE
---