The Indian Restaurant in Valley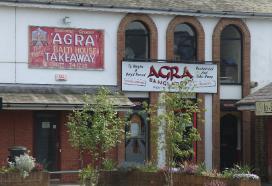 The Agra Balti House in Valley, Anglesey
Dear Wil
When I visit Ynys Mon (Anglesey) I always have a curry at the Indian restaurant in Valley. I'm afraid I can't remember what it's called - maybe the Valley Tandoori?
It's cheap, cheerful, good quality food and no expensive drinks bill, as you can bring your own.
The staff are very pleasant too. The last time I was there I was with my Geordie fiance. I live in the North East, but my heart and soul are still in Wales.
Dianne said to the head waiter, "We live in Newcastle upon Tyne. Have you ever been there?" His quick and polite reply was, "Yes I have. I have relatives in South Shields"
The main street in South Shields is called Ocean Road and it has more Indian restaurants, than all of North and Mid Wales put together.
Warmest regards
---
Hi Dear Visitor
If you visit
Anglesey Hidden Gem
again please leave a name so I can address you correctly.
You are right, if it's the restaurant in the photograph I've placed above then I am in full agreement with you.
I believe the manager is a guy called Ali Mojahid and he's a very decent chap indeed.
May I also direct your attention to two Indian restaurants run by friends of mine, Ali and Hussain, called
Taste of India
. Actually both guys are Bangladeshi, but we expect Indian restaurants, don't we?
Anglesey is really well served with quality Indian restauarants in all the major towns.
Valley, Holyhead, Llangefni and Menai Bridge have fabulous Indian restaurants.
As an aside for you, there's going to be a fabulous new restaurant pub in
Rhosneigr
before long. It's called the
Oyster Catcher
. I'm looking forward to that one opening up on a few months.
There's also the brilliant
White Eagle Pub
in
Rhoscolyn
.
Thanks for being in touch and don't be a stranger to beautiful Anglesey.
Leave your name next time,
Warmest regards to you and your beautiful fiance, Dianne,
Wil