The Indian Restaurant in Valley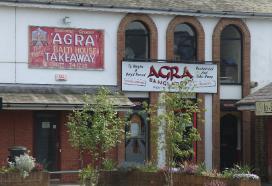 The Agra Balti House in Valley, Anglesey
Dear Wil
When I visit Ynys Mon (Anglesey) I always have a curry at the Indian restaurant in Valley. I'm afraid I can't remember what it's called - maybe the Valley Tandoori?
It's cheap, cheerful, good quality food and no expensive drinks bill, as you can bring your own.
The staff are very pleasant too. The last time I was there I was with my Geordie fiance. I live in the North East, but my heart and soul are still in Wales.
Dianne said to the head waiter, "We live in Newcastle upon Tyne. Have you ever been there?" His quick and polite reply was, "Yes I have. I have relatives in South Shields"
The main street in South Shields is called Ocean Road and it has more Indian restaurants, than all of North and Mid Wales put together.
Warmest regards
---
Hi Dear Visitor
If you visit
Anglesey Hidden Gem
again please leave a name so I can address you correctly.
You are right, if it's the restaurant in the photograph I've placed above then I am in full agreement with you.
I believe the manager is a guy called Ali Mojahid and he's a very decent chap indeed.
May I also direct your attention to two Indian restaurants run by friends of mine, Ali and Hussain, called
Taste of India
. Actually both guys are Bangladeshi, but we expect Indian restaurants, don't we?
Anglesey is really well served with quality Indian restauarants in all the major towns.
Valley, Holyhead, Llangefni and Menai Bridge have fabulous Indian restaurants.
As an aside for you, there's going to be a fabulous new restaurant pub in
Rhosneigr
before long. It's called the
Oyster Catcher
. I'm looking forward to that one opening up on a few months.
There's also the brilliant
White Eagle Pub
in
Rhoscolyn
.
Thanks for being in touch and don't be a stranger to beautiful Anglesey.
Leave your name next time,
Warmest regards to you and your beautiful fiance, Dianne,
Wil
Make Your Anglesey Holidays Really Special
Anglesey Hidden Gem and Appalling Lies & Inspiring Missives
Create more wonderful memories and experiences for you and your family and friends when you visit Anglesey.
Anglesey Hidden Gem
It is a simple and obvious thing to say, that any view or place is improved significantly when you have stories and knowledge attached to what you are viewing.


May I therefore invite you to have a look at my book 'Anglesey Hidden Gem'.

This book is full of the known and unexpected places off the beaten path you might wish to visit and offers you stories that will bring to life the distant and recent past.

Please click on the image above for more information.
By the way, Anglesey Hidden Gem is currently part of my Easter Book Sale with greatly reduced prices for this week.

'
Appalling Lies & Inspiring Missives from Anglesey'
You may also like to learn of who we are on Anglesey, of our history, character and especially our humour.

In 'Appalling Lies & Inspiring Missives from Anglesey' I offer you the opportunity to learn about us.

It is available in both Kindle and Paperback versions.


Also part of my Easter Book Sale with greatly reduced prices for this week.