Llynnon Mill Cafe

A Delight for Heart and Soul
The Llynnon Mill Cafe rounds off an adventure of exploration and a gentle social history at the only working Windmill on Anglesey with a softness that embraces you with delight.
As I write on my other Llynnon Mill page,
Meringues to Die For.
Or as my friend has it, "Meringues to dive in."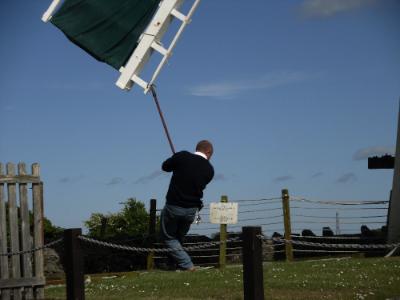 ROUNDING OFF A DELIGHTFUL AFTERNOON AT LLYNNON MILL CAFE


Dear Annest,
Please tell me that you have meringues on the menu this year.
Below, Dear Gentle Reader, why waste a thousand words when a few photographs with glorious content say it all?  Bright and cheerful, the Llynnon Mill Cafe welcomes you warmly.
I've never felt that hot chocolate and any pudding with jelly should go together; however, my experience tells me that it does.  Reality of personal experiences and inclination overcomes any Masterchef conceit.
You know in your head what shape of flavours and textures you want right now.  Believe it or not it reflects your existential needs.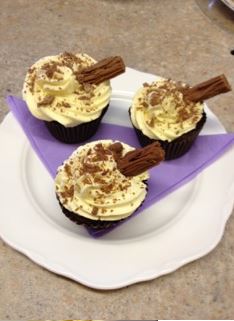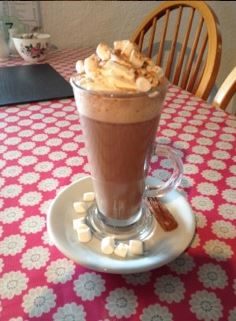 ---


,




DIZZY WITH DELIGHT



Children love visiting the Llynnon Windmill.  Not only can you run yourself silly and dizzy around the windmill base,  you can lie on your back and chase the wind sails around and around and around.

It's best to get dizzy lying down.  You have less way to fall.

Children should ask their parents for advice on lying down being best for dizziness, as long as you have a foot on the ground.  Strange that.  Physics, I suppose?

Follow the path down to the Iron Age Huts and decide whether you could live like our forefathers and foremothers.  It would be tough and mean. 

The Llynnon Mill Cafe wasn't at the top of the path for those times some bugger had run off with your pig.
---
Our best memories are embedded firmly when we have taken the time to reflect on our most recent experiences.  A cup of tea and a sweet creamy cake embeds like nothing.  Maybe a little walk afterwards at Church Bay? 
I'll let Annest tell you about the café and how she, the girls and her Mum have achieved a very high standard for an Anglesey welcome and quality delights.
Over to you Annest.
---
Annwyl Wil
A bit of history for you about our Llynnon Mill Cafe.  We took the franchise over 2 years ago, so going into our third year there, jazzed the old building up a bit, tastefully we think, in summery colours!
My mum runs our other cafe, Blas Mwy in Oriel Môn, and has been there for 8 years, and everything baked for both cafes is done so in the bakery in Llynnon Mill since last year, by mums girls!
Everything in both places are homemade, even the bread, chutneys etc.

Fabulous...am in the process of revamping our website, so when it happens will get yours on there too no problem!!
Our site is www.blasllynnon.co.uk (excellent menu and you an have a go at the Welsh pronunciations) and we have a facebook page too, where we upload photos of produce quite often!
Diolch yn fawr!!

Annest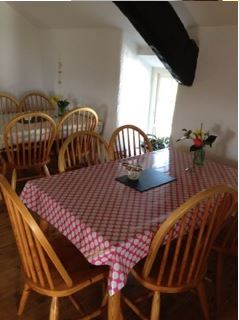 ,

---



DON'T FORGET THE BREAD!


When the windmill is working it mills the unique Llynnon Mill Flour, which is for sale in the shop.
Let me offer you some advice though, have a look at the shelves as you pass through the entrance shop.  There is a great local demand for this flour so grab it before we locals have.
N.B.  Bread is so easy to make: flour, yeast, salt, sugar and water.  The first time you make Llynnon Bread please mix the flour with a commercial bread-making flour (50/50).
If you don't then... don't stand up too quickly in the morning otherwise you'll never make it to the loo.
Once you've got the mix right you can vary the mixture perfect and soft for toast and jam and hardtack for your cheese.

My best wishes to you all and good luck to Annest and the team at Llynnn Mill Café for the comong season.  Let it be ridiculously pleasant weather.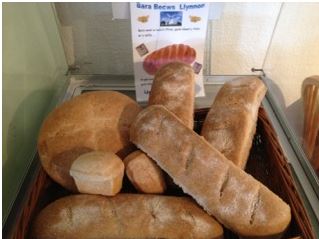 Care To Share A Thought?
Dear Reader,

Would you care the share a thought or make an observation.

---
Return from Llynnon Mill to WHY ANGLESEY? page.
Return to Anglesey Hidden Gem HOME PAGE.

---
---
---