Holidays in Church Bay
by Sheila Taylor
(Manchester)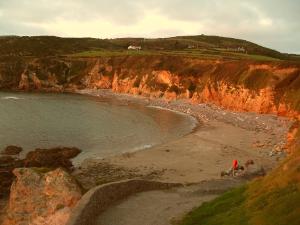 Golden Church Bay Evening
Hello


We had all our summer holidays in Church Bay between 1957 and about 1968 in Plas Madyn, which was left to a friend of Mum and Dad's by her aunt.
At first we had to go the well near the church for water. Later my brother and I took buckets to an outside tap at 'Auntie' Cassie and 'Uncle' Tom's farm house just past the cottage.
We went to the loo in 'tŷ bach' at the bottom of the garden, which Dad emptied into the cess pit once a week! it never smelled, thanks to Rakusan (spelling?). In the night we used a pot under the bed, which was emptied in the garden.
We hardly washed! just using an enamel bowl outside the back door. But we did swim in the sea quite a lot!
We went for milk to the farm house on the left just at the top of the lane down to the beach. That was a job for me and my brother. We would go down to the corner and across the fields by the Lobster Pot. 'Uncle' Dick at Pen Graig by the church used to let us 'help' with the milking!
In those days the small farmers could leave out a couple of churns for the milk lorry. Looking back I think he was a very shy man, possibly because his English wasn't too good. Like the other working men he wore a well worn tweed jacket and a cap, and had a tanned face.
When I was six, Meg, one of the dogs at Auntie Cassie's, had pups, and mum went to Bangor (we lived near Liverpool) on the train to meet Auntie Cassie and collect one of them. She was a lovely black and tan collie, and we called her Swtan!
I remember the Wavecrest - it was a shop as well as a cafe in those days.
I could reminisce more, but that's enough for now.
Sheila
---
Dear Sheila
Lovely to hear from you.
Nothing much has changed on this coastline, probably for centuries and I imagine that
Swtan Cottage
was a ruin when you were a child. The milk churns give you away, because I remember them as well.
I don't remember the cottage at all. Just the beach. The
Anglesey Coastal Path
has made the already beautiful
Porth Swtan
(
Church Bay
) even more so, as you leave what little civilisation there is way behind you.
The Wavecrest is still there but now shut for the Autumn and Winter. Great reputation for excellent robust meals. They have one of my webpages printed on the wall with a visitor's wholehearted recommendation.
Glad to trigger such lovely and warm memories.
Wil
P.S. Were the Crazy Bunnies there on the cliff edge when you were a child?
W