Happy Holidays in Church Bay 1957-1967
by Hillary
(Cheshire)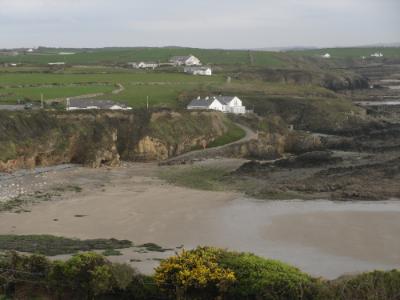 Church Bay Anglesey
Hi Wil.


My family spent our holidays at
Church Bay
from 1957/1967. I have so many happy memories.
My parents had a tiny caravan which we put on Mr. Jones field. We were lucky enough to spend four weeks there each summer. When we first went we had to walk up the hill to get water from the well(the well is still there but now locked) then Mr Jones had a stand pipe put in his yard!
He kept 2 cows which he milked by hand. I remember helping him to bottle the milk and then he went off on his small round.
There were many families who went down every summer when we met up- the
Taggerts from Liverpool
and a family from the Derby area who had 3 girls. The
Wittaker family
had been going down long before we did, there were 2 sisters one was called
Janet
I think the other one was
Pam
.
I also remember
Wally Needham
A crowd of us (as teenagers) would be on the beach and he would see us, then count us and go to the
Wavecrest Cafe
and buy us all ice creams- what a gentleman.
We also had a bonfire on the beach one year(not allowed now). The cream cakes Mrs Williams made were out of this world...
Such happy memories I could go on and on. I now have a property in Moelfre but do not live there all the time, as does my sister Anne.
I regularly go down to Church Bay where if I close my eyes I can be ten to eighteen years of age once again.
Happy days.
Hilary
---
Hi Hilary
I'll have to see Wally the next time he is in Holyhead and bring him into see all these wonderful stories about him posted here on Anglesey Hidden Gem.
Your story does not surprise me at all. Wally remains still a kind communitarian and looks as fit as a butchers dog and well tanned cycling along the road back to Rhydwyn.
You'll notice that the stories about
Church Bay
far exceed those of any other each on my Anglesey website.
I wish I had a Tardis then I would back there in the late 1950s and early 1960s.
I hope that members of the families you mention above find their way to this website and get in touch.
My very best wishes to you and feel free to write again to share more stories.
Better still do you have any photos you could send me as attachments.
Wil
Make Your Anglesey Holidays Really Special
Anglesey Hidden Gem and Appalling Lies & Inspiring Missives
Create more wonderful memories and experiences for you and your family and friends when you visit Anglesey.
Anglesey Hidden Gem
It is a simple and obvious thing to say, that any view or place is improved significantly when you have stories and knowledge attached to what you are viewing.


May I therefore invite you to have a look at my book 'Anglesey Hidden Gem'.

This book is full of the known and unexpected places off the beaten path you might wish to visit and offers you stories that will bring to life the distant and recent past.

Please click on the image above for more information.
By the way, Anglesey Hidden Gem is currently part of my Easter Book Sale with greatly reduced prices for this week.

'
Appalling Lies & Inspiring Missives from Anglesey'
You may also like to learn of who we are on Anglesey, of our history, character and especially our humour.

In 'Appalling Lies & Inspiring Missives from Anglesey' I offer you the opportunity to learn about us.

It is available in both Kindle and Paperback versions.


Also part of my Easter Book Sale with greatly reduced prices for this week.