Can I cross Dulas Bay From Near Portobello To Traeth yr Ora?
by Mark Murphy
(Stockport)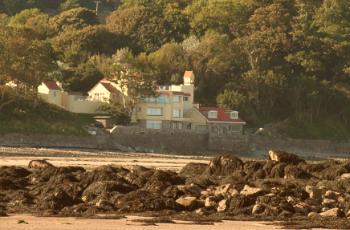 Portobello House - Llys Dulas Estate
Hi Wil




The title above says it all, really.

My father and I are walking the coastal path in stages over the next 12 months and this is part of our next stage to be completed in November 2011.

We'd much prefer to make the crossing than go up to the Pilot Boat and back.

Kind regards,

Mark Murphy



---



Hi Mark

It's good idea. On paper at least and I've thought about it a number of times myself. I love Traeth yr Ora for its general peace and quiet.

One problem that made itself obvious to me immediately I arrived near Portobello (which is the Llys Dulas family's Summer House) past Porth Helygen and Porth yr Aber is that one would be stepping onto private land.

Therefore, while on my Ordnance Survey map (it's in front of me now) it looks straightforward, but you've got to cross private land/shoreline.

By the way, Porth yr Aber means 'Gateway to the Estuary'.

I've never been in the vicinity at very low water, as I prefer to vist the area at high water to see the seals.

To ensure that you get hold of correct information about thie estuary, may I respectfully guide you - as a first port of call - to those people partly responsible for this Premier Anglesey Gem. They are the Anglesey County Council Planning Department: 01248 750057.

They may pass you on to Menter Mon. Snowball until you get to someone willing to advise you.

What I would have a go at myself and what advice I'd offer another may not necessarily be the same; however, I put you and your Father's wellbeing first.

Listen, the Anglesey Coastal Path is the Anglesey Coastal Path and in truth by rising up from the coast your view toward Moelfre and Penmon, Puffin Island and Llandudno beyond is wonderfully enhanced.

My best wishes to you both.

Wil
Join in and write your own page! It's easy to do. How? Simply click here to return to Contact Me Page.
Make Your Anglesey Holidays Really Special
Anglesey Hidden Gem and Appalling Lies & Inspiring Missives
Create more wonderful memories and experiences for you and your family and friends when you visit Anglesey.
Anglesey Hidden Gem
It is a simple and obvious thing to say, that any view or place is improved significantly when you have stories and knowledge attached to what you are viewing.


May I therefore invite you to have a look at my book 'Anglesey Hidden Gem'.

This book is full of the known and unexpected places off the beaten path you might wish to visit and offers you stories that will bring to life the distant and recent past.

Please click on the image above for more information.
By the way, Anglesey Hidden Gem is currently part of my Easter Book Sale with greatly reduced prices for this week.

'
Appalling Lies & Inspiring Missives from Anglesey'
You may also like to learn of who we are on Anglesey, of our history, character and especially our humour.

In 'Appalling Lies & Inspiring Missives from Anglesey' I offer you the opportunity to learn about us.

It is available in both Kindle and Paperback versions.


Also part of my Easter Book Sale with greatly reduced prices for this week.




---