Benllech Ice Cream Back Up And Running
by Wil from Anglesey Hidden Gem
(Beautiful Anglesey)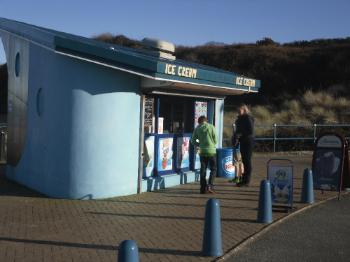 Benllech Beach Dan Dare's Ice Cream Hangout
Dear Gentle Reader


Wil here with some very important, nay vital important news for you to get your Spring off to a good start.
Dan Dare and his trusty assistant are back in action. This more than a month earlier than I had anticipated.
Benllech Beach
is always a lovely place in sunshine, but nothing -
NOTHING!
beats being at Benllech
IN SUNSHINE!
and with an
ICE-CREAM
in your hand.
I really should have tried to take a photograph of this marvellous manifestation of … hmm … of marvelousness. However, that would have meant asking someone to hold my ice-cream.
I might allow you to smile at my girlfriend but don't push your luck at holding one of my Dan Dare specials.
The cone is crisp and golden, about four inches long. The ice-cream delight is usually six inches in height. I kid you not. I really kid you not.
Ask for a flake by all means but never ever insult the genial vendors with a request for ersatz fruity syrup.
Considering how appalling Winter and early Spring was last year on Anglesey, the unexpected warm weather this year has confused most of us here. Thoughts of ice creams were mere aspirations for some indeterminate time in the future.
Had I known that the guys have been manning –
personning
– this wonderful aspect to a great
Benllech
and Anglesey day for the past four weeks, then I would most certainly have been here earlier.
Spring has arrived early on Anglesey. So where are you?
The beaches are waiting for you, the weather is good and if you hold a seashell to you ear - wherever you are across the world – you will be able to hear me sighing in delight and the sound of disgruntled parents picking up their little kids' ice-creams out of the sand.
See you soon. Don't be a stranger.
Wil