Y Bardd Cocos
by Einir Roscoe
(Perth in Western Australia)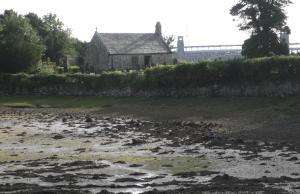 St Tysilio Church Island, Menai Bridge
Hi Wil


Was it my imagination that my Nain and Taid used to talk about someone called
Y Bardd Cocos
-
I think
.
I remember them saying he was from
Brynsiencyn
way?
I know it has nothing to do with this thread. Just asking maybe someone does actually remember and it's not my imagination.
Einir xx
---
Hi again Einir,
Swsus to you too.
Do you remember the four lions on the Britannia Bridge, two on both sides? Y Bardd Cocos (the Cocckle Bard) wrote a very well known ditty about these lions. There's a tansalation on my
Britannia Bridge
page.
Pedwar llew tew
Heb ddim blew,
Dau 'rochr yma
A dau 'rochr drew
I've just disovered that his name is
John Evans
(1826-1888). I hadn't made the connection. He is bured on the
Church Island of St Tysilio
below Thomas Telford's Suspension Bridge.
He was renowned for writing poetry that was not supopsed to be funny but was. Wikipedia has very little on it, unless you check out the Welsh version.
Google 'Y Bardd Cocos' and you'll find plenty there.
Pob lwc
Wil
Make Your Anglesey Holidays Really Special
Anglesey Hidden Gem and Appalling Lies & Inspiring Missives
Create more wonderful memories and experiences for you and your family and friends when you visit Anglesey.
Anglesey Hidden Gem eBooks & Paperbacks
It is a simple and obvious thing to say, that any view or place is improved significantly when you have stories and knowledge attached to what you are viewing.


May I therefore invite you to have a look at my book 'Anglesey Hidden Gem'.

This book is full of the known and unexpected places off the beaten path you might wish to visit and offers you stories that will bring to life the distant and recent past.

'
Appalling Lies & Inspiring Missives from Anglesey'
You may also like to learn of who we are on Anglesey, of our history, character and especially our humour.

In 'Appalling Lies & Inspiring Missives from Anglesey' I offer you the opportunity to learn about us.

It is available in both Kindle and Paperback versions.


Also part of my Easter Book Sale with greatly reduced prices for this week.