Wil Responding to Emyr Williams' Story
by Wil
(Anglesey)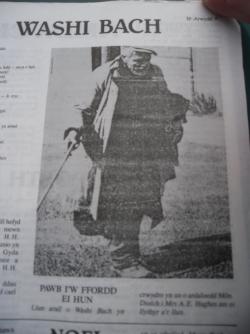 Washi Bach article in Yr Arwydd, Amlwch
Dear Emyr from Oldham in Lancashire,
It was nice of you to write to share your memories of Washi Bach. The sadness you express about Washi Bach is so typical of all the messages I have received here on Anglesey Hidden Gem.
1962, I just about remember, and in that vague memory was Washi Bach and Felin Graig Farm. My friends, Andrew and Gordon Weare share those memories with great poignancy.
On my desk somewhere, on an odd piece of paper, is a short interview I had with a gentleman from Porth Amlwch.
Reaching back to my vague recollection, I think that Washi Bach came from Rhuthun (Ruthin) and it is thought he might have been the son of a doctor. A relative of the gentleman I interviewed recalls his father discovering that Washi Bach had a paybook showing he served on one of the
White Star Liners
.
I know that Washi Bach was found under a hedgerow riddled with Tuberculosis and in all probability died in the old Conwy Hospital - which used to be, I am advised, an old Workhouse.
All the above is to be confirmed when I find the piece of paper again.
Annwyl Emyr, I'm so glad you discovered my site and I hope you take the time to write to me again to share your memories.
Cofion cynnes
Wil