What's in my pocket?
by Laura Basanta
(Illinois USA)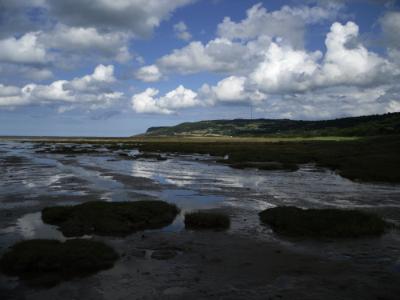 Llanddona Wern y Wylan
Dear Wil


Winter has finally arrived in the US. The cold weather made me reach for a sweater I hadn't worn since living on Anglesey.
Getting ready to rush off for work, I stuck my hand into the pocket on the sweater to find something inside. When I pulled out the contents, I found two broken pieces of black scallop shells from Anglesey beach walks. I smiled at the memories of searching for just the perfect shells.
I found that different Anglesey beaches had different shells. Some beaches would have small "conch" type shells, limpets could be found at others, and small black scallops at yet others.
How can this one small island be so diverse and the beaches or sea so selective as to what kind of shell would be there and not at the beach just a few miles down the coast? And still, some beaches were mainly rock!
On our last day at Anglesey we walked along the beach at
Llanddona Beach
. It was late May and we hadn't seen one jellyfish. On this sunny day in May, it was quite littered with saucer-sized jellyfish that looked like sunflowers from the sea!
Ah Angleysey, your mysteries make me dream.
It's time for another cup of coffee at work. As I go to the coffee pot, put my hand in my pocket and feel my little treasure from the island I love so much.
I'll never take the shell bits out of my pocket, I'll touch the ribbed shells and think of the wind,water and wonderful people of Anglesey.
Warmest regards
Laura