What Roman History is there to see on Anglesey?
by Daniel
(Manchester, UK)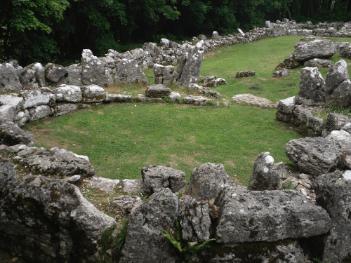 Din Lligwy above Lligwy Beach on Anglesey
Hi Wil


I am visiting Anglesey soon and was wondering what Roman history there is to see and visit there? And if so where do I find it?
Best wishes,
Daniel
---
Hi Daniel
Thanks for getting in touch.
Romans, eh? Hmm.
I imagine that you'll have read my page on the Roman and Druids on Anglesey. If not then
You Can Find It Here.
.
A lot has happened on Anglesey in the intervening two thousand years and what remains is few and far between. Nonetheless, there is one particular site that is worth visiting that requires very little inference and vivid imagining.
That's at
Din Lligwy
above Lligwy Beach near Moelfre on Anglesey east coast. The Romans were in truth the last invading and occupying force to make a defensive position here in the Fourth Century.
In all likelihood it was used as a defensive position in local conflicts and possibly against those Viking characters who eventually made a base in Beaumaris.
A defensive position is a defensive position known to any military strategist so these locations would be used again and again. The Romans weren't the first to use it as my
Din Lligwy
page talks about.
Another physical position that remains is at
Castell Bryngwyn
. Again this was used form Late Bronze Age through Iron Age to the Romans, although it was never a fort - more of a sanctuary.
Castell Bryngwyn is a lovely place to visit if you have the time.
For more specific local information about early Anglesey History I would respectfully guide you to
Oriel Môn
in the Market Town of
Llangefni
where there are historical exhibitions and you can find someone to question.
Further, and equally interesting, is the
The Llyn Cerrig Bach Iron Age exhibition.
and the celebration of Anglesey Archaeology that will be running for the next few months.
I do hope that helps you. Oriel Môn is the best place to begin your journey. Nice café there, by the way and a
Sir Kyffin Williams RA art exhibition
.
My very best wishes to you,
Wil