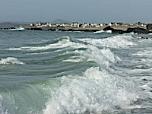 Anglesey Award
Winning Beaches
CLICK HERE

Feb 01, 19 03:14 PM

Anglesey Book Store for those interesting books and MUST HAVE reading and Planning for your Anglesey holiday and education

Feb 01, 19 03:11 PM

dementia Devotion.com. Sister site to Anglesey Hidden Gem, whose author was a carer for a parent living with this bastard illness. Information regarding dementia types and personal diary items.

Feb 01, 19 06:27 AM

Aberffraw Beach. Where Angleseys Sahara meets the sea in a generous expanse of sand and sea. Great for beach fun, surfing and fishing off the rocks.