Tarzan Ruled Y Dingle, Llangefni
by Gordon Weare
(New Zealand)
It was all the Arcadia's fault (Llangefni's old cinema). It inculcated in us a desire to be Tarzan. Johnny Weissmuller, Gordon Scott and Bomba the Jungle Boy.


From 'the buildings' (Pencraig & Bro Tudur) we found a rope. Up over a tree it went, over a bough that spanned the avon Cefni stream.
And now '
The Initiation of Manhood
'. You must swing across the Cefni, fully dressed, and come back to the bank - first time.
If you failed to land on the first return swing.. you dangled, until your enfeebled hands, slid excrutiatingly slow, all in your Sunday best, polished shoes and gartered sox.. sank religiously into the cool, wet current of failed manhood.
It all looked so simple, we had done it before, just make sure you get a good run on the first swing. Herein, lay the secret, plonk it was cake-walk.
Fools rushed in. Our confident demonstration was really convincing. What conmen & cardsharps, what aquatic hustlers!
Allowing all those boys to go home and explain how wet it is to be led astray by the Arcadia's Tarzan movies. Such movies should be graded up to over 18's ?
---
Dear Gordon,
I can see Dad in the larger model and I imagine that Mum must be a looker from the intermediate Weare.
For us, it was Pencraig Woods and a wide muddy stream and never Sunday Best. Plenty of muddy shoes and socks, though.
Never gartered, just in mandatory position about ankles
.
The Dingle had lost it's allure by the time we were around because our gang was quite cowardly and the Isgraig lads too tough for us.
I know that you haven't been back in Llangefni for a couple of years and in those intervening years the Llangefni Town Company (Cwmni Tref Llangefni) and friends have created a
Boardwalk
.
This will take you all around the Dingle and out into the open Cefni River Valley. It's a glorious walk of a few miles that can, if you feel fit enough, take you all the way to Cefni Reservoir.
The World is clearly a better place for your endeavours.
Wil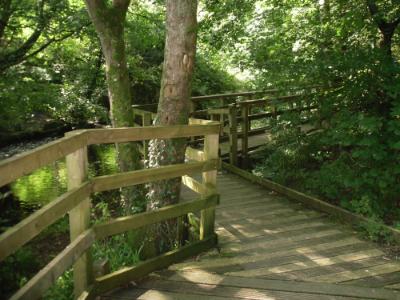 Make Your Anglesey Holidays Really Special
Anglesey Hidden Gem and Appalling Lies & Inspiring Missives
Create more wonderful memories and experiences for you and your family and friends when you visit Anglesey.
Anglesey Hidden Gem
It is a simple and obvious thing to say, that any view or place is improved significantly when you have stories and knowledge attached to what you are viewing.


May I therefore invite you to have a look at my book 'Anglesey Hidden Gem'.

This book is full of the known and unexpected places off the beaten path you might wish to visit and offers you stories that will bring to life the distant and recent past.

Please click on the image above for more information.
By the way, Anglesey Hidden Gem is currently part of my Easter Book Sale with greatly reduced prices for this week.

'
Appalling Lies & Inspiring Missives from Anglesey'
You may also like to learn of who we are on Anglesey, of our history, character and especially our humour.

In 'Appalling Lies & Inspiring Missives from Anglesey' I offer you the opportunity to learn about us.

It is available in both Kindle and Paperback versions.


Also part of my Easter Book Sale with greatly reduced prices for this week.