Saying hello
by Valerie Dallison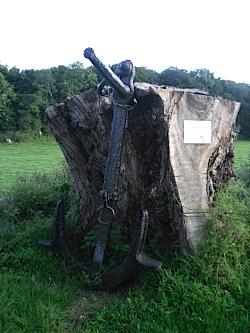 The Royal Charter's Anchor
Hello Wil,


I am thoroughly enjoying looking through your website.
We are staying for 4 days at Spring Bank holiday with our granddaughters. I know it's not much time but we can come back again. We're looking forward to seeing some of the lovely sites on the island and doing a bit of walking.
I am currently researching my family history, my grandmother was born in
Llanfairfechan
, but as far as I understand at the moment, her grandparents were from the island,
Heneglwys
and
Llangefni.
I am always so proud to tell people that I am of Welsh origins, it's a lovely country and people very friendly.
I will definitely be back again sometime to use the Records office and hopefully find out more information.
Regards
Valerie Dallison.
---
Thank you very much for your very kind words and I hope that Anglesey Hidden Gem provides you with plenty to do during your stay.
Four days? You can pack a lot of memories into four days. What about the 'Three Days of the Condor' There seemed to be an awful lot of adventure in that period.
Remember to go the
Dingle Board Walk
in Llangefni. Nature is never better than in Spring. Same goes for the Dingle.
I'll also guide you and your charges to go to
Llanallgo Church
near
Moelfre
. This is where they buried many of the drowned souls after the Royal Charter Disaster.
Fascinating history that you can bring alive just by reading the tombstones.
Curiously, my great grandparents are buried in
Heneglwys Church in Bodffordd
, my grandparents in Llangefni and my grandfather came from
Llanfairfechan
when his father died at the turn of the last century. His family went to live in
Llanerchymedd
. Apparently I have great preacher genes from Llanfairfechan - yet untested both in practice and in the morality I'm ashamed to say.
The
County Council Archives
in Llangefni should be able to set you on your way.
My advice is to call the County Council main reception in Llangefni on 01248 750057 when you find you have time enough on your hands.
Once again, I thank you for your kind words.
Have fun and let me now it goes.
Best wishes
Wil