Save Rhoscolyn Beach!
by Sian Hughes Cooke
(Anglesey)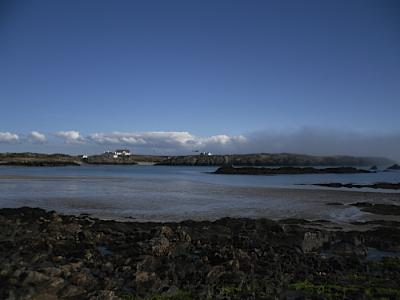 Imagine A Road Across This Lovely Beach at Rhoscolyn
Dear Wil




Please can you use your database in Wales to inform the local people and try and get a petition together to support the following:



There is a beautiful beach in Rhoscolyn, Anglesey which is an area of outstanding natural beauty.


There are about 7 holiday homes owned by some very wealthy individuals at the far end of the beach.


The current access to these properties is across the beach although there is an access road behind the beach, privately owned by one of the other properties.


The owners of these holiday homes now wish to have a road built across the sand to enable them to have easier access at all states of the tide.


Most of these homes are only occupied for a few weeks of the year and the owners were fully aware when they bought or built them of the state of access.


There is now a dispute with the local council about the building of such a road, as a result of which a Public Inquiry is to be held at Holyhead Town Hall on the 22nd November 2011.


The enquiry is to be chaired by a QC at great expense to the rate payers of Anglesey.


At high tide the beach is underwater - this proposed road will be continually eroded and will cost hundreds of thousands of Anglesey Council Tax Payer pounds to maintain.


Most of all it will be a complete eyesore and will ruin the beautiful landscape and be a potential hazard to other beach users.


We wish to inform local people so that they can have the opportunity to object to such a desecration of the landscape.



Do get in touch or call the Planning Department of Anglesey County Council to voice your objections (01248 750057)



Sian Hughes Cooke
Make Your Anglesey Holidays Really Special
Anglesey Hidden Gem and Appalling Lies & Inspiring Missives
Create more wonderful memories and experiences for you and your family and friends when you visit Anglesey.
Anglesey Hidden Gem
It is a simple and obvious thing to say, that any view or place is improved significantly when you have stories and knowledge attached to what you are viewing.


May I therefore invite you to have a look at my book 'Anglesey Hidden Gem'.

This book is full of the known and unexpected places off the beaten path you might wish to visit and offers you stories that will bring to life the distant and recent past.

Please click on the image above for more information.
By the way, Anglesey Hidden Gem is currently part of my Easter Book Sale with greatly reduced prices for this week.

'
Appalling Lies & Inspiring Missives from Anglesey'
You may also like to learn of who we are on Anglesey, of our history, character and especially our humour.

In 'Appalling Lies & Inspiring Missives from Anglesey' I offer you the opportunity to learn about us.

It is available in both Kindle and Paperback versions.


Also part of my Easter Book Sale with greatly reduced prices for this week.