PRINCE WILLIAM & KATE MIDDLETON

TREARDDUR BAY LIFEBOAT DEDICATION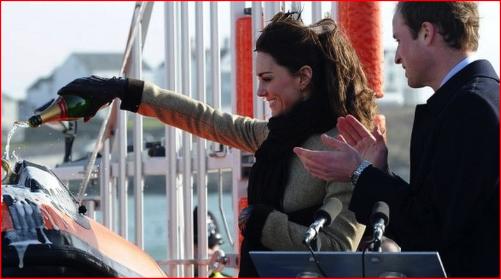 IMAGES TAKEN FROM BBC WEBSITE. LINK AT PAGE BOTTOM WILL TAKE YOU TO MORE LOVELY IMAGES
TREARDDUR BAY RNLI FEBRUARY 24 2011
Well it does seem rather fitting really that Prince William would describe his fiancé, Miss Kate Middleton as an Anglesonian, doesn't it.

Both have been living on the Island for quite a while now and it must be adding something special to their relationship because smiles are never far away from their faces.

Genuine smiles reach very far indeed. At Trearddur Bay smiles achieved a further strengthening of the bond between the Royal Couple and the equally smiling people of Anglesey.
---
TREARDDUR BAY
This last week found Prince William and Miss Kate Middleton at Trearddur Bay for their first official Royal engagement at the dedication of the RNLI's new inshore lifeboat, 'The Hereford Endeavour'.

It appears that Prince William had requested that their first engagement since their engagement be here on Anglesey. It proved to be a very popular decision with everyone else as well.

Hundreds of local people and visitors had been standing for hours in anticipation of their appearance at Trearddur Bay RNLI Lifeboat Station.

If you could place the smiles on top of each other when the Prince and Miss Middleton arrived then they'd get to the stars before the Americans. And back.

I spoke to someone who attended the dedication of the new lifeboat and was pleased to learn that the couple had requested that formality be kept to an absolute minimum. Such was the intention and how it was realised.
Now, to the important stuff,
Miss Kate Middleton was dressed in a three-quarter length beige coat and suede boots.
Now onwards.

The day begets the intriguing question, 'What do you give someone who has just been given everything?'and eminently sensible answer, Somewhere to keep it.'

The Royal Anglesey Cottage is going to be quite full considering the amount of gifts that were given to Prince William and Miss Kate Middleton by the appreciative crowd.
---
MAKING FRIENDS
Before Miss Middleton poured champagne over the bow of 'The Hereford Endeavour' came the Welsh National Anthem, 'Hen Wlad Fy Nhadau'. The Royal Couple sang with real confidence.

You can't imagine how important that is. We've had Secretaries of State for Wales in the past who hadn't bothered to learn this moving hymn to essential Welshness.

One in particular keeps popping up on comedy political programmes.

It's not a test that is set for people to fail, it's just wonderful when someone has gone to such efforts to learn something that's so important to us.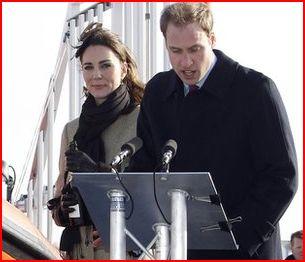 IMAGES TAKEN FROM BBC WEBSITE. LINK AT PAGE BOTTOM WILL TAKE YOU TO MORE LOVELY IMAGES
IMPORTANT RELATIONSHIPS
In his speech Prince William highlighted the professional partnership between him and his colleagues as Search & Rescue Helicopter Pilots and lifeboat crews.

The Prince quipped that there was sometimes a bit of a dash by each service to get to the job first.

Prince William said,

"In my short time as a Search and Rescue pilot, I have been privileged to work with Aubrey Diggle and the other volunteers of the Trearddur Bay lifeboat.

I realise, as we all do at RAF Valley, what a vital part this lifeboat plays in our combined efforts to save people from the sea."

Referring to Kate Middleton, the Prince added,

"It gives me great pleasure to be introducing to this relationship [between the Royal Family and the RNLI], here and now, someone who is not only about to join the family but is also about to become an Anglesonian."
---
ANGLESEY IS DELIGHTED BY THE ASSOCIATION
Delight of the crowd of grownups and excited children was equalled by the warmth of the response of the Royal Couple who chatted amiably with as many as they could in the time available.

I'll tell you something else, I've not come across any anti-monarchy comments on Anglesey. In fact, I'd highlight the contrary view.

Anglesey people are not fascinated in any idol worship way, either. We're just pleased that the Royal Couple have chosen to make their home here for then short period of the Prince's service at RAF Valley.

There's a genuine feeling of warmth toward the couple and the same kind of affection that many people felt toward Princess Diana, the Prince's mother. And what's wrong with that.

The number of visitors to Anglesey has already increased quite significantly with Royal Spotters regularly gathering at the posh restaurants.
---
Prince William & Kate Middleton
on Anglesey

So there you are. The story's out there at last and the handsome prince has asked his beautiful lady to marry him.

I think that's so sweet. And to find Anglesey, my Island Home being central to world focus for a while is lovely.

So here's where you get in touch with us to share your views about the engagement and upcoming mariage.

Also. maybe you have ideas of where they should go to on Anglesey to enjoy a bit of peace and quiet - while they can.

I look forward to hearing from you

Wil
---
PRINCE WILLIAM & KATE MIDDLETON ON ANGLESEY
---