Plas Cadnant Hidden Gardens - Menai Bridge
by WIl
(Anglesey Hidden Gem)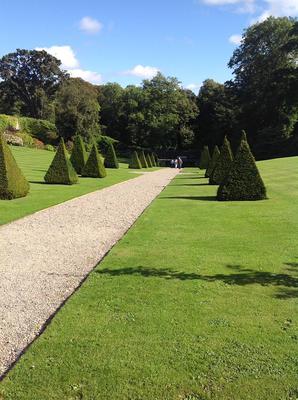 Plas Cadnant Hidden Gardens in Summer
Greetings from Anglesey Hidden Gem where it continues to be a confusion of strong Autumn storms and May temperatures.


I've come to the conclusion that if you give something a name and you're in trouble because you've given something an identity and probably an Ego. Big trouble. Each storm that's come to lend a backdrop to our preparations for Christmas seems to want to leave its mark. It will, however, pass as do all things. So in the meantime I make my plans for the coming Spring and Summer on Anglesey.
First of course is the garden and then, while responsibilities constrain me from venturing too far, I will seek to colour my life with what lies around me. Last year, I missed watching the
Plas Cadnant Hidden Gardens
evolve through the seasons and just managed a few visits on my £20 season ticket. Not that it's a matter of seeking profit, but the previous year the frequency of my visits ended up costing me about £2.50 to walk, sit and ponder.
Then after all the pondering is a cream tea. Never been a fan until I sat me down in the sunny courtyard at Plas Cadnant. Oh yes, and the red squirrels. Easy if you've developed an ear for them as many of us have in the
Dingle
in Llangefni.
Easy to find, head out of
Menai Bridge
toward
Beaumaris
and immediately you will arrive at a sweeping right hand corner on a bridge of the River Cadnant. There is a signpost on the left. Just follow the road to a completely new set of personal references for future retrospection.
Nadolig Llawen
Merry Christmas
Wil
Make Your Anglesey Holidays Really Special
Anglesey Hidden Gem and Appalling Lies & Inspiring Missives
Create more wonderful memories and experiences for you and your family and friends when you visit Anglesey.
Anglesey Hidden Gem
It is a simple and obvious thing to say, that any view or place is improved significantly when you have stories and knowledge attached to what you are viewing.


May I therefore invite you to have a look at my book 'Anglesey Hidden Gem'.

This book is full of the known and unexpected places off the beaten path you might wish to visit and offers you stories that will bring to life the distant and recent past.

Please click on the image above for more information.
By the way, Anglesey Hidden Gem is currently part of my Easter Book Sale with greatly reduced prices for this week.

'
Appalling Lies & Inspiring Missives from Anglesey'
You may also like to learn of who we are on Anglesey, of our history, character and especially our humour.

In 'Appalling Lies & Inspiring Missives from Anglesey' I offer you the opportunity to learn about us.

It is available in both Kindle and Paperback versions.


Also part of my Easter Book Sale with greatly reduced prices for this week.