Parys Mine and 'The Royal Charter' Shipwreck
by Sandra Williams nee Roose
(Rhyl, Denbighshire)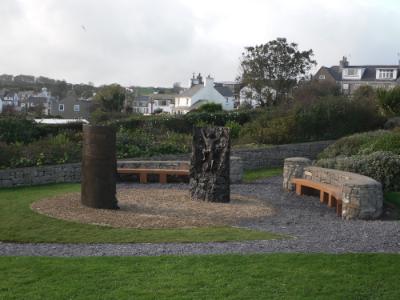 Royal Charter Memorial Sculpture at Moelfre on Anglesey
Hi Wil


Whilst investigating my family history I discovered that I am related to the
Roose Family
with strong associations with the
Royal Charter Disaster in 1859
and
Copper Mining
on Anglesey.
As I am hoping to visit Anglesey in the near future I would like to find out as much as I can about the Roose family.
My three times Great Grandfather, Jonathan Roose, I believe found the copper again in the
Parys Mine in Amlwch
in the 1850s. Rev Stephen Roose-Hughes is also a relative about whom I would love to discover more.
Best wishes
Sandra
---
Dear Sandra
Congratulations. You are from the very best of stock being related with the Reverend Stephen Roose-Hughes and his brother and family.
I'm sure that you will have checked my page on
Llanallgo Church
where 140 of the victims of the appalling hurricane in the early hours of October 26th 1859 are buried together.
Charles Dickens hailed the Reverend Stephen Roose-Hughes as a hero in his book
The Uncommercial Traveller
, which I respectfully suggest you read.
A visit to the church and a walk among the older graves will reveal that Moelfre is famous for raising Master Mariners.
For a display of items recovered from the wrecking of 'The Royal Charter' can be found at the
Seawatch Centre
, which is located near the world famous
Moelfre Lifeboat Station
. You should be able to glean some useful information here.
As for the
Parys and Mona Mines
(part of the Amlwch Copper Kingdom), I would highly recommend a visit there and a walk around the footpath that will guide you around the once largest copper mine in the world.
For more information I would direct you down to
Amlwch Port
. Visit the
Sail Loft Café
for a
panad a teisen
(cuppa and a cake). Here you can be guided to the recently opened
Copper Bin
exhibition.
Also check out my
Copper Kingdom
page.
I believe that the locations I write about above will help you get a real visceral feel for your family history. If Dr Bryan Hope is about, then you'll be in for a treat.
My very, very best wishes to you and I hope that you find inspiration for your life from your past family members.
Wil
Make Your Anglesey Holidays Really Special
Anglesey Hidden Gem and Appalling Lies & Inspiring Missives
Create more wonderful memories and experiences for you and your family and friends when you visit Anglesey.
Anglesey Hidden Gem
It is a simple and obvious thing to say, that any view or place is improved significantly when you have stories and knowledge attached to what you are viewing.


May I therefore invite you to have a look at my book 'Anglesey Hidden Gem'.

This book is full of the known and unexpected places off the beaten path you might wish to visit and offers you stories that will bring to life the distant and recent past.

Please click on the image above for more information.
By the way, Anglesey Hidden Gem is currently part of my Easter Book Sale with greatly reduced prices for this week.

'
Appalling Lies & Inspiring Missives from Anglesey'
You may also like to learn of who we are on Anglesey, of our history, character and especially our humour.

In 'Appalling Lies & Inspiring Missives from Anglesey' I offer you the opportunity to learn about us.

It is available in both Kindle and Paperback versions.


Also part of my Easter Book Sale with greatly reduced prices for this week.