Menai Bridge Autumnal Beauty
by Wil from Anglesey Hidden Gem
(Anglese)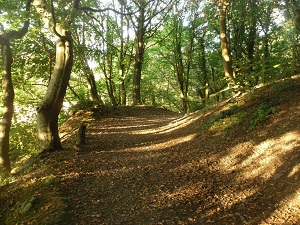 Coed Cyrnol Woods Autumn Walk Menai Bridge
Dear Gentle Readers


I write to advise you that time is running out in Menai Bridge. Autumn is here and one good blow and the beauty that hangs golden, crimson and yellow in the canopy will be gone.
So while time is with us - and you - head on over to Menai Bridge and the astonishingly beautiful Menai Straits and fill your memories with the which be revealed to you so as to carry you through the skeletal grip of Winter.
I had just been to visit someone in the care home across the Menai Straits. It had been a good visit and so I hoped to reinforce that good feeling with a visit to Coed Cyrnol Woods and the Belgian Walkway under the Menai Suspension Bridge.
As I crossed the Bridge I noticed that at least half a dozen cars had stopped and people were standing at the rails taking photos of the magnificent sunset magnified by the wide Menai Straits. This is a sight that you must experience. You will find yourself almost unable to leave as you watch the sun sink gently in a pastel panorama of cloud and water.
Walk through the woods with the leaves crunching underfoot. Remember to stand still and send out your hearing. You hear Red Squirrels before you see them, but on,y if you stand still.
Discover this gentle beauty yourself, but get yourself here quick before the winter storms arrive.
Best wishes
Wil
Make Your Anglesey Holidays Really Special
Anglesey Hidden Gem and Appalling Lies & Inspiring Missives
Create more wonderful memories and experiences for you and your family and friends when you visit Anglesey.
Anglesey Hidden Gem
It is a simple and obvious thing to say, that any view or place is improved significantly when you have stories and knowledge attached to what you are viewing.


May I therefore invite you to have a look at my book 'Anglesey Hidden Gem'.

This book is full of the known and unexpected places off the beaten path you might wish to visit and offers you stories that will bring to life the distant and recent past.

Please click on the image above for more information.
By the way, Anglesey Hidden Gem is currently part of my Easter Book Sale with greatly reduced prices for this week.

'
Appalling Lies & Inspiring Missives from Anglesey'
You may also like to learn of who we are on Anglesey, of our history, character and especially our humour.

In 'Appalling Lies & Inspiring Missives from Anglesey' I offer you the opportunity to learn about us.

It is available in both Kindle and Paperback versions.


Also part of my Easter Book Sale with greatly reduced prices for this week.