Local road convention.
by John
(Coventry)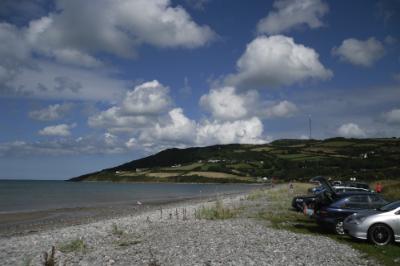 Llanddona Beach from Wern y Wylan
Hi Wil,


A great piece of local knowledge. A good read and warm humour too...
A few of queries.
1. Do you know if there is a local convention on traffic direction going down from Llanddona to the beach car park on Red Wharf Bay? Is it clockwise or anticlockwise or take pot luck?
I am leading a walk from the car park in April and there may be around 8 cars, so it might help if we do what the locals do.
2. The OS map shows footpaths around Bwrdd Arthur. Is there permitted public access across the top?
3. Having read some of the other submissions, do you know if the car park toilets will be open? (April 23rd)
If you can answer these it would be much appreciated.
Kind Regards,
John.
Dear John
Thank you for writing to Anglesey Hidden Gem and a big thank you for your kid words.
You ask three interesting questions. I'll start with your question about convention on driving down to the beautiful Llanddona Beach. There is no formal convention about choosing to down to the right hand side of the beach as you face out or down to the left; however, contrary to our normal inclination of keeping to the left on roads the general flow is down to the right and driving back uphill from the opposite end of the beach. Regular visitors seem to adhere to this practice so if it's your first visit then you are ahead of
the game here.
In the many, many times I've visited I can only count about five times I've had to reverse. I probably need to apologise for dressing this journey up a bit too much. Don't let it worry you. You will get there and you will enjoy the beach, I assure you.
Your second question about Bwrdd Arthur is easy to answer. Yes there is a public footpath up and around this promontory.
Easiest point of access is to take a look at my report on visiting Llanfihangel Din Silwy church just outside the village of Llanddona. If you're visiting from Beaumaris then follow the road through the village for about two thirds of a mile until you come to turning on your left signposted for the church. You will hopefully find a parking space just off the road at this junction. A public footpath is signposted right here.
You'll find other routes round, up and down yourself. Courage mon brave.
Your third question about public toilets being open. I refer you to the Anglesey County Council page on http://www.anglesey.gov.uk/planning-and-waste/recycling-and-waste/public-conveniences/.
At the bottom of this page you'll notice a link on the Toilet Grant Scheme. Investigate this and for the available facilities follow the link to a .pdf file you can download. It's a temporary problem that may well be sorted out by Summer.
I hope that you are reassured by the above. Nowhere is off limits.
My very best wishes to you and thanks for getting in touch.
Wil
Make Your Anglesey Holidays Really Special
Anglesey Hidden Gem and Appalling Lies & Inspiring Missives
Create more wonderful memories and experiences for you and your family and friends when you visit Anglesey.
Anglesey Hidden Gem
It is a simple and obvious thing to say, that any view or place is improved significantly when you have stories and knowledge attached to what you are viewing.


May I therefore invite you to have a look at my book 'Anglesey Hidden Gem'.

This book is full of the known and unexpected places off the beaten path you might wish to visit and offers you stories that will bring to life the distant and recent past.

Please click on the image above for more information.
By the way, Anglesey Hidden Gem is currently part of my Easter Book Sale with greatly reduced prices for this week.

'
Appalling Lies & Inspiring Missives from Anglesey'
You may also like to learn of who we are on Anglesey, of our history, character and especially our humour.

In 'Appalling Lies & Inspiring Missives from Anglesey' I offer you the opportunity to learn about us.

It is available in both Kindle and Paperback versions.


Also part of my Easter Book Sale with greatly reduced prices for this week.