'A
FUTILE HOPE -
SIX DAYS...'


An Anglesey eB
OOK Novel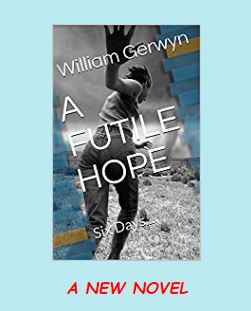 ... Is Better Than No Hope
A Futile Hope us better than hope at all. Maybe.

When the world comes to an end, it ends everywhere. Where you live and where I live. We are all equal before our Doom.
Bad News!
The Earth will be obliterated in Six Days and there is absolutely nothing anyone can do about it, other than ignore it, get seriously depressed, party, get drunk, stoned or just pray.
Morality is in freefall and normal everyday physics appears to have gone on holiday.
So, why bother hoping for salvation when you could simply point at the bastard thing in the sky that's going to kill you in six days' time.


A Futile Hope - Characters
Jack has withdrawn from the world and lives in the middle of the countryside in near total isolation and self-sufficiency. For the first time in many years, he is happy in his state of pessimistic optimism and growing his tomatoes. One evening, on a small beach, he meets Jenny Holmes, who is even more damaged than he.
She has lost her child, been savagely beaten by a partner, been in a coma and, to top it all off, was kidnapped by a cult, from whom she escaped. They meet, they recognise something familiar in each other, quickly establish a deep trust against the backdrop of the end of the world and fall in love.
But there remains the problem:
The Earth will be obliterated in Six Days.


A Wormhole's Existence & Implications
A wormhole is an alleged space tunnel with a Black Hole at either end. Other than being mooted in Einstein's Theory of General Relativity, true understanding of the mechanisms of how a wormhole can form naturally, let alone how it would move, is beyond known scientific knowledge.
Nonetheless, it moves and its trajectory is persistent and true.
However, Einstein's Cats seem to be aware of something that neither Jack nor Jenny is. As the wormhole gets closer, Time, Dimensions and Universes temporarily overlap and central to all this are Jack and Jenny.


All in flux

Except Human Nature at it's Worst
Enter Jenny. Having once been kidnapped by maniacs, they are now even more desperate to get hold of her, because they believe that she can help save them. Jenny thinks this is insane, as does Jack.
Enter a man who died and was buried in a pauper's grave seventy years ago.
Jenny and Jack seem to have accepted their fate and wish to do nothing more than spend their last six days together in a rural idyll, well away from humans, in each other's arms under a warm duvet.
Sadly for them, in addition to the devastation heading their way, some maniacs are after Jenny for a reason only known to them. The latest recruits are more than happy - and desperate enough - to kill Jack to get to Jenny.

Loving, sarcastic and building up to a nice violent climax.
And their problems don't end there.

Ebooks versus Paperbacks
The price of an eBook tends to be substantially cheaper than a paperback. Consequently, we can take greater risks in what we are reading.
A standard large novel costs in the region of £8.99 these days, whereas an eBook costs in the region of £1.99.
'A Futile Hope' will only cost you £1.99.
Please Click on the cover image below for a look inside 'A Futile Hope - Six Days...'

---
Make Your Anglesey Holidays Really Special
Anglesey Hidden Gem and Appalling Lies & Inspiring Missives
Create more wonderful memories and experiences for you and your family and friends when you visit Anglesey.
Anglesey Hidden Gem eBooks & Paperbacks
It is a simple and obvious thing to say, that any view or place is improved significantly when you have stories and knowledge attached to what you are viewing.


May I therefore invite you to have a look at my book 'Anglesey Hidden Gem'.

This book is full of the known and unexpected places off the beaten path you might wish to visit and offers you stories that will bring to life the distant and recent past.

'
Appalling Lies & Inspiring Missives from Anglesey'
You may also like to learn of who we are on Anglesey, of our history, character and especially our humour.

In 'Appalling Lies & Inspiring Missives from Anglesey' I offer you the opportunity to learn about us.

It is available in both Kindle and Paperback versions.


Also part of my Easter Book Sale with greatly reduced prices for this week.




---