EMERGENCY! FROGSPAWN SOS!

YOUR HELP OR ADVICE IS REQUIRED ASAP
Help Wendy from Bull Bay, Anglesey save frogspawn in danger of never Becoming.
Do you have a pond or a suitable area on your land or in your garden that can help these little creatures?
Wendy's garden pool in Bull Bay has sprung a serious leak and has to be re-lined. This couldn't have come at a worse time because there's more of the little buggers this year than ever.
The water level is receding and now she's found a few newts in there as well.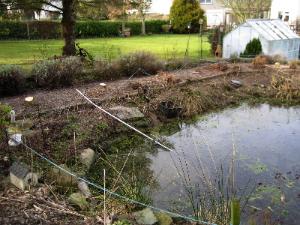 Maybe it's time to put into action that plan of yours to broaden your own genetic garden pool.
Wendy's photographs show quite clearly that the pool is far too low to sustain the community. So here's a chance for you to save unfortunates who don't know yet that they are unfortunates.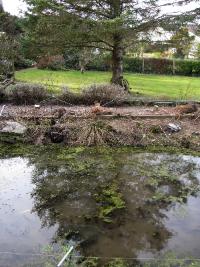 Quite sensibly Wendy has been trying to get information and assistance from the local Environment section of the County Council but no-one's got back in touch with her yet.
Rather than let the poor little aspirants die Wendy is looking for immediate help from anyone in the Anglesey area.
IF YOU CAN HELP or YOU KNOW SOMEONE WHO CAN HELP, then Please do get in touch.
TIME IS OF THE ESSENCE.
Contact me here at Anglesey Hidden Gem and I'll pass on your details to Wendy immediately.
If you're unable to help youself, then please pass on this page link to friends in the area who just might be able to help.
---
Return from Frogspawn Emergency HOME PAGE.

---